During a meeting with representatives of the America for Bulgaria Foundation, the mayor of Razgrad expressed a wish for more tourists to visit the wonderful Abritus museum complex in the northeastern Bulgarian town. ABF board member Lyubomir (Lyubo) Lozanov knew just what to do—make admission free for all visitors. His company, Ameta, Bulgaria's biggest poultry producer and the biggest employer in the region, would cover the costs. Lyubo, an optimist with a can-do attitude, even committed to getting the word out. He commissioned a local company to design a billboard and enlisted the support of local businesses, which displayed the billboards for free. As a result, more than 1,700 people visited the remains of the ancient Roman city of Abritus in the summer of 2017—four times more than any other year.
"The campaign was so successful that we decided not to advertise it on social media, as we had planned, so as not to put too much pressure on the museum," Lyubo says. "We have shown that, by working together, we can achieve a great deal. Locals visited the museum, as did many tourists from different countries. Most importantly, we showed how partnerships can be developed for local causes."
The Abritus campaign is one of the many initiatives supported by Ameta and its executive director. The company gives generously to sports clubs, children's homes, and nursing homes for the elderly. Ameta's annual children's drawing competition called Chicken, Chicken, I Know Who You Are, which recognizes young artists, has become a much-anticipated event in the Razgrad region. The company supports a Give a Book Foundation program helping individuals who grew up without parental care to develop job skills and find work. Teach for Bulgaria and its teachers have received substantial support from local businesses thanks to Lyubo's mediation. In 2017, Ameta brought to Razgrad Muzeiko's traveling exhibition Inventions, enabling children in the area to learn about the twentieth century's greatest inventions. Lyubo's most recent projects involve support for a school athletics club and efforts to revive regional interest in basketball.
"Our responsibilities go beyond paying taxes. We have to commit to helping people and cooperate with institutions," Lyubo says. Every winter, Ameta helps the city of Razgrad clean the roads in the district. "Our goal is to improve living conditions in the places where we work and to remind people there is plenty to be proud of."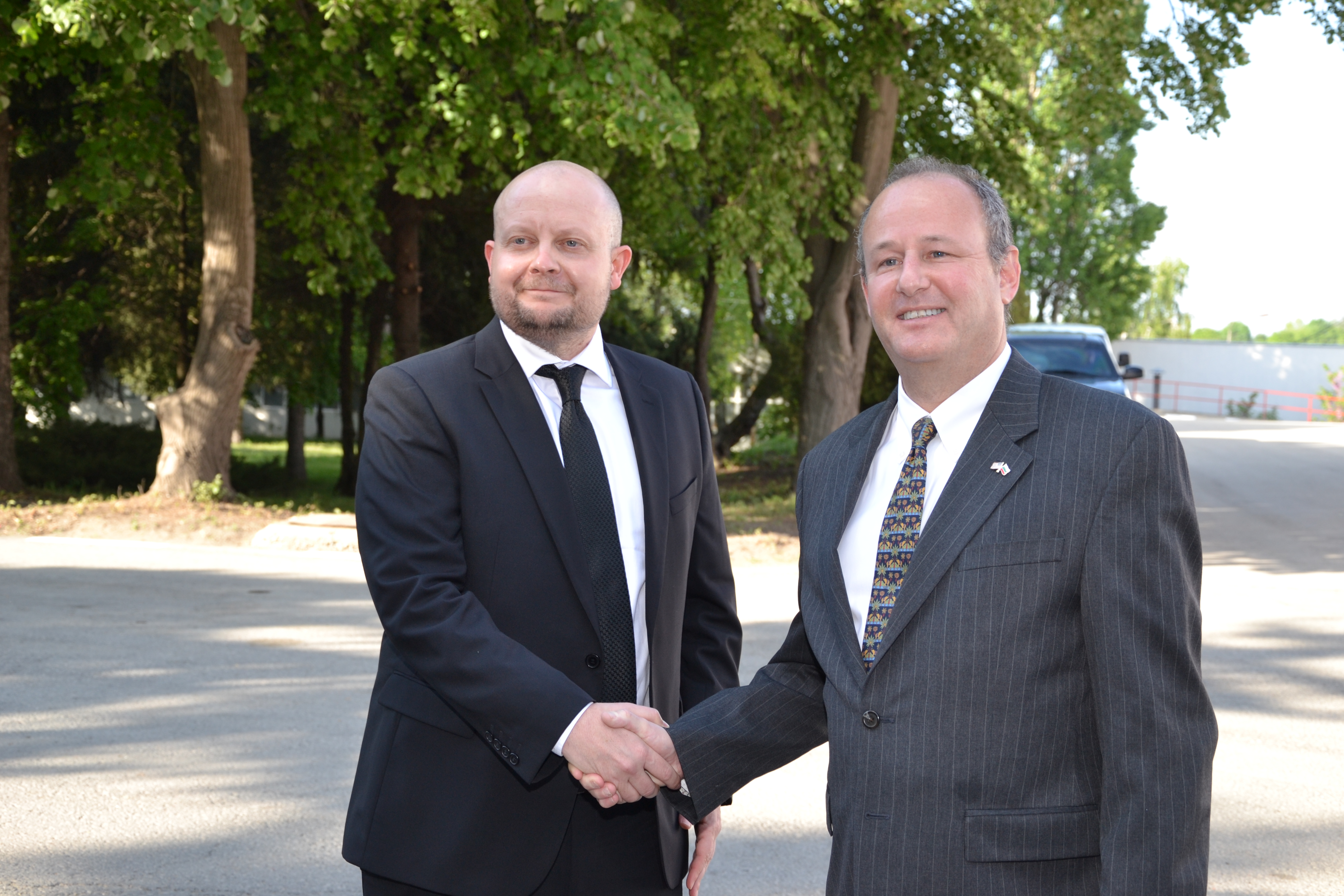 Pictured: Lyubomir Lozanov (left) with United States Ambassador Eric S. Rubin (right)
A guidebook on the biosafety of birds, fully funded by Ameta, was issued and distributed in cooperation with the Bulgarian Food Safety Agency. The guidebook assists all those involved in the poultry industry in Bulgaria, including poultry farmers, veterinarians, and zoo engineers, by providing knowledge and practical advice.
Over the years, Lyubo has actively lobbied for legislative changes that would benefit not only the poultry industry but Bulgaria's overall business environment as well. In particular, he helped drive change in the legislation governing the poultry and cereal trade, which led to the creation of a fiscal control unit within the National Revenue Agency. As a result, the state now collects more taxes, and competition is fairer. Bulgaria produces more poultry, jobs are created, and family businesses grow. Since 2015, Lyubo has also helped promote private initiative in Bulgaria by serving on ABF's Board of Directors.
When Lyubo took over as Ameta's executive director in 2001, the company was losing money and had serious structural and personnel problems. In less than a decade, he was able to transform it into one of the most successful Bulgarian enterprises, proving that an honest and transparent business can be profitable in Bulgaria. Today, Ameta exports quality poultry products to many European countries, providing livelihoods to more than 2,300 employees and suppliers of goods and services. It has all the major food quality certifications and is an international Class A supplier for fast-food chain KFC.