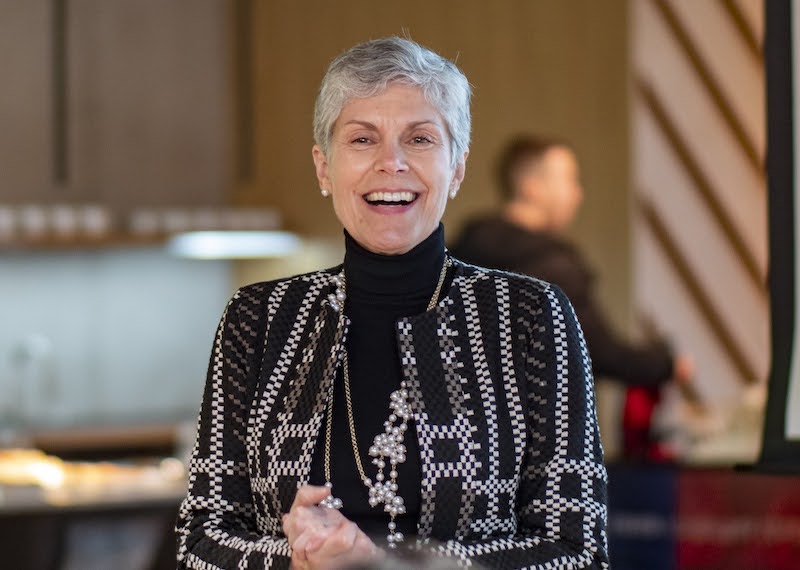 Nancy Schiller, CEO of the America for Bulgaria Foundation, explains what United against COVID-19 is.
Interview by Anthony Georgieff
Since her arrival four years ago Nancy Schiller has become a well-known personality through Bulgaria. Seen in tiny villages in northern Bulgaria and at major archaeological sites like the Bishop's Basilica of Philippopolis, from her offices in central Sofia to locations with difficult-to-pronounce names that aspire to have US-style marching bands, Nancy Schiller has skillfully managed one of the largest and most important nongovernmental organizations in this country. Faced with the realities of the current pandemic, the America for Bulgaria Foundation team was quick to respond: United against COVID-19.
What is United against COVID-19?
The United against COVID-19 Fund represents the values that America, the America for Bulgaria Foundation, and our Bulgarian and international partners and donors stand for—a shared commitment to bettering the lives of others. United is providing financial support to healthcare facilities and communities across the country to assist the most vulnerable groups affected by the crisis.
In early March, as it became clear that the coronavirus was a growing threat, we thought about how the America for Bulgaria Foundation could quickly and effectively assist this country. Our team is made up of Bulgarians who could not and would not remain bystanders in these difficult times for their country. As we adjusted the focus of our daily work, the ABF Board was fully supportive, quickly approving ABF's donations to hospitals, #StandingTogether, and United against COVID-19.
The Bulgarian Donors' Forum, a long-time grantee with a leading fundraising role with companies throughout Bulgaria, was a natural partner. Its reputation is stellar and its executive director, Krasi Velichkova, is well regarded for her innovative leadership and advocacy for transparency in funding. We talked about what we might be able to do together and quickly realized that the situation called for greater collaboration. The US Embassy and the American Chamber of Commerce joined with us, and United against COVID-19 was launched.
We have a lofty goal—to raise 1 million levs—and 100 percent of every lev or dollar or euro contributed supports those overlooked or underfunded during this crisis. As we speak, United has raised more than 900,000 leva and is still growing.
I am overwhelmed by the generosity of corporations, foundations, and individuals. The first fundraising letters were emailed on a Saturday evening in late March, and within minutes, I had a response from Dimitar Tsotsorkov of the Lachezar Tsotsorkov Foundation, committing significant support. Companies such as Coca-Cola, ContourGlobal, ING Bank, Citibank, and UniCredit Bulbank, among many others—25 so far—quickly followed. This outpouring of support is a reminder that we are all in this together as the coronavirus does not care about international boundaries, race, sex, or religious affiliation.
To read the full interview, go to https://www.vagabond.bg/interviews/item/4980-nancy-schiller-philanthropy-in-action.html