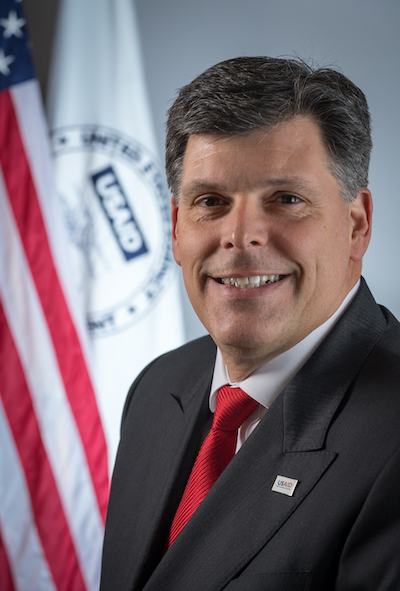 Brock Bierman has been the Europe/Eurasia Assistant Administrator at the US Agency for International Development (USAID) since January 2018. Prior to that, Mr. Bierman served three terms in the Rhode Island House of Representatives and has held leadership positions in USAID, the Federal Emergency Management Agency, the Department of Interior, and the private sector in the United States.
USAID worked in Bulgaria from 1991 until 2008, helping to develop the country's financial sector, foster entrepreneurship, de-collectivize agriculture, and diversify the energy supply. USAID still has a presence in the Western Balkans, Ukraine, and Georgia, among others.
In September 2019, Mr. Bierman was in Plovdiv, Bulgaria, for a meeting of the successor foundations to the enterprise funds established by the US Congress, with USAID assistance, after the fall of communism in 1989 to support private sector development and democracy building. Mr. Bierman discussed the changes he sees in the region over the past twenty years, the work that still needs to be done, and the continuing role of USAID.

America for Bulgaria Foundation:
2019 is an important year. In November, we will mark the thirtieth anniversary of the SEED Act. This Act was passed by the United States Congress and had a simple vision—to help transform former communist countries from centrally planned economies into free-market democracies. Thirty years on, what has that vision resulted in? What changes do you see on the ground in some of the countries that were SEED Act beneficiaries?
Brock Bierman:
There is tremendous amount of dysfunction that comes with the type of authoritarian government [countries like Bulgaria had before 1989]. You are not going to be able to solve all of those problems in a matter of a few short years or even one generation.  However, a lot has changed for the better. When I first visited Moldova [in 1997] and I walked into the hotel, there was one lightbulb hanging from the ceiling; my room didn't have heat; and there was no hot water. In fact, they turned the electricity off at night. I remember having dinner at a restaurant next door, and it was in December that I was visiting. I remember eating my meal in coldness, wearing a coat. But if you visit Chisinau now, there are lots of different hotels, restaurants, boutiques. Things have changed considerably. That is not to say there aren't challenges. There are lots of challenges.
But at the end of the day, when you think about the 24 countries we were originally in, 11 have joined the EU, 12 have joined NATO. We have transitioned from countries that have been recipients to countries that are now donors. We have helped those countries become partners. They are actually working with us now to help other countries in need.
ABF:
What are USAID's goals for the region?
BB:
There isn't a day that goes by that I don't come to work trying to put myself out of a job… We are developing countries so they can stand on their own—so they can help themselves and they can help others.
ABF:
You are attending the legacy foundation conference in Plovdiv. Legacy foundations work in very different countries such as Albania, Bulgaria, Russia, and Slovakia. What common challenges do these organizations face, and what areas do you see them cooperating in?
BB:
I keep hearing the phrase "the next generation of leaders." I think we all have to pay attention to the next generation of leaders because there have been some real issues having to deal with unemployment, brain drain, understanding your role in a democracy. I think we can help young people understand their roles and responsibilities in a democracy, to give them optimism and hope for a better future, and to give them skills to build on what the previous generation has accomplished. We are going to not only help the countries we are working in, but the entire region.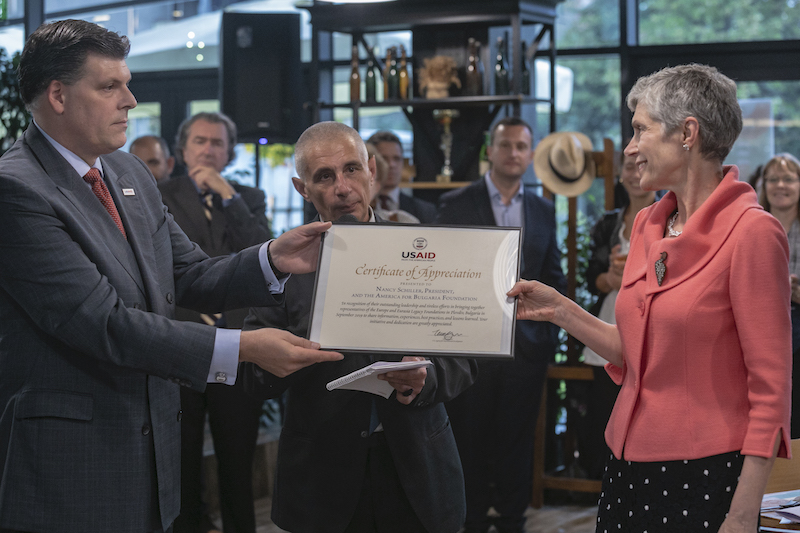 Working with young people is a top priority for the bureau. We launched a very ambitious program last December—the European Democracy Youth Network, which puts young people together from all over the region to talk about how they can come together. They are actually sharing best practices. They are also coming together from different points of view and from different parts of society. We want them to understand that we have to find common ground in order to succeed. We live in a very polarized world. The question is: How do we live in a polarized world and still accomplish our goals? Giving people a different perspective is a good way to accomplish that goal.
We also support Junior Achievement in the region, helping to build sustainable local organizations that provide entrepreneurship training and soft skills to equip young people to compete for jobs in a dynamic market economy.
I would be interested in finding more structured ways to discuss our shared experiences on youth issues and other areas beyond what can be accomplished in a one-day meeting.
ABF:
Before you embarked on your public service career, you started two companies. What lessons from the private sector can you apply to public service?
BB:
People have to be your No. 1 consideration. There are three things you have: There are the resources, the budget or the money that you bring into your business. Then you have the rules, regulations, and policies that you have to follow. And then you have the people that work for you. You can have the greatest rules and regulations and policies, and you can have the most money that you possibly can have, but if you don't have good people implementing good policies around the right resources, you won't see success. Personally, I have been blessed to have a great staff [at USAID]. I've got the most passionate and dedicated people in all of government, in my opinion.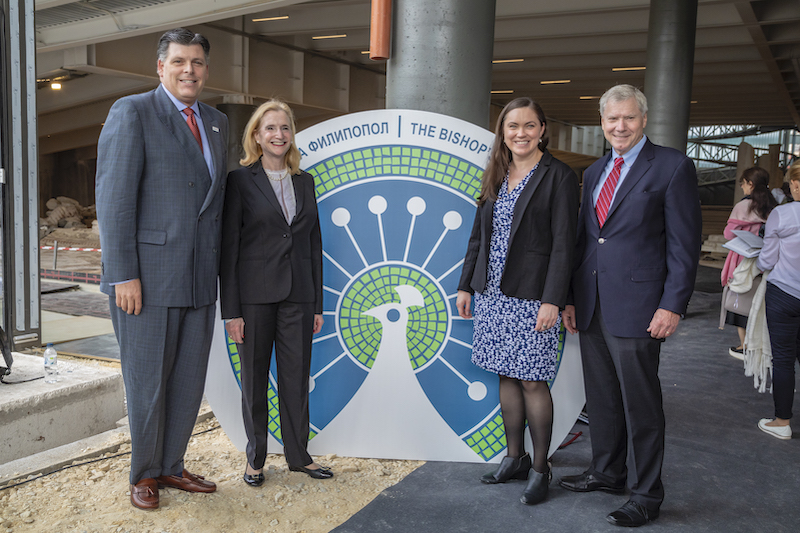 ABF:
What are the highlights of your trip to Bulgaria? 
BB:
The Bishop's Basilica has been an incredible experience. You know there are memorable experiences and there are unforgettable experiences, and that was an unforgettable experience. Whether it is in two days or twenty years, I am going to remember that specific experience. There aren't that many of those that you have in a lifetime. What ABF did has created not only unforgettable experiences but a lasting generational change that people will continue to experience on a daily basis. In addition to restoring this important historical and cultural site, this is a cornerstone project to enhance Bulgaria's visibility as a destination for cultural tourism.
I also have really appreciated the opportunity to connect with the legacy foundations through the meeting kindly hosted by ABF. There is a lot of incredible work going on, and it can only be enhanced when we have the chance to learn from one another.