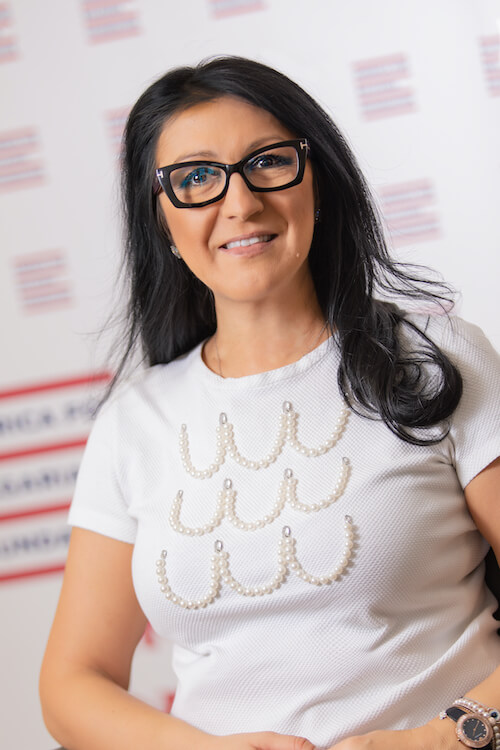 Interview with Desislava Taliokova, executive director of the America for Bulgaria Foundation, published in 24 Hours newspaper
24 Hours: Mrs. Taliokova, the America for Bulgaria Foundation announced the launch of its new leadership program, LEAP, in partnership with Babson College. Please tell us who the program is for and what your expectations for it are.
Desislava Taliokova (D.T.): The LEAP program is aimed at Bulgarian professionals from the public, private, and non-governmental sectors. Applicants must be under the age of 40 with at least five years of work experience in their field of work and be fluent in English.
Our ambition is to develop LEAP long-term and for the program to become a signature program and a trademark for quality among the various leadership programs offered in Bulgaria and in the United States.
24 Hours: How did you arrive at the five-year work experience requirement?
D.T.: We repeatedly discussed the requirements for both age and professional experience and reviewed the profiles of participants in some of the most prestigious international leadership programs. The requirement is not for a total of five years of professional experience in any field, but in the field of work in which candidates are seeking long-term development. LEAP is a significant investment in Bulgaria's human potential on the part of the America for Bulgaria Foundation, and the program requires considerable investment of time and effort on the part of participants. Therefore, it is important that they have gained some professional and life experience, as well as clarity about their professional trajectory, in order to make the most out of the program.
24 Hours: Babson College was founded in 1919 with a focus on entrepreneurship education. How did your partnership with this educational institution come about?
D.T.: In developing the concept behind the LEAP program, we were guided by our desire to partner with a first-class university in the United States that is an undisputed leader in providing leadership and entrepreneurship education. For more than 25 years, Babson College has consistently topped the U.S. News & World Report university rankings in the field of entrepreneurship education. Babson's newest addition is the Arthur M. Blank School in Entrepreneurial Leadership. What does this mean? In the words of Babson College President Stephen Spinelli Jr., "Entrepreneurial leadership is a mindset that focuses organizations on turning problems into opportunities that create economic and social value." According to Babson, "entrepreneurial leadership goes hand in hand with a relentless optimism about the world. Entrepreneurial leaders are not just risk managers; they are experts at navigating uncertainty. They have a positive outlook about the future, as they are always trying to improve things."
We share this philosophy, and it is no coincidence that our motto is "American optimism meets Bulgarian potential." Moreover, in the past, we successfully partnered with Babson in our Summer Entrepreneurship Program (SEP). Babson College accepted our invitation to co-create a leadership skills program specifically for Bulgaria that is based on its innovative methodology called Entrepreneurial Thought & Action (ET&A), but is adapted for Bulgarian participants from the public, private, and non-governmental sectors. This is how LEAP was developed, and we believe that the program will be a leap in the knowledge, motivation, and actions of the participants.
24 Hours: What knowledge will participants gain by the program's end?
D.T.: The program is very intensive, and as I already mentioned, it is based on Babson's entrepreneurial leadership curriculum. Some of the main skills that the program aims to develop are related to personal and professional motivation, teamwork skills, the ability to conduct negotiations and engage with people with diverse interests and motivations, to formulate common goals by way of solving complex problems, and others. The training will feature both academics and practitioners — leaders from the public, private, and non-governmental sectors in the United States. The knowledge that participants will return with largely depends on them and, above all, on their openness to new ideas. As one of Babson's leading lecturers and researchers, Professor Nan Langowitz, says, the key is to have "an openness to learning, and being able to mobilize others in your organization to do the same. The best leaders are learners. The more you can develop a learning mentality, the better you'll be at staying open to hearing new ideas, considering contrary points of view, and arriving at improved decisions."
24 Hours: At the program's launch, you said that LEAP will cover important topics for Bulgaria. What are they?
D.T.: It is not ABF who determines the topics that are of importance to Bulgaria. We believe that in order for the program to be truly beneficial for participants, not just a highly intellectual theoretical exercise, it would be valuable for them to identify topics that they think are important for Bulgaria and to look for potential solutions. It is not by chance that we structured the program to include representatives of the public, private, and non-governmental sectors, because even in the most successful countries, complex societal problems are rarely, if ever, solved by just one sector. Practicable, sustainable solutions are only possible as a result of the constructive collaboration among representatives of the government, businesses, NGOs, and an active civil society.
24 Hours: Where will LEAP take place, and what is the program's duration?
D.T.: The program will be conducted primarily in Boston, at Babson College. Additionally, we have prepared a cultural immersion program in New York and Boston. The participants will spend 16 days in the United States.
24 Hours: What is the application deadline, and how can interested individuals apply?
D.T.: The application deadline is November 7, and individuals can apply via the program's website, where all conditions and requirements are listed: https://us4bg.org/leadership-education-in-america-program/
24 Hours: Is this the first time that ABF has launched such a program, and can we expect similar initiatives from the Foundation in the future?
D.T.: This is not the first program of the America for Bulgaria Foundation to train Bulgarian professionals in the United States. For seven years, between 2010 and 2016, we offered the Bulgarian Young Leaders Program, which included various thematic components and was aimed at both students and entrepreneurs, school principals, teachers, and magistrates. In addition, for many years, we also funded short-term experiential training for agribusiness professionals. As a result of these programs, new businesses were launched and good practices were introduced in various fields. We created LEAP because, as an organization, we are constantly looking for new opportunities and are open to new ideas. We hope that individuals who complete the program will be proud of their participation in it, will be filled with "relentless optimism" for the future, and will keep looking for opportunities in the many challenges they face.