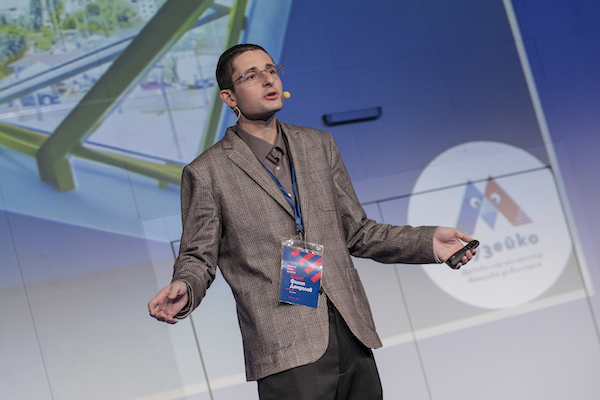 Philip Dandolov, nicknamed Dr. Phil by colleagues and friends, doesn't have his own TV show, but he has a doctorate, and he frequently dispenses advice on how best to build a marble run maze, which animals are best at camouflage (and where to look for them when they don't want to be found), and what aspects of science history are worth lingering over.
At university Philip studied politics, but he is passionate about science—a passion he shares with visitors young and old at Muzeiko, the largest children's science museum in Southeastern Europe. As a member of Muzeiko's learning team, he works to stimulate children's interest in scientific knowledge and experimentation. He uses accessible language and everyday objects because he believes "knowledge shouldn't come from above." He will give youngsters just enough information to spark their curiosity and make them wish to find out more. "Science shouldn't reveal its secrets too soon," Philip says.
Find out how Philip makes science interesting and accessible to all, and watch him create a human electrical chain at the third annual meeting of the community of the America for Bulgaria Foundation on January 30, 2019.
Как да направим науката интересна? Д-р Фил отговаря /Ask Dr. Phil: How Do You Make Science Interesting? from America For Bulgaria Foundation on Vimeo.