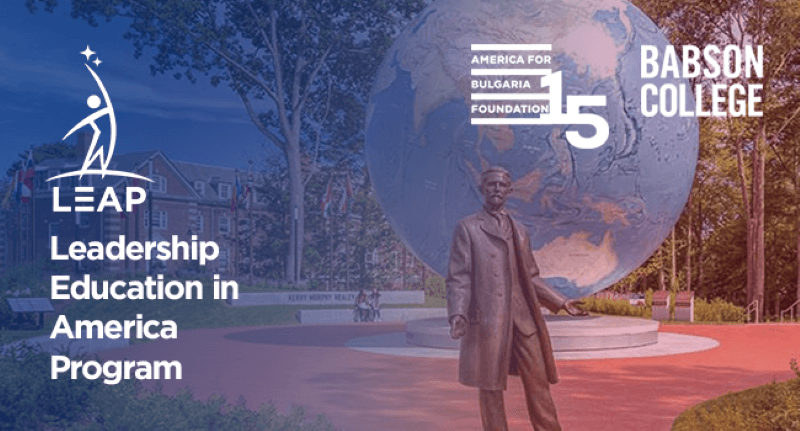 US President John F. Kennedy once remarked that "leadership and learning are indispensable to each other."
The inaugural class of Leadership Education in America Program (LEAP) is well aware of this important relationship. Their pursuit of lifelong learning is one leadership trait that impressed the jury in all three of the program's selection stages.
The following fifteen individuals were selected to participate in the America for Bulgaria Foundation's newest leadership development opportunity for young Bulgarians of high potential:
Ana Alexieva, NGO sector
Atanas Georgiev, public sector
Aylin Dzhafer, NGO sector
Boryana Peycheva, private sector
Fani Bachvarova, private sector
Georgi Kadrev, private sector
Georgi Penchev, private sector
Georgi Toskov, public sector
Lyubomira Vutkova, private sector
Petar Vanev, public sector
Philip Hitov, public sector
Raya Tsvetkova, NGO sector
Savina Ezekieva, private sector
Vesela Deyanova, NGO sector
Viktoriya Viktorova, private sector
Launched in 2022 in partnership with Babson College — a leading provider of leadership and entrepreneurship education in the United States — LEAP is designed to help participants hone their leadership skills, inspire and unite others around their vision for community betterment, and foster a culture of mutual respect and cooperation.
The program's first edition in 2022–2023 received a record 410 applications.
ABF has supported leadership and entrepreneurship skills development for young Bulgarians through programs in Bulgaria and the United States for years. Graduates of these programs improve the communities they live in and make a positive difference in Bulgaria.