Good practices and successful management approaches in meat production were among the topics covered by the Leaders in Agriculture program this summer. The program's 2017 edition allowed 12 agriculture professionals from Bulgaria to participate in a two-week intensive practical training at the Norman Borlaug Institute for International Agriculture at Texas A&M University, a leading US institution for agricultural research.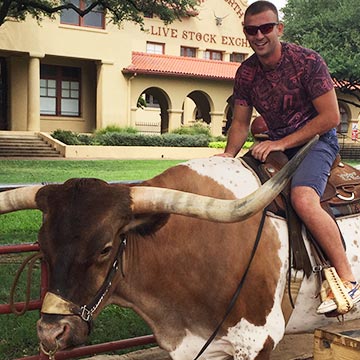 The Leaders in Agriculture program was created by the America for Bulgaria Foundation to aid in the development of a modern and competitive agricultural sector in Bulgaria. The program offers educational opportunities and practical support to professionals and researchers in the field who are eager to explore innovative, sustainable production methods and apply them in their work.
Theoretical training in nutrition, health management, and genetics was supplemented by trips to fattening farms, processing plants, and breeding associations. A highlight of the program was the visit to the Texas Beef Council, a marketing organization dedicated to promoting the benefits of beef consumption. There, the participants had the opportunity to prepare beef steaks under the supervision of a professional chef. The group also met with two extension specialists—professionals who work locally and use scientific research to help farmers come up with solutions to real problems in agriculture, such as tackling new diseases and optimizing production costs.
During the training, the program participants also learned about the meat production model in Texas, a state with perfect conditions for cattle rearing and traditions in the field that go back generations. Cattle breeding is a traditional family business in Texas, and the Santa Rosa and 44 Farms ranches are two examples of prospering family-run operations.
The training concluded with a visit to the Fort Worth Stockyards, a historic landmark of the livestock trade, and a traditional rodeo show in Decatur, Texas. The participants returned home loaded with new ideas and a great deal of American optimism.