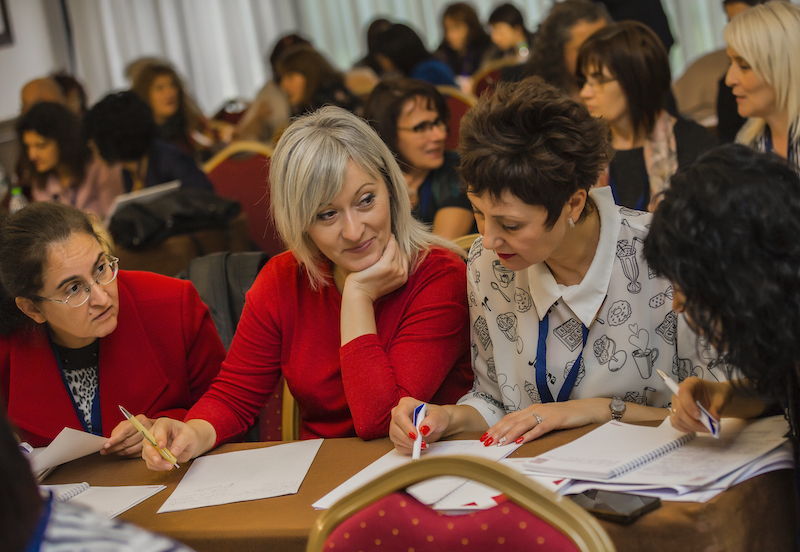 Professional learning for educators has been a cornerstone of educational programs developed by the America for Bulgaria Foundation. The focus on professional learning recognizes that challenges in the classroom are dynamic, and in order to prepare students for the jobs of the future, education professionals need to examine and improve their practice continually.
ABF programs such as the Education Leadership Academy, developed in partnership with Bank Street College of Education, Columbia University's Teachers College, and Plovdiv University, have exposed educators in Bulgaria to such ideas as forming professional learning communities, creating instructional materials through collaboration, focusing on social and emotional learning, and using digital technologies to support learning, among others.
The impact of ABF programs can be felt throughout the education system: schools that are run more collaboratively, teachers who are more motivated and eager to adopt new practices, students who are better prepared to solve real-world problems. The emergence of a nationwide teacher support network and changes in national policy are further evidence of impact.
The success of ABF programs was recognized by Learning Forward, one of the leading associations worldwide working in educator professional development. Its Learning Forward Annual Conference, held in St. Louis, Missouri, in December 2019, gathered nearly 3,500 education professionals from across the United States and seven countries in Asia, Europe, and South America and featured hundreds of sessions on professional development.
Natalia Miteva, program director in the Developing and Retaining Human Capital field at ABF, and Kyle S. Haver, a leadership coach at Bank Street College, were invited to present the successful US-Bulgaria collaboration in education that has driven change in Bulgarian classrooms and national educational policies. Importantly, the evolution of ABF programs represents a scalable model of change that could be adapted to other education systems, too.
Mr. Haver is a seasoned education professional with more than 30 years of experience in the New York City education system, the last fifteen of which he was involved in setting educational policy and designing professional learning for school teams for the NYC Department of Education (equivalent to Bulgaria's Ministry of Education).
In this interview for the ABF newsletter, Natalia Miteva and Kyle Haver discuss the importance of educator learning and provide an overview of how ABF programs have helped improve Bulgarian schools by supporting children as well as adults.
Why is professional learning for educators important? Shouldn't educators come to the classroom already prepared to tackle the challenges of educating young people?
Kyle S. Haver: Although some see teaching as a discrete set of learned teaching techniques that can be taught and last a lifetime, others like me see teaching and leadership as a more complex act that can grow and nurture with time. We see teaching and leadership as both a technical and artistic profession that goes beyond the collection of skills… Bank Street College's concept of "developmental interaction" provides an essential understanding that suggests the interplay of skilled knowledge and on-going assessment to inform the teacher's actions and choices in the classroom.
Professional learning is part of a life-long process that grows over time. It is essential that teachers and school leaders learn how to learn, learn how to integrate new technologies and methodologies, and find innovative ways to engage students and the community in deep learning experiences. The challenge of designing professional learning is to provide a differentiated and on-going system of support for teachers and school leaders.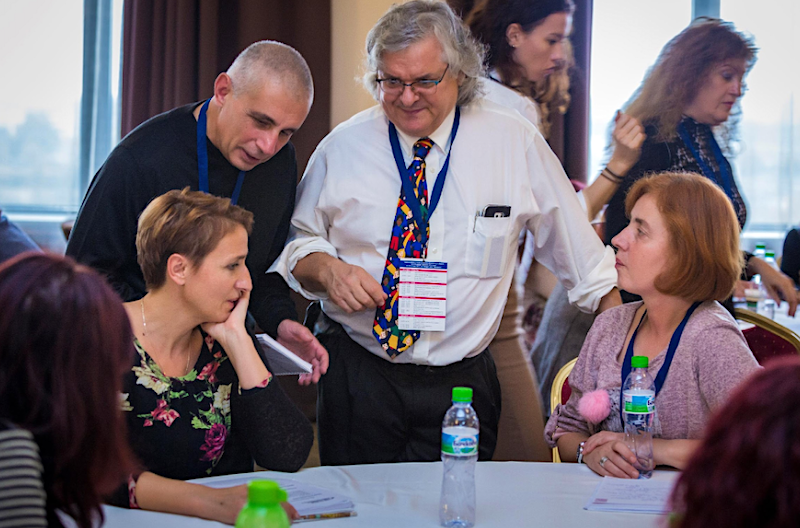 Natalia Miteva: An education system is only as good as its teachers. Back in 2012, in the early years of the Foundation, we identified our work with teachers to be critical for improving the quality of Bulgarian education. Over time, we realized that other people in leadership positions at schools and across the system were also critical for advancing educational outcomes. So, we developed programs for school principals and technology specialists, which we deemed essential to our long-term commitment to helping schools meet the needs of 21st-century learners.
Teachers and education leaders need all the support they can get to advance student learning and outcomes in a fast-paced, technology-saturated, demanding world. A teacher has many roles in the current classroom: providing mentorship on students' personal development and soft skills, guiding children as they learn about professions they didn't know exist, making sure students have the knowledge and skills they need to meet education standards, while constantly navigating them on their individual learning trajectories. No other job is so critical in shaping the future of a nation. So, teachers need to continue to learn throughout their lives. For ABF, investing in educators is essential for developing Bulgaria's human capital that will drive private sector growth.
How have ABF's professional learning programs evolved over the years?
N.M.: We started with 20 teachers in 2012 and added a new cohort each year after that. In 2015, we introduced the Principals Training Program and in 2016 the Technology Specialist Program. Along the way, we collected data and analyzed the impact of programs to make sure they stay relevant and effective. In 2017, we redesigned the programs to reach more educators and support leadership teams at target schools. We introduced the Education Leadership Academy, which included several teacher and principal institutes focusing on technology, professional learning communities, professional learning, and instructional design. In 2019, our national community of innovative educators reached 450. The community has propelled 193 professional learning communities across different schools, advised on the creation and inclusion of the Innovative Schools in Bulgaria's 2016 Education Act, and advocated for a 1.5 million–lev budget on the national transfer of innovative practices. Despite these notable achievements, the biggest asset of our programs is the community itself: a powerful engine of innovative practices that we have seeded across Bulgaria, which are transforming teaching and learning for the benefit of tens of thousands of Bulgarian children.
Can a few programs bring about meaningful and sustainable change in education?  
K.S.H.: Changing the culture and practices of school leaders and classroom teachers is a complex and challenging task. It is a balance of "un-learning and re-learning new learning." It also requires a significant amount of risk-taking and a leap of faith into a new way of leading and teaching. Equally important is helping school leaders understand that change takes time and sustained support that grows first from an initial change effort organized within a small group of committed educators.
What are the most notable accomplishments of ABF programs in education?
K.S.H.: There are several important achievements as a result of our collaboration with ABF. These achievements have been experienced at the classroom, school, professional learning & collaboration, leadership, and policy level. In addition, Natalia Miteva and the ABF team have helped to establish systems and structures to help sustain this educational change effort.
Natalia leveraged my expertise and experience in the NYC education system in helping develop a rich collection of professional materials, design a system of professional learning experiences that built upon one another, and build the capacity of lead principals and teachers to take ownership of these innovations. And it was the introduction, support, and expansion of professional learning communities (PLCs) that helped to leverage this change effort and cultivate another educational entrepreneurial approach to innovation.
The innovations at the classroom, teacher pedagogy, and teacher team levels as well as leadership practices deserve considerable celebration understanding that this innovation initiative is only a few years old.
NYC schools have spent considerably more money on professional learning with very little impact on instruction and student engagement because the professional training programs were not as thoughtfully designed and implemented as they were by the ABF team.
The case study describing the impact of ABF educational programs was selected for participation in the 2019 Learning Forward Annual Conference. Why is this a big deal?
N.M.: Learning Forward is one of the most prominent conferences on professional learning for educators. It just marked its fiftieth anniversary, a longstanding legacy in supporting education professionals who empower student learning. To present at Learning Forward, you need to apply and go through a rigorous selection process, and every workshop at the event was of the highest quality. That is why presenting the US-Bulgarian collaboration on creating a national network of innovative educators was a tremendous accomplishment for our team and for Bulgaria.
Our workshop was attended by an international crowd, including government officials from the Singapore National Academy for Teachers and National Academy for Principals. Remember, Singapore tops the PISA charts when it comes to student results. Their engagement with Learning Forward speaks to the well-documented but often neglected fact that educators learn best from peers when they share and discuss their work. For Bulgaria to move up the PISA charts and steadily improve the learning outcomes of students, we need to share and reflect on what we do well in education and continue to learn from the best in the world.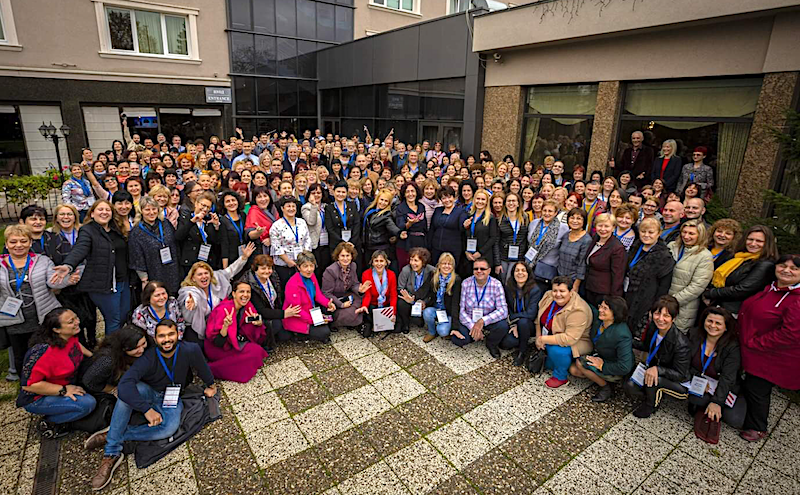 K.S.H.: Learning Forward is a nationally recognized leader in informing professional learning. It has impacted policy and practices for school districts and school leaders nationwide. Learning Forward's collection of professional materials and research-informed practices is used throughout the United States. The annual conference is designed for practitioners by practitioners sharing promising and exemplary practices. The conference planners are highly selective in choosing only those presentations that embody the same professional learning standards. ABF's leadership and teacher institutes both embody and celebrate many of these practices.
Learning Forward has a significant national presence since 1978 but is only beginning to explore international education. It is highly significant that the organization has asked ABF to help take a lead in this international work. ABF's work was selected to highlight how the Learning Forward Professional Learning Standards can be applied to international contexts.
The amount of work in supporting these international partnerships, not to mention the translation of professional materials and the preparation, is remarkable… and to think that in only a few years, these programs, which started as an isolated training program, have grown into a national network of innovative schools and practices!