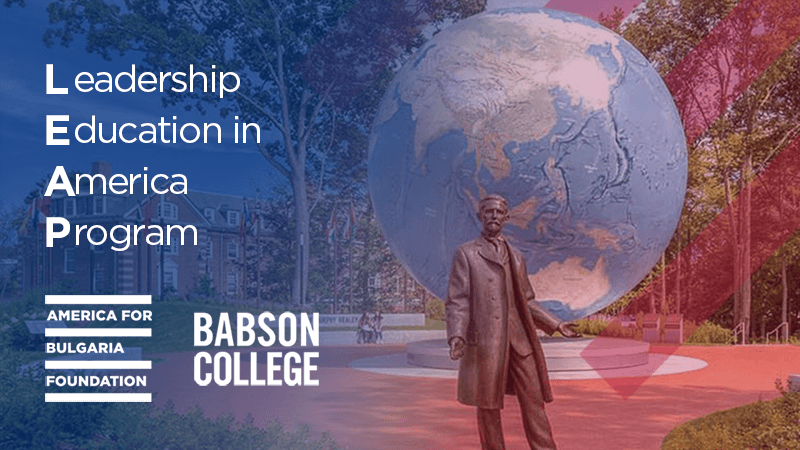 This America for Bulgaria Foundation–designed and –funded program, in partnership with Babson College, will enable early- to mid-career Bulgarian professionals from the public, private, and NGO sectors to spend three weeks in the United States honing their leadership skills.
ABF has supported leadership and entrepreneurship skills development for young Bulgarians through programs in Bulgaria and the United States for years. Graduates of these programs improve the communities they live in and make a positive difference in Bulgaria.
"We named the program LEAP — Leadership Education in America Program — because we believe that it will constitute a real leap in the participants' knowledge and skills," said Desislava Taliokova, ABF's executive director.
Bulgarian professionals up to 40 years of age with at least five years of professional experience in the public, private, and NGO sectors are eligible to apply. Ideal candidates will possess demonstrated professional success in their field of work, an entrepreneurial mindset, commitment to socially significant causes, and fluency in English.
ABF will cover all program-related expenses for up to 15 participants. The training will take place in Boston and New York over three weeks in April–May 2023.
Babson College is a premier US educational institution with more than one hundred years of history in entrepreneurship and leadership education. During the training, program participants will attend engaging lectures, receive individual feedback and practical tasks for the development and presentation of projects on various topics relevant to Bulgaria, and will participate in an exciting cultural program in Boston and New York.
If you meet the requirements, you can apply by November 7, 2022, through the program website (in English only): https://us4bg.org/leadership-education-in-america-program/.