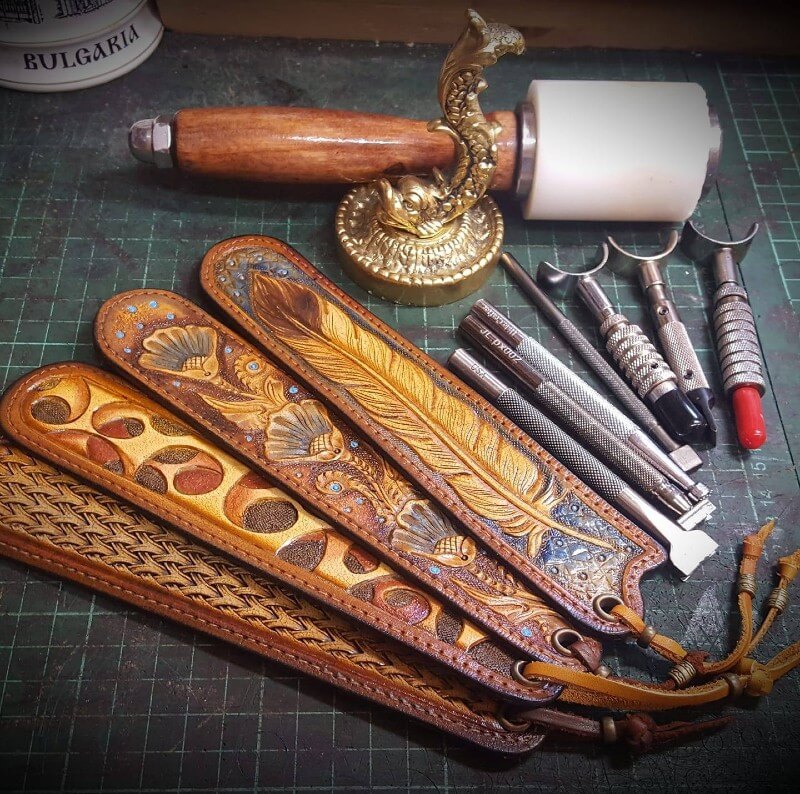 If K&B Art's hand-crafted leather accessories look more like works of art than objects that you'd put to daily use, it's because this man-and-wife duo — K and B in the business's name stand for Krasimir and Boryana — has a long history with art.
Boryana is a trained painter, artist, and art teacher who has drawn or painted ever since she can remember. Moreover, the leather-working tradition goes back generations in her family.
A more recent arrival to the world of artistic expression, Krasimir is no lightweight either. Having spent a decade and a half as a craftsman, the former industrial machinery mechanic has developed a fine esthetic sense – so much so that he is now the chief designer and craftsman behind K&B Art's remarkable totes, backpacks, wallets, knife sheaths, belts, and many other accessories.
And while they may look like something you'd want to place in a display case, K&B Art items are practical, sturdy accessories that customers enjoy for years — and that tend to get even better over time. Aged, K&B Art's high-quality leather looks simply wonderful!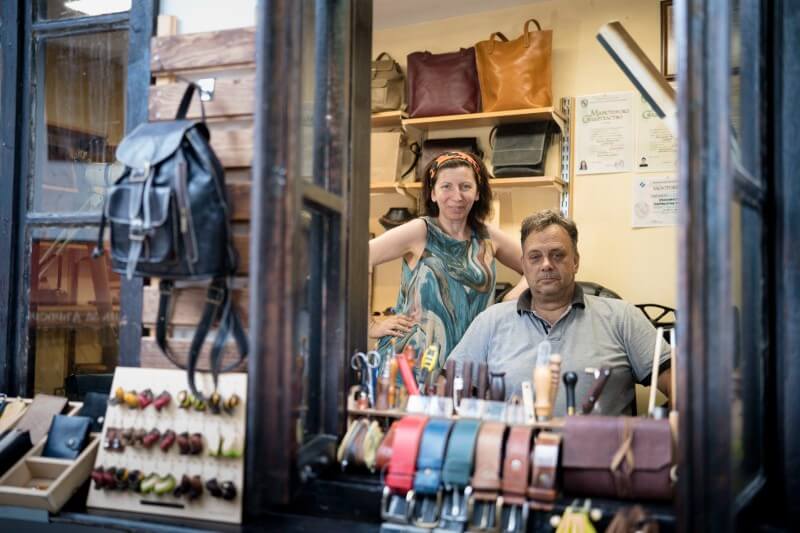 In addition to leather crafts, K&B Art offers leather-working supplies and gorgeous printed silk scarves, designed by Boryana.
Although running a small business is often a fourteen-hour-long, seven-days-a-week endeavor, both Boryana and Krasimir find the time to give back to their community. Boryana teaches art, while Krasimir organizes other craftsmen in Veliko Tarnovo and the region for the sake of gaining more exposure for local arts and crafts. Moreover, he is a mentor to starting entrepreneurs in the mentorship program of Business Academy for Starting Entrepreneurs, an America for Bulgaria Foundation–backed free entrepreneurship program.
You will find K&B Art in Veliko Tarnovo's famed crafts street in the old quarter, Samovodska Charshia, as well as on 1 Velcho Dzhamdzhiyata Street, where you can also catch a leather-working demo. You can also order a special leather gift for a loved one online through their Facebook page.