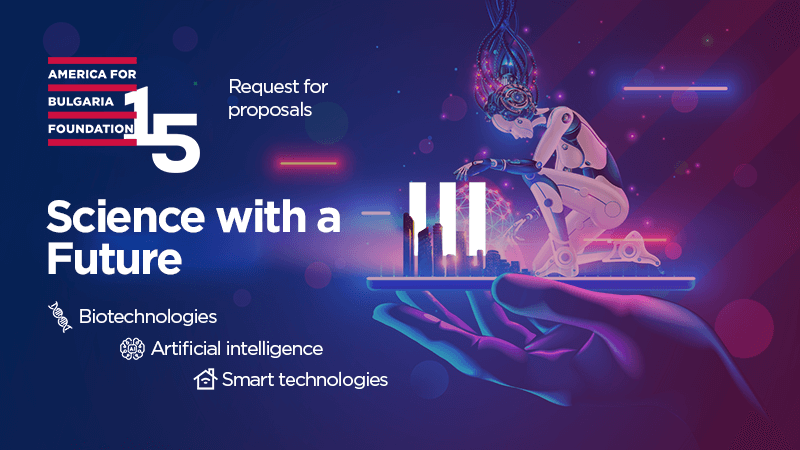 The America for Bulgaria Foundation has launched a third edition of its Science with a Future request for proposals (RFP). The Foundation is looking for project proposals in the fields of biotechnologies, artificial intelligence, and smart technologies by researchers, scientists, and engineers, aged 16–40 years, with applied science backgrounds in relevant fields. Projects must have a real and measurable effect on business and/or address existing problems of public interest, as well as have a high potential for practical implementation. The aim of this RFP is to provide support for scientific projects and products in the early stage of development.
Approved projects will receive between 5,000 and 25,000 levs in funding.
Partners of the Foundation for this RFP are: the Beautiful Science Foundation, Sofia Tech Park, Center for Applied Studies and Innovation – CASI; Professional Association of Robotics and Automation – PARA; Artificial Intelligence Cluster Bulgaria; Health and Life Science Cluster; and the European Software Institute – ESI.
Applications will be accepted by midnight on May 15, 2023, through the RFP website.
Applicants can submit additional questions related to the RFP by 2 pm on April 4, 2023, at the email indicated on the RFP webpage. Answers will be provided during a Q&A webinar on April 6, 2023, on the Foundation's Facebook page.
The America for Bulgaria Foundation works in partnership with Bulgarian organizations to strengthen the private sector and related democratic institutions in the country. In the field of Business, Entrepreneurship and Technology, the Foundation partners with professional organizations, universities, researchers, and representatives of the business sector with the aim of developing a vibrant entrepreneurial environment with applied innovative practices and modern technologies. For more information, please visit www.us4bg.org