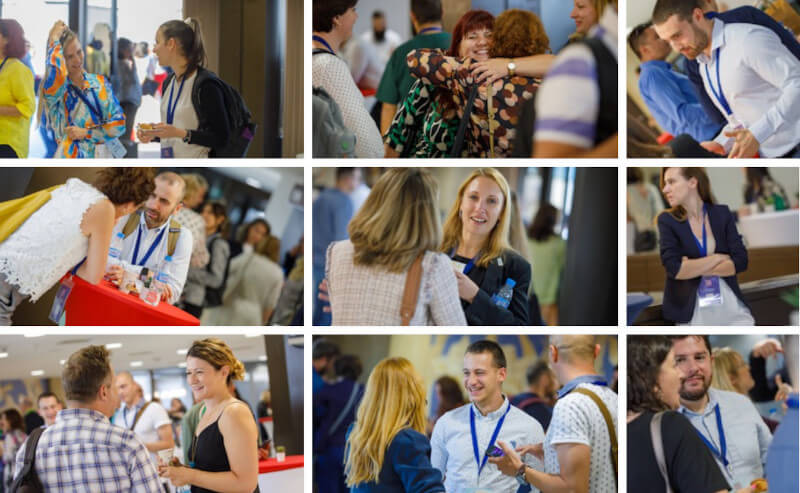 "Alone we can do so little; together we can do so much."
Helen Keller, an American author and disability rights advocate
The America for Bulgaria Foundation marked its fifteenth anniversary with a community forum celebrating the power of collaboration — the power of &. Nearly 600 grantees from various fields, partners, friends, staff, and members of the ABF Board attended the event titled "& the Story Continues" at the National Palace of Culture in Sofia on September 29, 2023.
The anniversary forum featured thought-provoking TED-style talks on the power of cooperation and paid homage to the partnerships the Foundation has helped nurture over the years.
The ampersand, &, in the forum's title was a symbolic representation of those partnerships. By encouraging collaborations between individuals and organizations and providing direct support for more than 1,200 projects nationwide over a decade and a half, the Foundation has expanded educational opportunities for youth, enabled more transparent public spending, facilitated access to trustworthy information, promoted Bulgaria's cultural and natural heritage, and ensured economic inclusion for society's most vulnerable groups.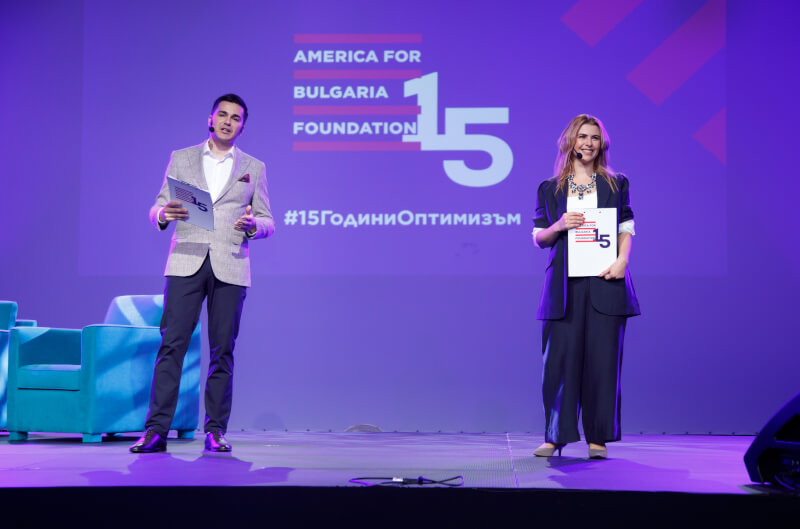 The forum's diverse lineup of speakers included fisherman Biser Georgiev, who is helping attract tourism to the Danubian town of Nikopol and uncovering the secrets of the "Bulgarian Maldives" for visitors; professional star gazer Nedislav Veselinov, the lead engineer behind the Sofia Planetarium; and police officer and LEAP graduate Petar Vanev, who presented on the connection between entrepreneurship and law enforcement.
Celebrity guest speakers Georgi Gospodinov and Angela Rodel talked about their own creative partnership and how it led to the first International Booker Prize for a Bulgarian book, Time Shelter.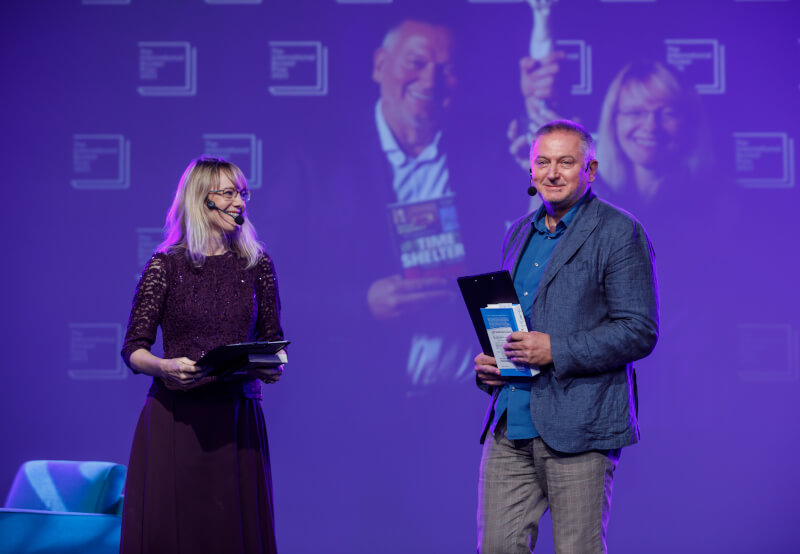 Another accolade winner to speak at the forum was Christo Grozev, whose team at investigative journalism platform Bellingcat helped uncover opposition leader Alexey Navalny's attempted assassins. The documentary chronicling the discovery received an Oscar in 2023.
Forum attendees also heard from Louisa Slavkova, founder of one of the leading civic education nonprofits in Bulgaria; Iskra Djanabetska, co-founder of educational platform Knigovishte, which uses a gaming approach to encourage reading among children; and one of the co-creators of the comic strip–inspired local culture brand Maina Town, Todor Popov. They talked about using different forms of storytelling to bring important subjects closer to Bulgarian audiences.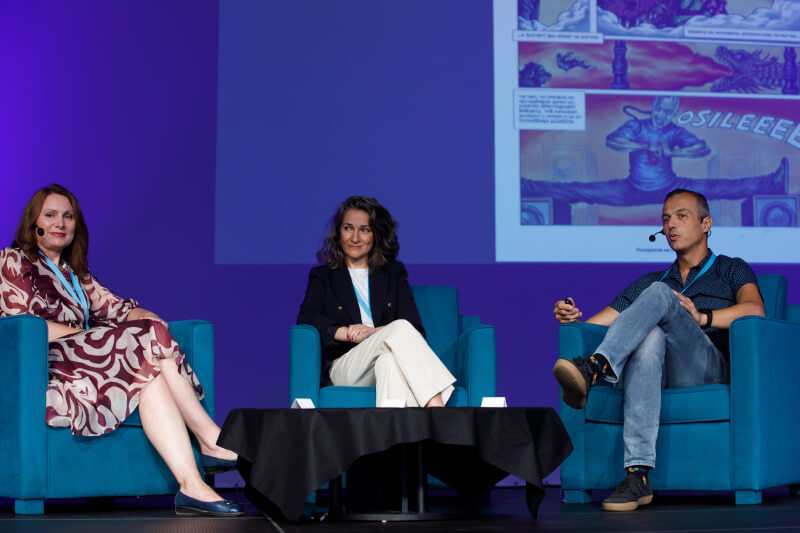 Storytelling is at the heart of what two other forum presenters do. Popular Bulgarian vlogger and film director Chris Zahariev talked about how a trip around Bulgaria's remotest corners helped him make his directorial debut as well as some unforgettable friendships. Yariv Lerner, CEO of Nu Boyana Film Studios, one of the leading film production and post-production studios in Europe, talked about his studio's work placement program for Ukrainians interested in film production. Forum attendees were treated to a short trailer produced by Nu Boyana trainees from Ukraine.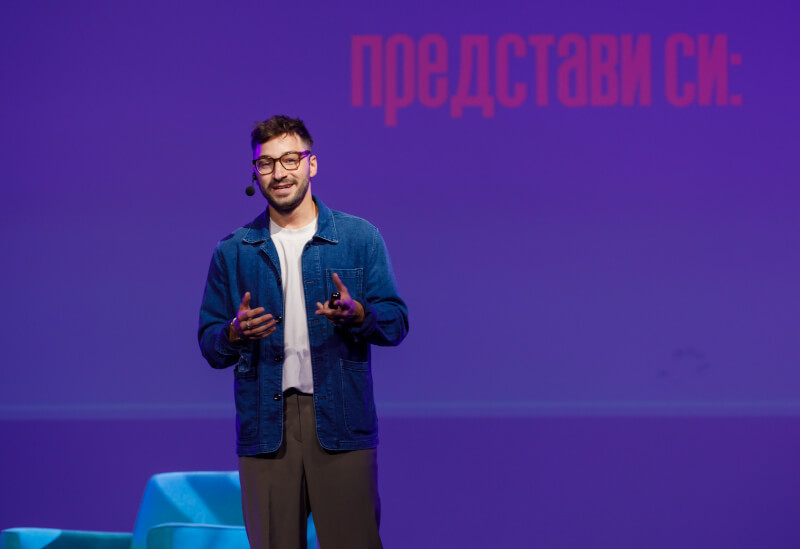 The friendship between archeologists Petranka Nedelcheva, of the National History Museum of Bulgaria, and William A. Parkinson, of the Field Museum in Chicago, goes back years and planted the seeds of an unprecedented international collaboration between North American and Southeast European museums. The First Kings of Europe exhibition, which opened at the Field Museum in March, features more than 700 artifacts from the collections of 26 museums in 11 Southeast European countries; artifacts from the National History Museum in Sofia, the Regional History Museum in Ruse, and the Varna Regional Museum of History are exhibition highlights.
Donika Georgieva, of architectural studio Atelier 3, is an architect who transforms cultural heritage sites into exciting experiences for the whole family, including the youngest — and often most demanding — visitors.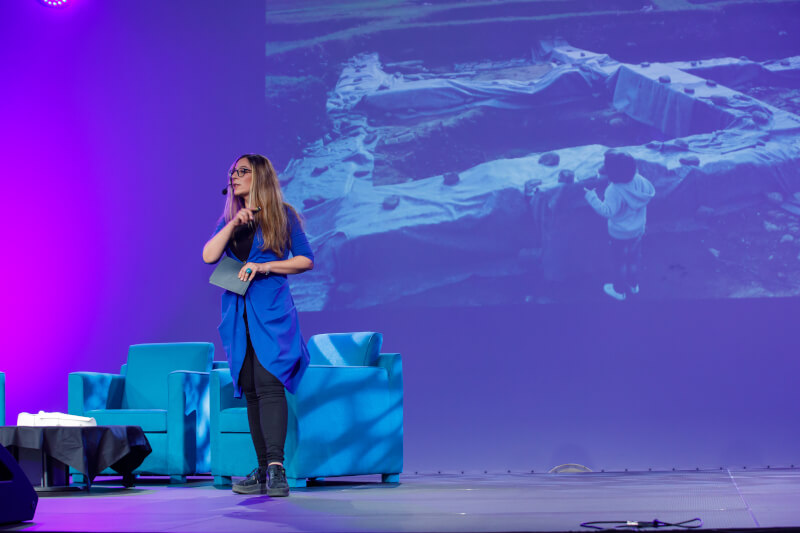 Children are at the heart of what Za Dobroto Foundation and co-founder Nadejda Rangelova do. Through the Firefly project, supported by the America for Bulgaria Foundation, Za Dobroto is improving the physical environment in children's hospitals and overhauling pediatric care in Bulgaria. Nadejda talked about why these changes are urgently needed and about how the transformed wards become healing environments for little patients and their caregivers and ensure safer working conditions for hospital staff.
Reni Petrova and Zori Dimitrova met five years ago as participants in the BEST Foundation's public speaking competitions in English. They became fast friends and began a creative collaboration that continues to this day. The talented duo treated the forum audience to a performance titled Beauty and the Beast.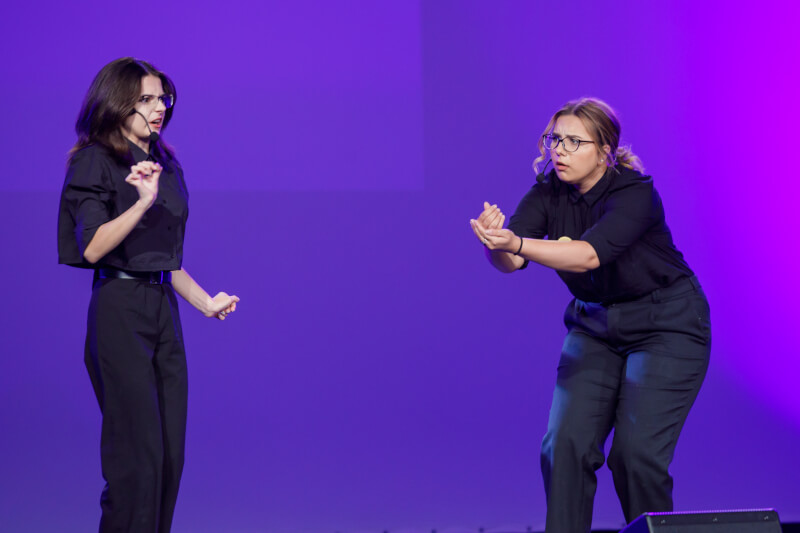 Youth talent was on display in journalist and Media E:volution graduate Pavela Kostova's on-stage conversation with ABF Board directors Melanie Kirkpatrick and Lyubomir Lozanov, who shared tips from their professional lives. Ms. Kirkpatrick is a writer-journalist with a thirty-year career at The Wall Street Journal. For the last 19 years, Mr. Lozanov has been the CEO of Ameta Holding, a company he helped turn around from a failing enterprise to Bulgaria's top poultry producer.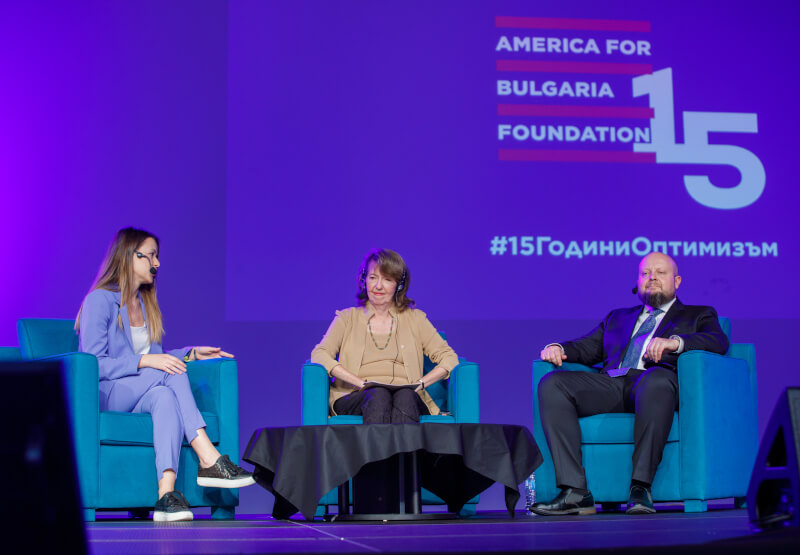 Forum attendees learned about another Bulgarian success story — EnduroSat, a global leader in nanosatellite and space technology production. The company's founder, Raycho Raychev, presented alongside Kevin O'Connell, a global space economy expert who sits on EnduroSat's advisory board.
Their presentation was followed by a surprise performance by Bulgaria's "cosmic" voice Valya Balkanska and internationally renowned bagpiper Petar Yanev, who received a standing ovation.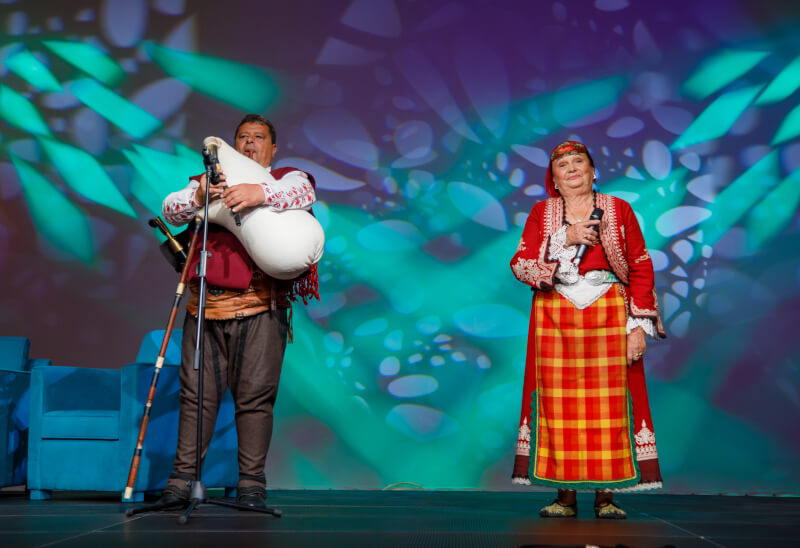 The livestream from the forum is available on the America for Bulgaria Foundation's Facebook page. Watch Part 1 here, and Part 2 can be viewed here.