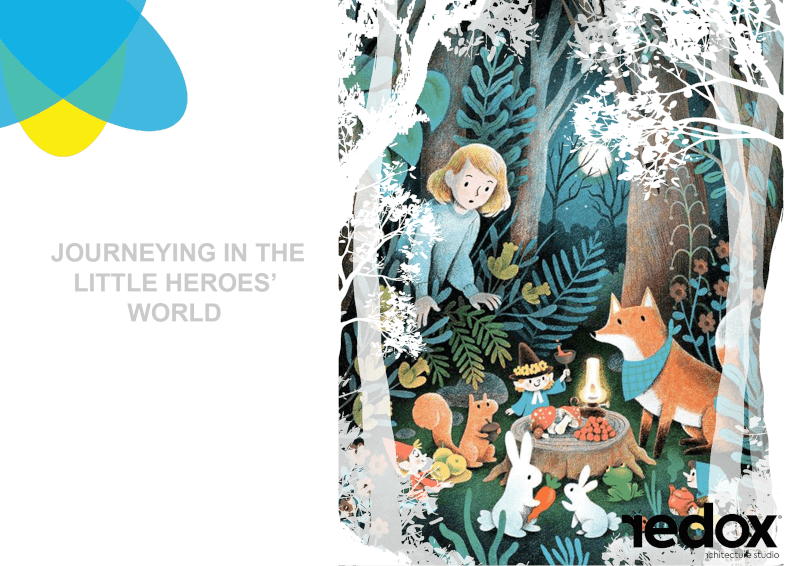 Mothers taking a stand are often precursors to change in Bulgaria. Famously, several Ruse-based mothers' public demand for cleaner air in the late 1980s was the first major step in the country's transition to democracy.
The seven mothers making up Za Dobroto ("For the Good") Foundation come from different places, but they are united in their commitment to improving the physical environment in children's hospitals and overhauling pediatric care in Bulgaria.
Since 2019, Za Dobroto remodeled and purchased new equipment for five children's wards, two in Sofia and one each in Aytos, Plovdiv, and Silistra. The women's untiring work and the support of hundreds of corporate and individual contributors transformed the wards into healing environments for little patients and their caregivers and ensured safer working conditions for hospital staff.
They named their hospital renewal project Firefly—for the beetle's associations with silver linings and hope.
In 2023, Za Dobroto joined forces with the America for Bulgaria Foundation to expand Firefly's reach. ABF's financial contribution and its own experience transforming Pirogov Children's Hospital will ensure that a quality, healing environment is available to even more of Bulgaria's children. The pediatric hospital wards in the northern towns of Lovech and Veliko Tarnovo are the first two being refurbished through this partnership.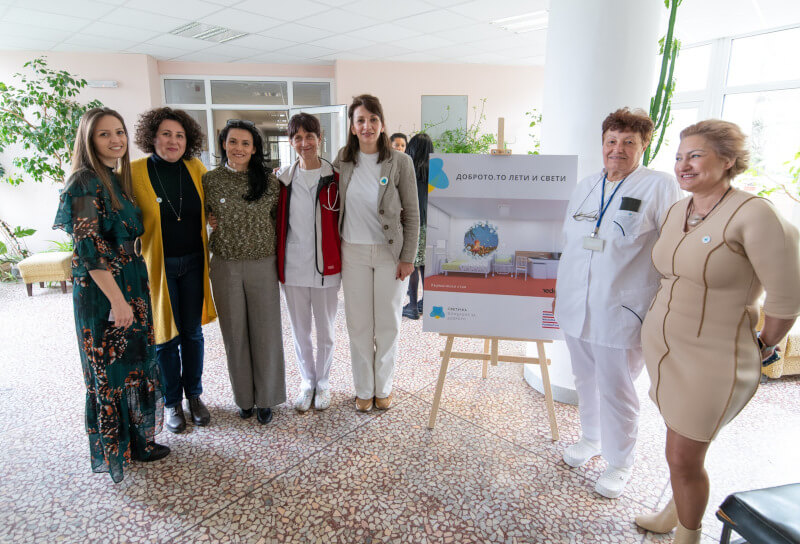 Addressing pediatric care needs isn't Za Dobroto's only goal. In 2020, the women were on the pandemic's frontlines furnishing hospital staff with personal protection equipment, medical supplies, and warm meals. Since then, they have crowdfunded scholarships for the children of medical professionals and teachers who lost their lives to COVID-19. Za Dobroto also helped launch an extensive support network for Ukranian refugees, including two daycare centers, a family integration program, and ongoing medical and psychological support for families.
Meanwhile, they answer appeals for help from schools, hospitals, other NGOs, and even individuals, keeping one thing in mind: "The only thing that matters is this: the good should outweigh, far outweigh the bad."
That Za Dobroto is a force for good in Bulgaria has been affirmed by the thousands of individuals and organizations that have rallied behind their initiatives and by the many distinctions the women have received for their work, including a Bulgarian Donors Forum award for courage and inspiration, an Enlightener award by bTV Radio, and a shared Person of the Year award by the Bulgarian Helsinki Committee.
Find out what Za Dobroto's vision is for pediatric care in Bulgaria and what's behind the success of this amazing group of women from the following conversation for the ABF newsletter.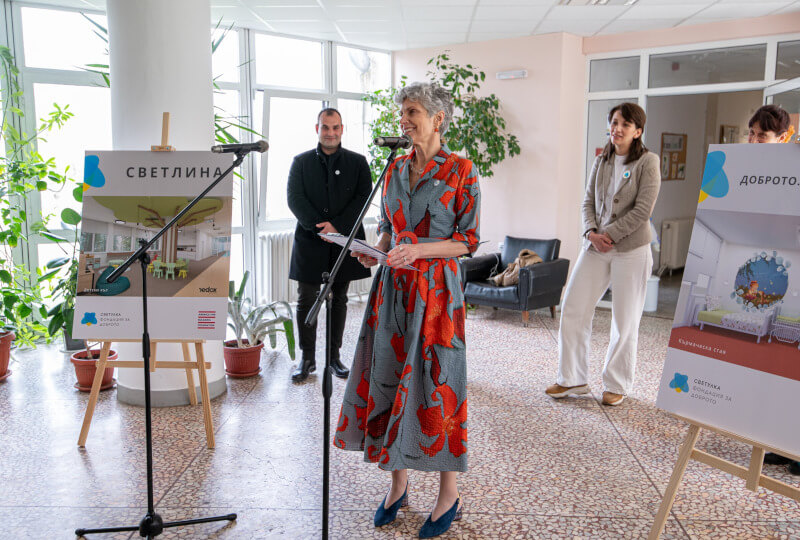 America for Bulgaria Foundation: How did the team of Za Dobroto come together?
Za Dobroto: Everyone in Bulgaria has some experience with Bulgarian hospitals, but for us this journey began with our bitter experience as the parents of young patients. Nearly four years ago, the daughter of Kremena Kuneva [co-founder and former member of the foundation, ed.] was hospitalized in the Sofia Pediatric Hospital's renal ward. Kremena posted on social media about the state of the ward, issuing an appeal for help, and the rest was just magic. Dozens of people responded, and the ward was transformed in a very short time.
Shortly before that, Svilena Georgieva and her elder son had spent time at Plovdiv's Infectious Diseases Hospital, and seeing what happened in Sofia, she said to herself that there was clearly a way to change the environment, so she started a campaign as well.
Each one of us joined the project because of their own personal reason and because we wanted to make a change for the good of our children. Nadejda Rangelova and Dimitrina Spirova renovated the intensive care unit at Sofia's Pediatric Hospital. Polina Troyanova has been painting hospital walls since the first campaign. Gradually, as Zhana Nikolova, Vanya Karadzhova, and Mariela Tsekova joined the team, we—people who hadn't known each other until then—managed to unite around a common cause: reforming the environment in children's hospitals.
That's how it all started—very personally.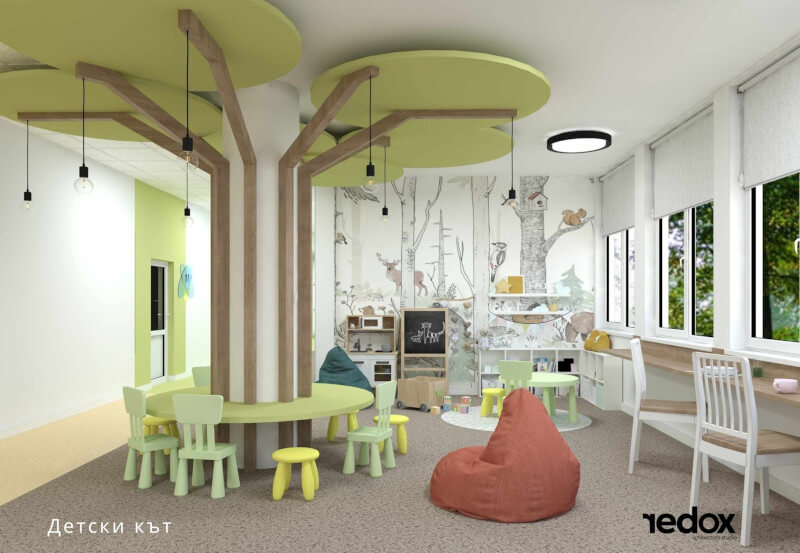 ABF: How did you decide to dedicate yourselves to the cause of children's healthcare full-time?
Za Dobroto: It wasn't so much our idea as all of our supporters'—the people who believed in us and kept giving us more and more reasons to do the work we are doing. One day our fundraising partners, the BCause Foundation, simply said to us: "Girls, it's time to grow up." So, at the end of 2020, Za Dobroto Project became Za Dobroto Foundation.
ABF: How many of you are involved with Za Dobroto full-time, and how many of you have other work commitments as well?
Za Dobroto: Only two of us are full-time employees of the foundation; the rest are juggling other responsibilities alongside the foundation work. Nadejda chairs the foundation's management board, while Svilena is the executive director, but these titles are just legal requirements and mere formalities. We work as a single organism.
ABF: You have been making Bulgaria a slightly better place for four years now. What is it that keeps you going—despite the sometimes-sleepless nights?
Za Dobroto: What keeps us going is the people who believe in us, who trust that we can make the environment in Bulgarian hospitals better. It sounds clichéd, but it's true; we listen to our supporters very carefully. And our best reward is the smiles of the medical staff and the children.
As far as sleep is concerned, it's something we do if there is time left.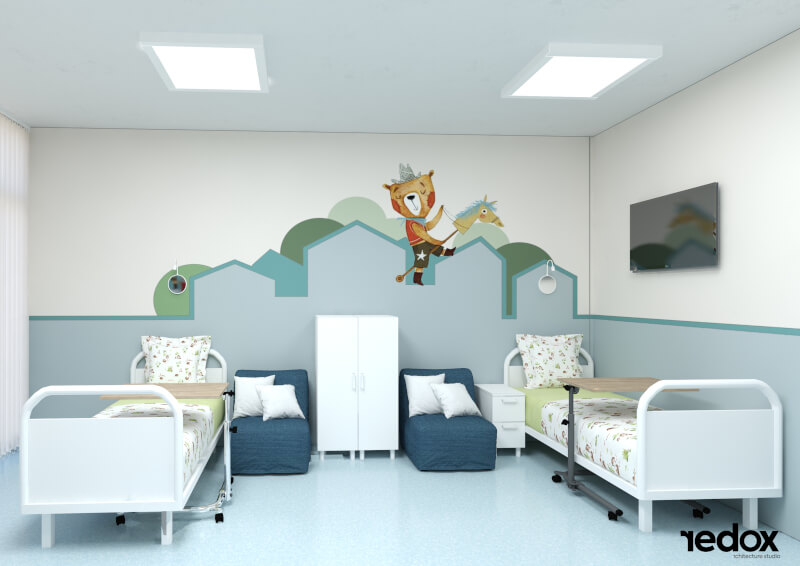 ABF: To what do you owe your success?
Za Dobroto: We owe it to our faith and to lots and lots of work. We work for results, not for a paycheck, not for prestige, not out of obligation, but because we are already addicted to the magic of transformation.
ABF: You get many appeals for help. How do you choose what to respond to?
Za Dobroto: Improving the environment in children's wards with the Firefly project is what we have chosen to do. Our other campaigns were required by circumstances, or our supporters insisted that we work on them. This was the case with the COVID-19 campaign in 2020, when we provided hospitals with medical equipment and protective supplies. This was also the case with the Fund for the Children of Heroes, which helps children who lost a parent and need support, as well as with the arrival of women and children who had nothing and no one here after the start of the war in Ukraine.
ABF: Firefly has already had several successes. What are they?
Za Dobroto: The ICU and renal wards at Sofia's Pediatric Hospital and the Infectious Diseases Hospital in Plovdiv were, so to speak, the foundation on which we built the Firefly project. We already had experience, we had a vision, and we had feedback from our supporters about what was our job and what wasn't. Thanks to this knowledge and experience, the pediatric care units in Aytos and Silistra are now officially Firefly wards. We have many private and corporate donations; moreover, various events are independently organized to help our cause. This is what we find most encouraging—seeing that the project has inspired people so much that they are initiating their own fundraisers for the cause. In every refurbishment project, we have volunteer laborers and painters; we have people donating building materials and equipment. It is difficult to calculate the full cost of a refurbishment project because it is so much greater than what we pay out of pocket.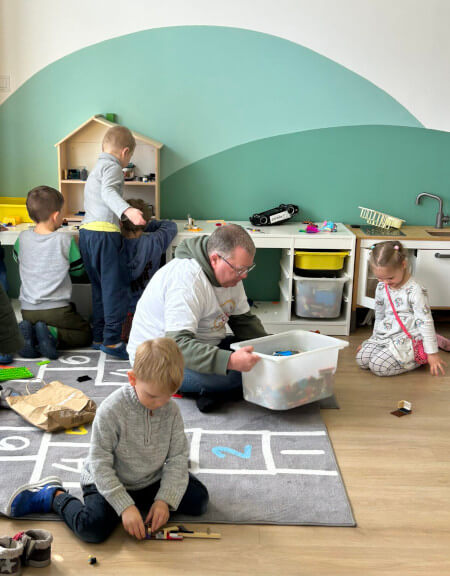 ABF: What's next for Firefly? 
Za Dobroto: One of the two wings of the children's ward in Veliko Tarnovo is currently being refurbished. The demolition work there is in the final stages, and we are about to begin plastering and rendering. In this project, in addition to ABF, we are also working with Veliko Tarnovo's Rotary Club. Work on the children's ward in Lovech began this month as well.
ABF: Why are these transformations in the hospital environment more than just renovations?
Za Dobroto: Because a hospital is more than a building, and children are a special kind of patient. A children's ward must not only provide healing but also help little patients feel safe and calm. We must protect them from stress and bad memories as much as possible. It's been proven that a pleasant environment also has a healing effect.
ABF: What do you find most rewarding in your work?
Za Dobroto: The refurbished wards never stop admitting patients, and during the ribbon-cutting, we see their smiles and lit-up faces. We keep in touch with the hospital staff and know that our work has an impact on both the children and the staff on the ward.
ABF: Who is behind the beautiful transformations of the Firefly wards and the new daycare center for Ukrainian children in Sofia's Lozenets district?
Za Dobroto: We work with a fantastic architect, Magdalena Slavova, who is such a gem, and she is the one who found us! She got in touch saying she wanted to help, and we've kept her busy ever since. We wanted a designer, and we got an architect as well as a designer, which is a dream come true. She works tirelessly and uncompromisingly, she calculates and prices everything, she draws up designs, she draws, she is in charge of quality control during construction… She is a superhero!
Most recently, she did the designs for the school library in the village of Yasen—a pet project of Mariela Tsekova's, who completed the refurbishment in honor of her grandfather, the school's long-time director.
ABF: Where do you see Firefly in the future?
Za Dobroto: Our vision is very ambitious. We believe that one day Firefly wards will be the norm in Bulgaria. We think that the state, municipalities, and hospital management will begin to demand and pursue this quality level. Patients are already demanding it. We believe that doctors, parents, and patients can communicate empathetically and help each other instead of fighting. In that regard, we are already working on a training program for pediatric ward staff ensuring that pediatric care is patient-centered and that parents are calm and informed of their rights and obligations. We also want doctors and nurses to feel valued and to be able to do their work in a better physical and social environment.