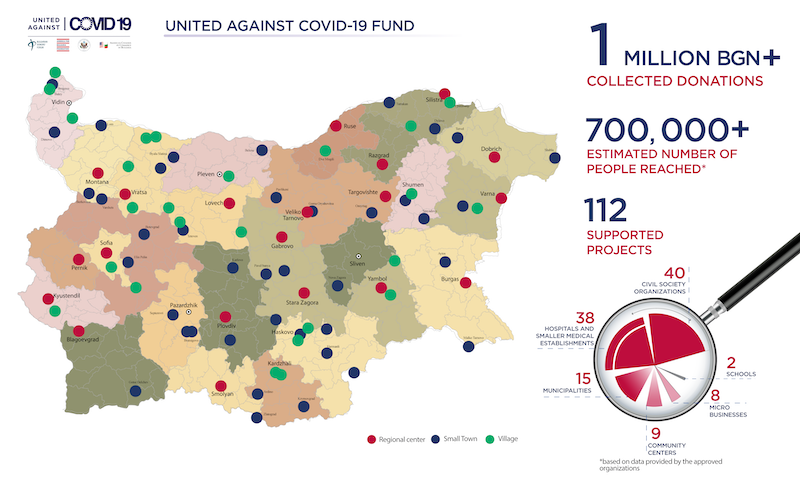 The Bulgarian Donors' Forum, America for Bulgaria Foundation, US Embassy Sofia, ​​and American Chamber of Commerce in Bulgaria announced the successful completion of the United against COVID-19 Fund initiative. The 1,006,475 levs donated to the fund have been distributed among 112 medical establishments, non-governmental organizations, municipalities, community centers, schools, and micro and small enterprises. The assistance being provided by the funded organizations has reached more than 700,000 people in hundreds of populated areas around the country. Full information can be found on the initiative's website www.united4bg.org
Thanks to the donations of 44 corporate and individual donors, the funded organizations have provided medical equipment, protective gear, and supplies needed to offer services to patients in the conditions of the pandemic, as well as food, medicine, and PPE for elderly people, the sick, children, the unemployed, poor people, and other vulnerable groups.
The funded organizations have demonstrated impressive mobilization, coordination, and efficiency in the implementation of the planned activities but, above all, humaneness and empathy. Most managed to complete their projects within a few weeks and have already reported what has been done. The implementation of some of the projects will continue until the fall of this year.
The fund successfully completed its activities on May 31, 2020. Many challenges, however, remain and donor resources will be needed for a long time to come. Many communities have been affected by the crisis. We encourage those wishing to contribute to similar initiatives to visit the websites of the Bulgarian Donors' Forum and the DMS Platform. The needs in the country are many, and any support would be helpful to many Bulgarian communities in need.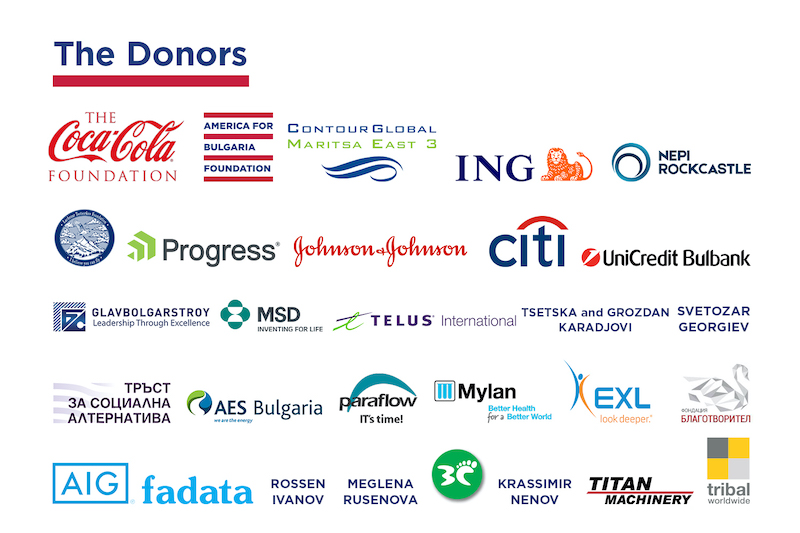 The United against COVID-19 Fund was established by the Bulgarian Donors' Forum, America for Bulgaria Foundation, US Embassy in Bulgaria, and American Chamber of Commerce in Bulgaria to support local communities most severely affected by the coronavirus crisis.
The United founders are grateful for the generous support of: The Coca-Cola Foundation, America for Bulgaria Foundation, ContourGlobal Maritza East 3, NEPI Rockcastle, Lachezar Tsotsorkov Foundation, ING Bank NV, Progress Software, Citibank, Johnson & Johnson Bulgaria, UniCredit Bulbank, Glavbolgarstroy, MSD Bulgaria, TELUS International Europe, Tsetska and Grozdan Karadjovi, Svetozar Georgiev, Trust for Social Achievement, AES 3C Maritza Iztok 1, Paraflow Communications, Mylan, EXL Servise Bulgaria, Blagotvoritel Foundation, AIG Europe SA (Bulgaria branch), Fadata, Meglena Rusenova, Green Step Club, Rossen Ivanov, Krassimir Nenov, Titan Machinery Bulgaria, Tribal Worldwide, and 16 anonymous individual donors.