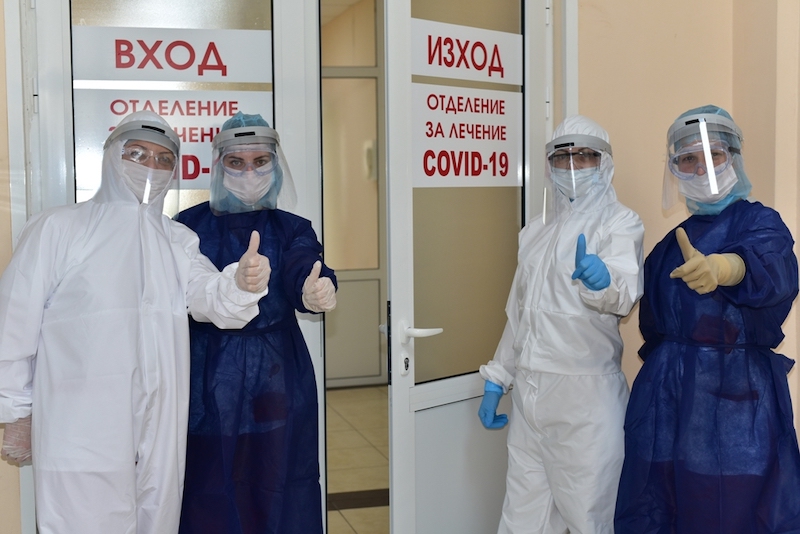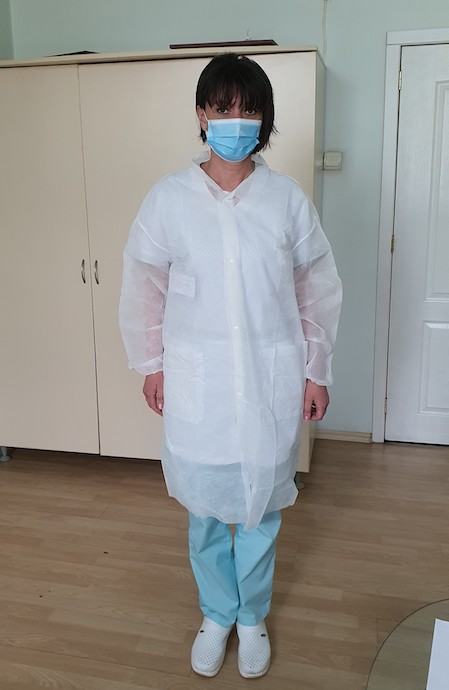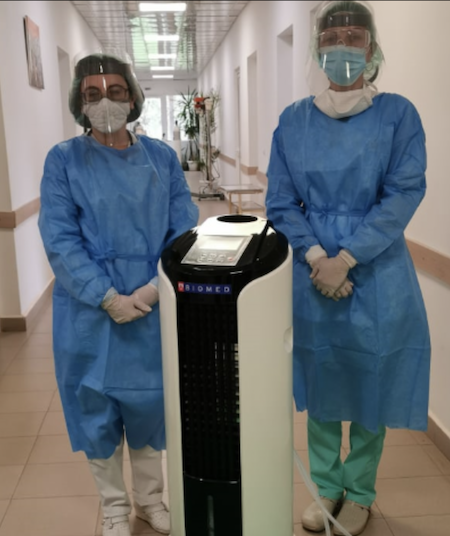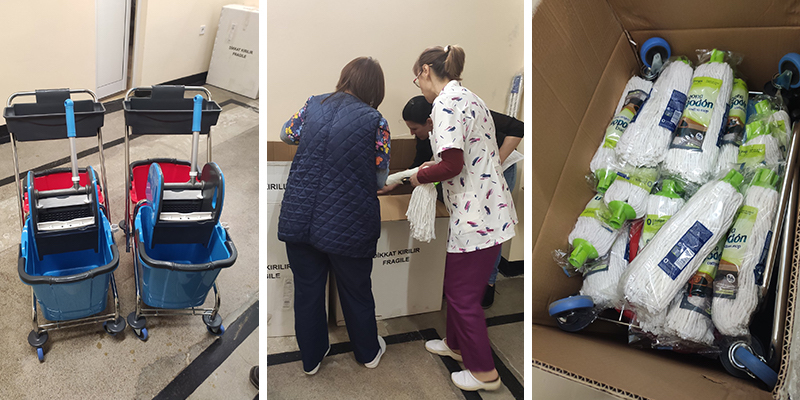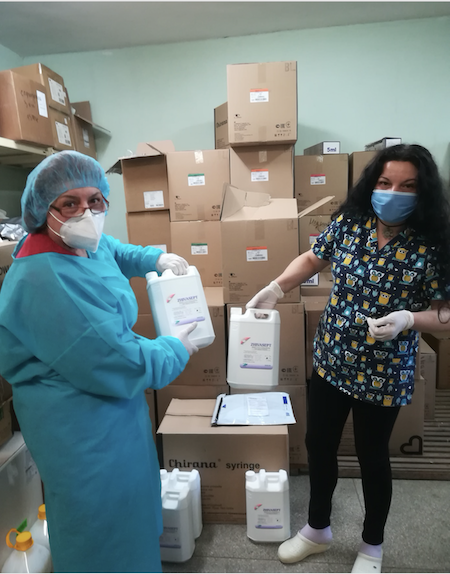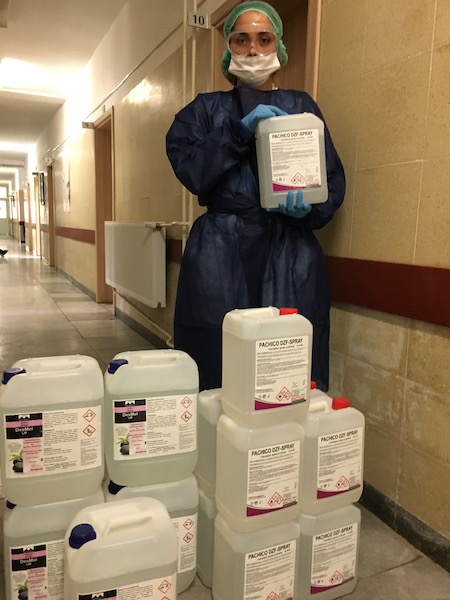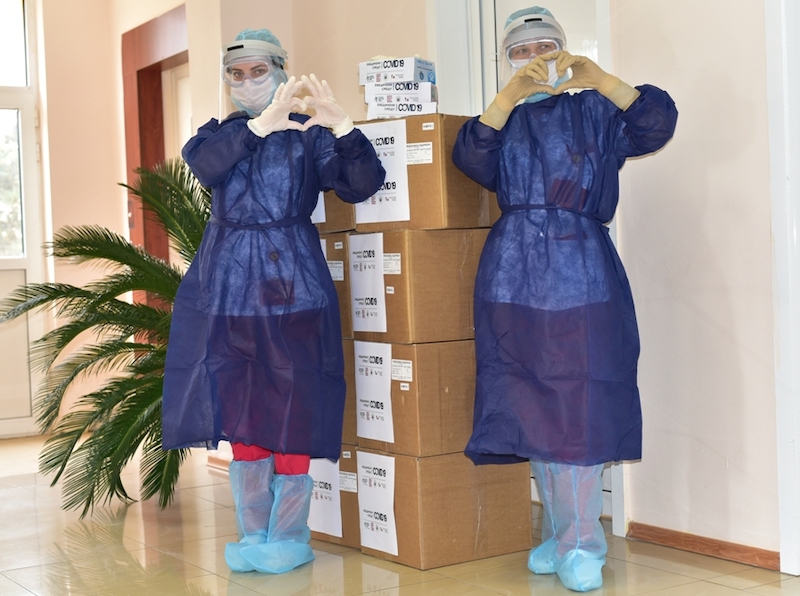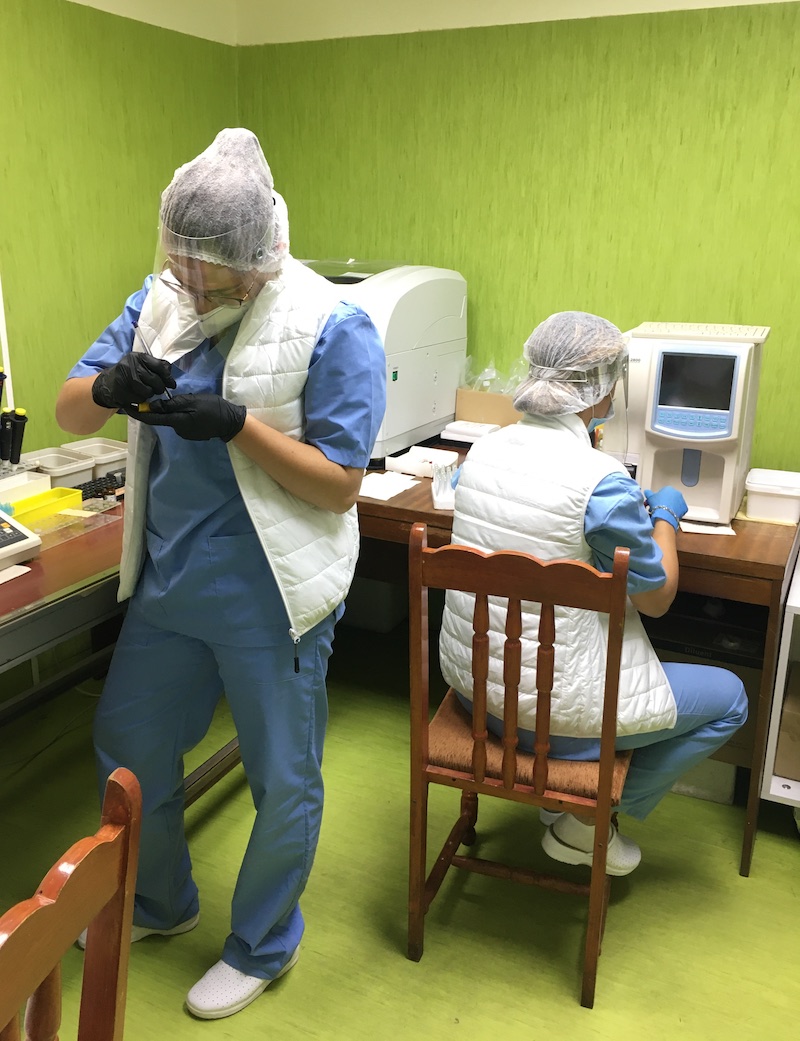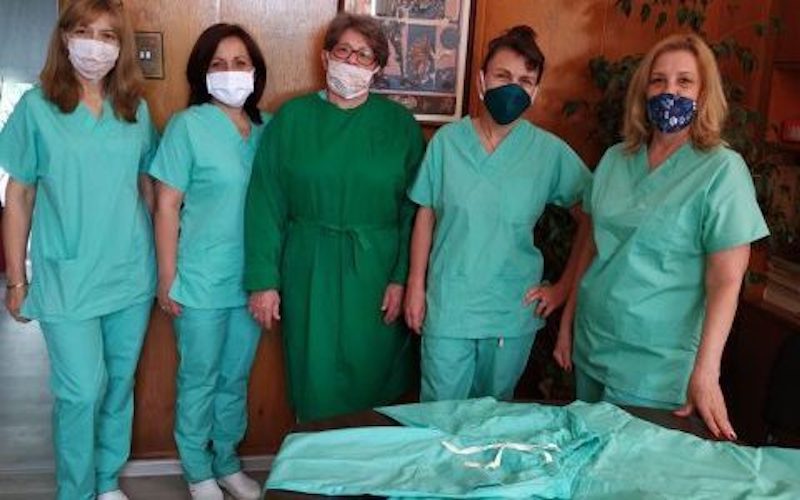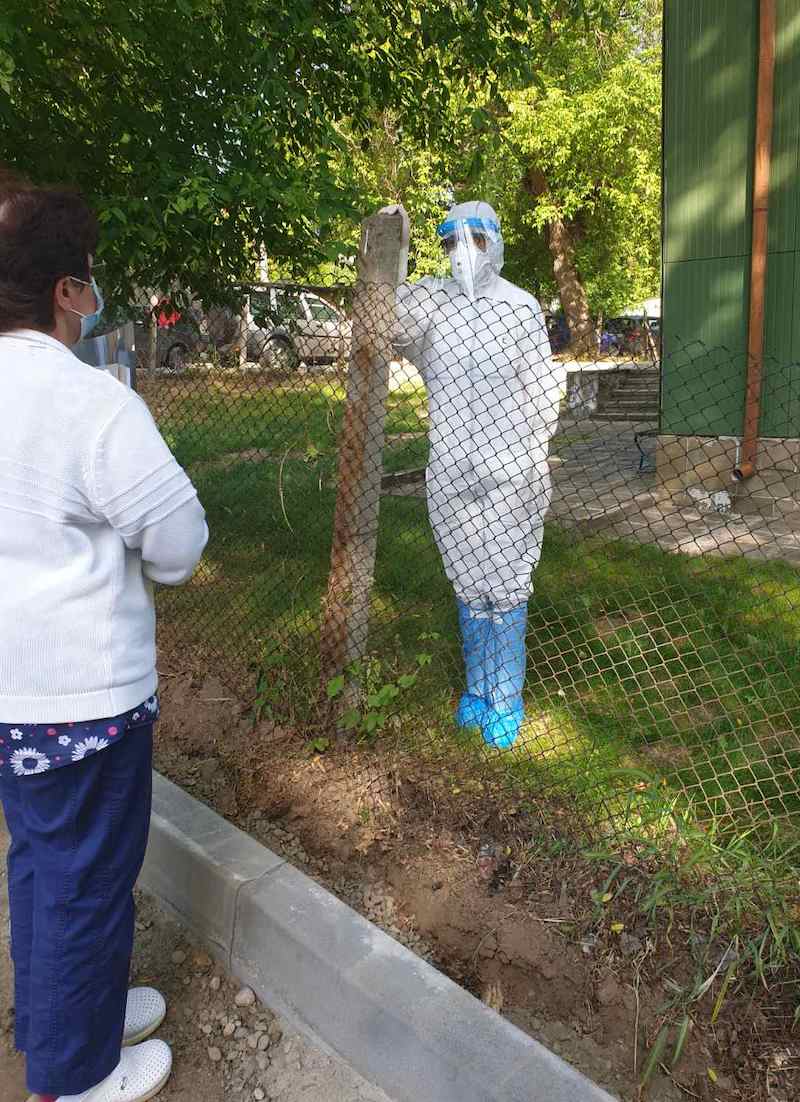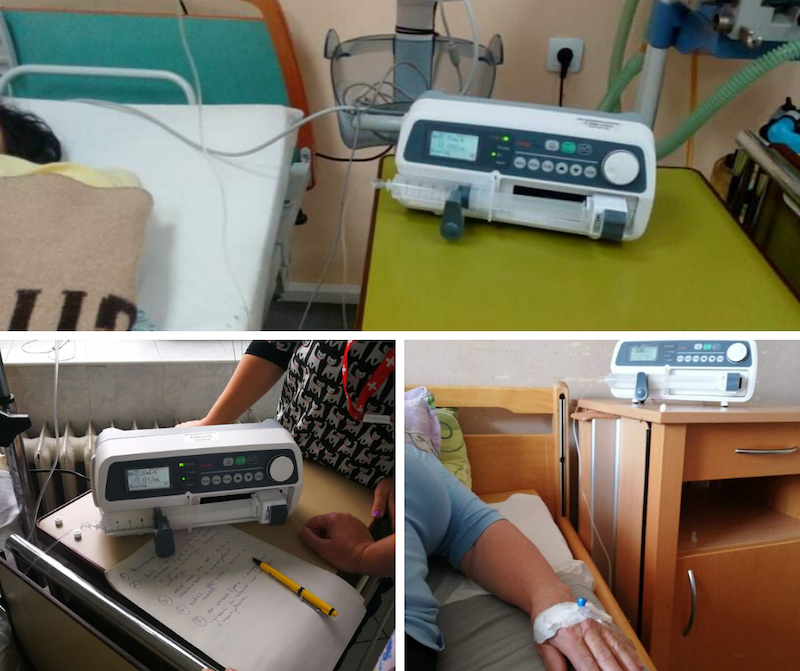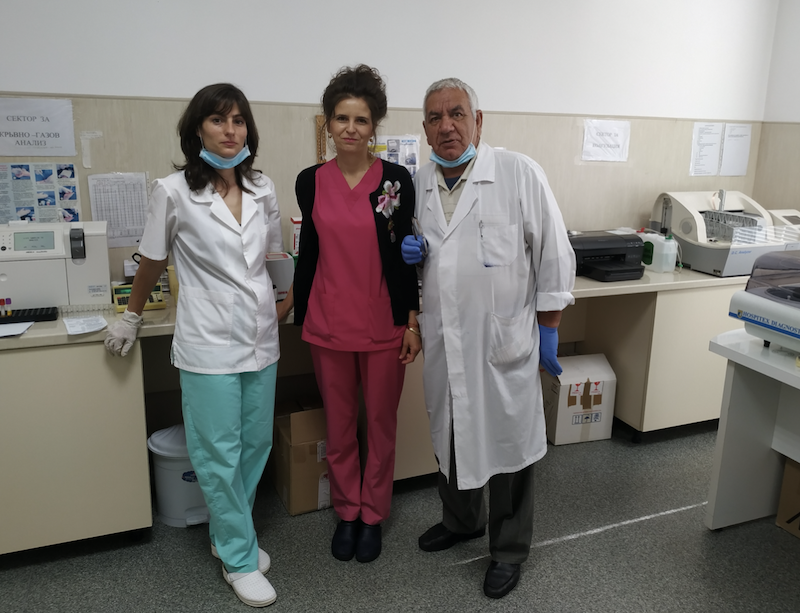 "One of the secrets of life is that all that is really worth the doing is what we do for others."
This quote from Lewis Carroll, the author of Alice's Adventures in Wonderland, prefaces the heartfelt letter of gratitude from the management of the state-run hospital in Byala Slatina, the town's only medical facility, to the individuals and companies that supported its fight against the coronavirus.
"The hospital's team would like to express its gratitude to and appreciation for all the donors who contributed funds for the purchase of our new medical ventilator. Your support is an expression of heartfelt empathy and humanity. It strengthened our efforts to fight the ordeal we are in. A warm thank you!" the letter continues.
The Byala Slatina hospital is among 35 healthcare facilities that received funding from the United against COVID-19 Emergency Response Fund between March and May 2020. Nearly 325,000 levs was distributed among them for the purchase of personal protective supplies, disinfectant, medicine, and life-saving medical equipment. Together the funded medical centers serve a population of over 1.5 million across the country, with some of them being the only providers of health care in their area.
The United grant allowed the hospital in Gorna Oryahovitsa to purchase life-saving equipment as well. A vital signs monitor allows medical staff to observe a patient's condition at all times, while the new medical infusion pumps help them administer medications more precisely. "Thanks to the infusion pump the medical team can more easily control the different medication amounts, which is key in the treatment of a coronavirus infection. Control monitors track the vital signs of COVID-19 patients in critical condition," the medical team wrote in their application letter to the fund.
The hospitals in Dulovo, Aytos, and Omurtag also had a shortage of basic equipment such as oxygen tanks, infusion pumps, vital signs monitors, sterilizers, and lab equipment. Thanks to donations from the United fund, they were able to purchase the necessary technology. Many hospitals proudly shared photos of the purchases, showing off even brand-new floor sterilization equipment on their websites and social media channels.
"Aytos Hospital offers its gratitude to all generous donors to the fund—for the shared commitment and support allowing us to diagnose and treat COVID-19," the hospital management wrote. At the beginning of the coronavirus outbreak in Bulgaria, the hospital lacked even basic cleaning supplies.
Healthcare centers around Bulgaria were short not only on medical equipment but also on masks, gloves, helmets, scrub suits, and other basic personal protective wear. Early in the outbreak, appeals like the one from the hospital in Teteven were not uncommon:
"Dr. Angel Peshev Hospital in Teteven is joining the fight against COVID-19 but needs funding. The doctors, nurses, and assistants are all ready to do their duty but sorely need PPE and medical supplies. We are calling on your empathy and generosity according to your abilities."
While the average person puts a mask on only while shopping or spending time in public spaces, medical staff spend nearly all their waking hours clad in protective wear. Masks, helmets, gloves, and goggles ensure both their safety and that of everyone they come in contact with. However, the need for frequent mask and glove changes and regular cleaning and disinfection considerably increased hospitals' spending on consumables, an increase that many hospital budgets could not cover. Unsurprisingly, nearly every request for funding from the emergency fund named a shortage of PPE.
Chirpan hospital staff were deeply grateful for the United donation, which allowed them to better protect their frontline medical workers. "For us, the support is extremely important because most of our employees, both doctors and nurses, are of pre-retirement or retirement age, which puts them at greater risk."
Hospitals may have lacked basic supplies, but what they had plenty of was brave doctors, nurses, lab technicians, and assistants. There were many stories like the story of Stefka Pencheva, a nurse at the hospital in Gorna Oryahovitsa, who, despite nearing retirement, volunteered to join the frontline team treating coronavirus patients. Fighting the virus alongside her were 26-year-old Dr. Stella Bilcheva and 25-year-old Dr. Petya Marinova, who joined the team to protect their older colleagues. All three did 24-hour shifts and spent a week at a time without leaving the specially designated COVID-19 ward to care for their patients.
"I decided to take it as a challenge and thought that an optimistic view of things was the best. Many of my colleagues are older, and there are many colleagues with children and elderly parents at home, and I do not have chronic diseases, I am young, and I have no children. For me the risk is lower," Dr. Bilcheva said.
Doctors practicing in Tundzha Municipality and those working at the hospital in Tervel ended up having to do home visits because of the high number of home-bound elderly individuals in their areas and disrupted transportation links between smaller, more remote places. Donations from the United Fund allowed them to complete those visits while minimizing the risk to themselves and their patients.
The United Fund also supported the work of the medical staff at the Svilengrad hospital, which serves a high-traffic border area and three municipalities. The hospital management team wrote to the United founders to express their gratitude: "You have given us confidence that there is empathy and kindness between people, which will help us get through the COVID-19 pandemic together. With your help, we have managed to provide greater peace of mind and protection for the very people without whom the world could not move forward at this time."
Forty-four corporate and individual donors contributed to the United against COVID-19 Emergency Response Fund, an initiative of the Bulgarian Donors' Forum, America for Bulgaria Foundation, US Embassy in Sofia, and American Chamber of Commerce in the country. Together they raised 1,006,475 levs, which was distributed among 112 healthcare facilities, NGOs, municipalities, community centers, schools, and micro and small enterprises. The assistance has reached more than 700,000 people in hundreds of populated areas around the country. In addition to committing 100,000 levs to the fund, ABF donated 300,000 levs to Pirogov and Aleksandrovska Hospitals, which are at the front line of the COVID-19 response in the country.
Healthcare facilities supported by the United against COVID-19 Fund 
Multi-Profile Hospital | Omurtag
Multi-Profile Hospital | Pavlikeni
Multi-Profile Hospital | Elin Pelin
Multi-Profile Hospital "Tsaritsa Joanna" | Provadia
Multi-Profile Hospital "St. Nikolay Chudotvorets" | Lom
University Multi-Profile Hospital "Prof. Dr. Stoyan Kirkovich" | Stara Zagora
Multi-Profile Hospital "Ivan Skenderov" | Gotse Delchev
Multi-Profile Hospital | Byala Slatina
Multi-Profile Hospital | Belene
Multi-Profile Hospital | Galabovo
Multi-Profile Hospital "Dr. Assen Shopov" | Zlatograd
Multi-Profile Hospital "Sveta Petka" | Nova Zagora
Multi-Profile Hospital | Chirpan
Multi-Profile Hospital "Dr. Angel Peshev" | Teteven
Multi-Profile Hospital "Dr. Kiro Popov" | Karlovo
Multi-Profile Hospital | Dulovo
Multi-Profile Hospital | Aytos
Multi-Profile Hospital | Svilengrad
Multi-Profile Hospital | Veliki Preslav
Multi-Profile Hospital "Life +" | Krumovgrad
Multi-Profile Hospital – Silistra AD | Silistra
Multi-Profile Hospital – Tutrakan | Tutrakan
Specialized Hospital for Active Treatment of Pneumo-Phthisiatric Diseases "Dr. Dimitar Gramatikov" | Ruse
Multi-Profile Hospital "St. Ivan Rilski" – Razgrad AD | Radzgrad
Specialized Hospital for Active Treatment of Hematological Diseases | Sofia
University Multi-Profile Hospital | Burgas
Specialized Hospital for Pulmonary Diseases | Pernik
Multi-Profile Hospital for Active Treatment "St. Ivan Rilski" | Gorna Oryahovitsa
Complex Oncological Center | Veliko Tarnovo
"Dr. Maria Stefanova" Clinic for Individual Practice for Primary Care | Yambol
Medical Center Tervel EOOD | Tervel
Center for Adults with Mental Disabilities | Kudelin
Protective Home for People with Physical Disabilities | Bregovo
Protective Home | Patitsa
Home for Adults with Mental Disabilities | Tri Kladentsi
Primary Care Clinic Dr. Sebahat Mehmed | Chernoochene
Family-type Center for adults with physical disabilities | Baley Village | Vidin
Family type center for mentally disabled adults | Dve Mogili Village | Ruse