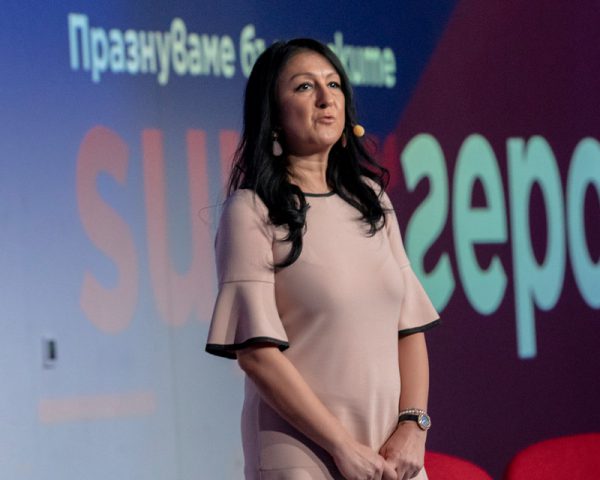 By Desislava Taliokova, ABF Executive Director
Desislava Taliokova has been ABF's executive director since its inception in 2009. Prior to joining ABF, she was a manager at the Bulgarian-American Credit Bank. Ms. Taliokova has an MSc in Foreign Service from Georgetown University and a BA in English and American Studies from Sofia University.
The America for Bulgaria Foundation has worked in Bulgaria for ten years and has supported 896 projects worth $200 million. ABF partners with companies, institutions, communities, nongovernmental organizations, and visionary leaders that champion economic freedom, entrepreneurship, and the rule of law as the essential building blocks for a thriving economy and democracy. Having been with ABF since its founding, I thought it would be helpful to share my list of the "Top 10 Lessons Learned."
1. Working in the nonprofit sector is not a hobby. Whether we call it a nonprofit, nongovernmental, or civil society organization, working in this arena is a professional occupation requiring expertise and continuous professional development just like any other professional position in the private or public sector. NGOs often deal with some of the most severe social and societal issues. NGO work is a profession and a passion.
2. The work of the NGO sector is not necessarily based on the theory of supply and demand. Those who need it the most are often not able to pay for it; sometimes, they do not even realize what they need. Think of the children without parental care who turn 18 and have to carry on with their lives. It is usually NGOs who help them acquire the skills and professional qualifications needed so that they can lead productive lives instead of living off social welfare. Think of all the people in distress who depend on the local food bank or soup kitchen, both NGOs, to have a daily meal. These are just a couple of examples out of many. There is demand, but those in need cannot afford to pay. That's where philanthropy comes in.
3. More than money. Money is important. Just as important is the support for the organization itself, for its administrative costs, for the building of its capacity, for the establishment and strengthening of its board of directors, for the career development of its staff. As already mentioned, working in an NGO is not a hobby. Often, the funders or sponsors are reluctant to finance administrative expenses: office rent, utilities, accounting expenses, and support staff salaries. They are eager to put their logos or names on the poster for the concert, the initiative to clean the forest, the campaign to collect warm clothes for needy people, the program to develop entrepreneurial training for students but prefer to fund only the most visible part of the event or the program, not all that it takes to make it happen. Recently, the leaders of Ford, Hewlett, MacArthur, the Open Society Foundation, and Packard, five of America's wealthiest foundations, announced that they joined forces to do more to help grantees pay for rent, decent wages, technology, and other overhead. In making their announcement, the foundation leaders said they were embarking on a major campaign to encourage all other grant-makers to join them to help cover essential NGO operating costs.
4. People are the key. ABF is not merely a sponsor or a funding mechanism. Our grant-making process presumes collaborative planning between the Foundation and its grantees since we understand that common solutions best lead to sustainable change. The formal meeting of all criteria does not guarantee that a project will be approved. We are not looking for the most original, perfectly written project. The greatest idea, the best-laid-out plan is doomed to failure if not supported by dedicated, prepared, and honest people who can deliver.
5. Results come slowly and are hard to measure. True,  profound change takes time, perseverance, and financial resources. In the field of social and societal relations, measurable, meaningful, and sustainable results rarely come fast. And this is a big problem for NGOs seeking funding from businesses. People in business need only to look in their computer, compare several key parameters, or get a report from their financial department to know how they are progressing against their goals. In the field of social and societal relations, the desired change can be painfully slow and is sometimes difficult to see. Years are needed to be able to report and prove you have had impact.
6. Celebrate the small victories. It is difficult to measure impact in the nonprofit area. It is not simply the number of training sessions you have held and the number of participants who attended; it is not the number of printed brochures you distributed at a conference. Impact is long-term improvement in society. Breakthroughs happen, but it is usually the small steps that pave the way to real impact. It is important to celebrate the small victories and recognize the perseverance and dedication that create forward momentum.
7. We plant the seeds. The America for Bulgaria Foundation provides early-stage funding for different ideas with the clear understanding that some will not succeed. Others may yield promising results and show possible solutions that could be replicated on a larger scale. This is a role that neither the government, nor many businesses can afford, because the risk at the beginning is too big. But what government and business can do is to scale and add depth to the successful ideas.
8. Together. The gravest social problems are rarely solved by one sector alone. Effective, sustainable solutions are possible when the energy of the NGO sector meets the innovative and entrepreneurial power of business, the political will of the government, and the objective and compelling narrative of the media. Only through the constructive collaboration of all sectors can long-term social, political, and economic progress be achieved.
9. To say "no" to a meaningful idea or part with a longtime partner is perhaps the hardest part of our work. It is painful to decline a project developed with professionalism and passion that addresses a socially significant problem. Like any organization in the public or private sector, ABF has key fields of work, strategic priorities, a set budget, and core principles that govern and guide our work. Not all project proposals fit with our mission, and we reject about 90% of the requests for funding. It is equally difficult when we have to phase out our funding for organizations that we have supported for years because they have either achieved their project goals or because our strategic priorities have changed. This does not mean, however, that we part ways forever. As I mentioned above, not only money is important. We continue to support our partners with contacts, with information about other available funding sources, with capacity training and advice, or simply with а friendly conversation. We continue to be sincerely interested in their development and continue to celebrate their achievements and every new victory, small or big.
10. We have to speak loud and proud about donors. We know and respect donors who have made a deliberate choice to support the causes they deem important while remaining anonymous. But I strongly believe that donors deserve to be talked about loud and proud. In the past, some of the most respected and admired Bulgarian institutions in education, culture, health, social care, and community life were created with the help of generous donors. How do we hope to revive the tradition of philanthropy in Bulgaria if we refuse to mention donors' names and are reluctant to show their faces, justifying our decision with a law that defines this as hidden advertisement?

What is the elephant in the room?
Nowadays, not only are donors' names not mentioned anymore, but the NGOs they support, their grantees, are systematically tarnished with all kinds of ugly labels. Did you know that grantees help solve problems in areas others avoid because of a lack of money, expertise, or will? Here's a list of things grantees do for Bulgarian society:
They prepare graduates from top Bulgarian or international universities to become teachers in the lowest-achieving schools in the country instead of taking prestigious, high-paid jobs abroad;
They train kids from small villages and big cities alike to acquire skills and knowledge needed for the jobs of the future;
They mentor people in economically distressed areas in starting and operating their own businesses instead of having to depend on welfare payments;
They help children with special education needs and their parents get counseling so that they can have fulfilling lives;
They prepare the most talented students to participate in science competitions around the world;
They modernize schools and hospitals untouched since their construction;
They restore forgotten cultural heritage monuments;
They expose large and small cases of corruption that affect us all;
They exercise their journalistic profession in an ethical and principled manner in support of the public interest;
They inform and motivate Bulgarians living abroad to come back and work in Bulgaria, invest in a business, or give back to a worthy cause in their homeland;
They collect and allocate excess food from food chains, grocery stores, and restaurants to needy people;
They provide busing to students so that they can go to school in a nearby town or village;
They assist municipalities to become more open and provide more electronic services to their citizens;
They teach farmers how to use soil-friendly tilling techniques, which not only protect the soils but also contribute to higher yields due to improved soil properties, develop new pest protection methods, and introduce crop insurance to protect against the whims of nature;
They help small villages develop tourist offerings to attract local and international tourism, thus giving their residents steady incomes and a reason to stay.
These are real examples, and the list can go on. The good news is that more and more businesses and government officials are aware of these good examples and see the NGOs behind them as their partners in making Bulgaria a better place to live. The bad news for those who use disparaging language to describe NGOs is that philanthropy and the nonprofit sector are increasingly recognized as the "fifth estate" globally. Foundations, companies, and individual donors from all over the world are joining forces to donate money to ensure the financial stability and administrative capacity of NGOs because they realize their pivotal role in solving some of the gravest social problems.
Support for worthy causes is a shared responsibility and a measure of one's humanity. Giving to your school or university, allocating time to mentor young people, volunteering for a worthy cause, supporting quality journalism by paying your subscription are just some of the faces of modern patriotism.