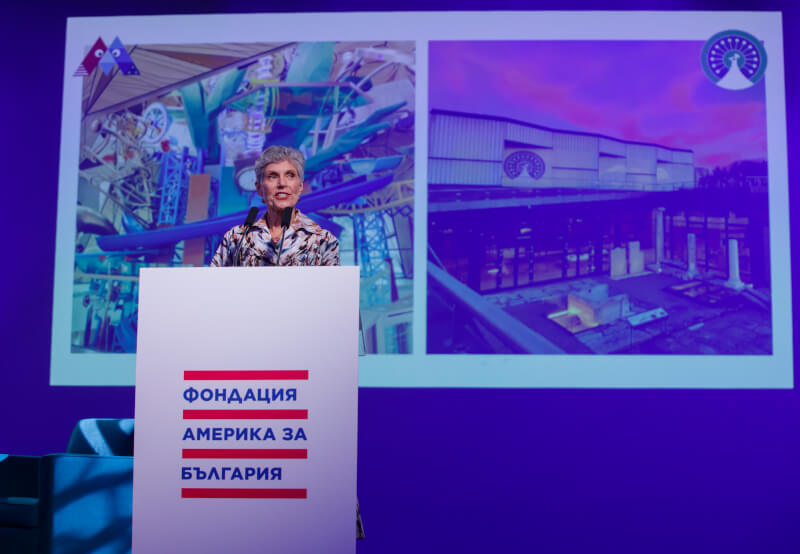 Remarks by Nancy Schiller, president and CEO of the America for Bulgaria Foundation, at the Foundation's fifteenth-anniversary forum on September 29, 2023
Welcome, all! It is a great joy to see so many friends and partners, past and current, joining us to celebrate the accomplishments of this remarkable community.
Thank you, Ambassador Merten, for helping kick off ABF's fifteenth-anniversary celebration. We are grateful for your partnership, and congratulations on the 120th anniversary of diplomatic relations.
Leading up to our anniversary, we tried to figure out how to best describe our 15-year journey with each of you. Could we — with a turn of phrase or symbol — capture the meaning and impact of the more than 1,200 projects ABF has funded since 2009?
The ABF team talked about it. We gathered grantees to get their perspective. We consulted with marketing specialists. And, sometimes, as is often the case, the answer is a simple one: it is one symbol — &, the ampersand.
It's on everyone's keyboard, phone, and tablet and needs no translation, whether in English or Bulgarian.
&
This symbol represents partnership, commitment, and connection.
Everyone in this room has their story of &. Whether as a grantee, partner, supporter, director, colleague, or beneficiary, through ABF, we touch each other's lives.
ABF's story of & begins in 2009, when we were entrusted with the proceeds earned by the Bulgarian-American Enterprise Fund. ABF's mission is similar to the Fund's, but instead of investing in Bulgarian businesses for a financial return, ABF invests by giving grants to organizations to benefit the local community, a region, or the whole of Bulgarian society.
Over our 15 years, ABF helped present the best examples of Bulgarian and international art in all genres. We supported art schools throughout the country giving voice, training, and equipment to young talents.
An early initiative was Schools of the Future, which transformed 85 schools into contemporary STEM education centers. This program's success sparked a national effort by the Bulgarian government to upgrade learning environments, creating STEM schools across the country.
Bulgarians take special pride in the international scientific olympiads whose student-competitors rank among the best in the world. ABF supports these talented young Bulgarians to prepare, compete, and travel to international olympiads.
Several ABF-initiated projects are enduring symbols of partnership between Bulgaria and America. Muzeiko, the children's STEM museum in Sofia and the Bishop's Basilica in Plovdiv are beautiful showcases of our successful collaborations and exemplify international excellence.
These programs and projects are important milestones, along with many others that you represent. Each initiative contributes to our shared legacy in Bulgaria.
And to our partners in our current fields of work — Business, Entrepreneurship and Technology; Business Enabling Environment; Cultural Heritage and Nature Tourism; Developing and Retaining Human Capital, and Healthcare — we look forward to achieving many more milestones together.
We are grateful to the leaders of the organizations that, especially in our early days, trusted us with their ideas, helping to lay the groundwork for what ABF is today.
Throughout our 15 years, ABF has been guided by Bulgarians & Americans, who share a commitment to the Foundation's mission. As directors, past and present, they provide the strategic vision, insight, and wisdom, ensuring that the funds entrusted to ABF are used in the best possible way to benefit Bulgaria.
I would like to acknowledge ABF's Founding Co-Chairs, Gary MacDougal & Carl Pforzheimer; our Emeriti Directors; and ABF's current directors and its Board Chair, Gail Buyske.
This afternoon's speakers span time and space.
Until I read Time Shelter, I never thought about how "Forgetting takes a lot of work. You have to constantly remember that you are supposed to forget something."
But forgetting assumes that you knew something in the first place. Sofia Platform's website, Belene.Camp, documents communist-era labor camp survivors' stories. Their memories will teach future generations of the struggles of the past, a topic that is too often overlooked. To take another quote from Time Shelter, "As long as you remember, you keep the past aside." International Booker Prize winners Georgi Gospodinov & Angela Rodel will provide their insights.
Looking further back in time, we marvel at Bulgaria's antiquities and ancient history. How the bigger story of the Balkans is weaved together is the subject of the First Kings of Europe exhibit in Chicago. The Field Museum's Bill Parkinson & Peppa Nedelcheva of Bulgaria's National History Museum worked with 11 countries and 26 museums for this groundbreaking collaboration. What we learn about the interconnectedness of the region and the power of persistence will inspire you.
Looking to the stars, space entrepreneur Raycho Raychev is putting Bulgaria on the map as a center for space technology collaborating with partners on NASA missions. You may not think a satellite the size of a shoebox and music have anything in common, but you are in for a surprise. An individual's vision and talent can inspire a community, a country, and in some cases the world.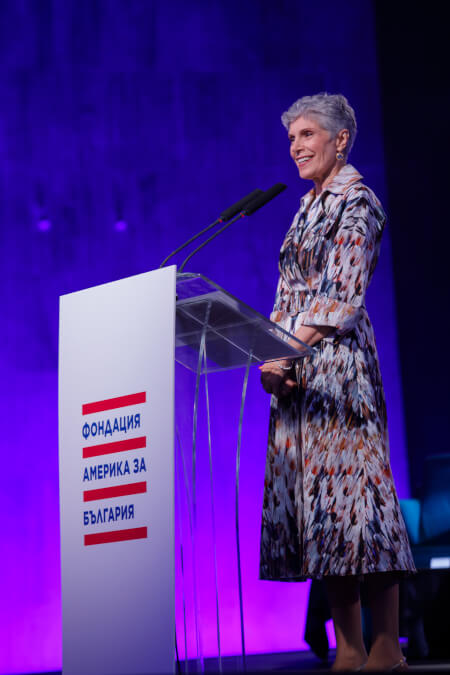 In the present, the truth is under assault from disinformation, and the extent of the damage is being revealed every day. The importance of independent media and NGOs that provide us with research and verifiable facts deserve society's respect and appreciation. They also deserve your financial support.
AUBG alum and journalist Christo Grozev's investigative work took center stage in an Oscar-winning documentary. Uncovering the truth can often exact a significant personal price. You will hear about the sacrifices Christo and his family are enduring.
There are so many stories of & — more than 1,200 — stories of partnership, collaboration, and community. You may not send a satellite into space or author a best-selling novel. But what you do matters. Your vision inspires hope, creates opportunities, and provides optimism that positive change can happen.
I would like to share one more story.
It is no secret that I love lyutenitsa. It is one of the magical culinary treasures of Bulgaria. But did you know that lyutenitsa can also transform a community? One of ABF's first grants was to AGORA Platform. AGORA's mission is to build communities by encouraging collaboration through shared projects and events. Kurtovo Konare was granted funds to support its lyutenitsa festival, which is also celebrating its 15th anniversary.
What began as a small initiative with a handful of people has inspired a robust community, active well beyond its three-day festival. This village, which was economically declining 15 years ago, is transformed. The population is growing, the chitalishte is renovated, school enrollment is increasing, and there is not a single vacant home available.
Who knew that lyutenitsa or a festival, or a policeman in Ruse, or a fisherman in Nikopol could impact a community well beyond what appears on the surface.
What all these projects, big and small, have in common are people of goodwill, vision, and determination.
In thinking about the past 15 years, we distilled our shared journey into a few lines titled "The Story of &."
We live and we dream.
We do things and we grow.
We change and we move forward.
After 15 years in Bulgaria, we are proud of the multitude of projects we have supported and the partnerships we have made.
All the Bulgarian organizations we have worked with have shown us what it is to be a pioneer in your field.
At the beginning, we helped with ideas, visionary spirit, and indomitable optimism.
Now we are in awe of Bulgarian successes, unwavering courage, and international recognition.
We continue together.
You continue to show your power to transform and uplift your communities and country, to preserve cherished traditions and history, and to look into the future and innovate. This room is filled with visionaries and changemakers. During the break and reception, meet a fellow visionary — share your story and listen to theirs. What you learn may surprise you and just may inspire a new &.
With admiration and respect, ABF will continue to be the & to help your vision become a reality.