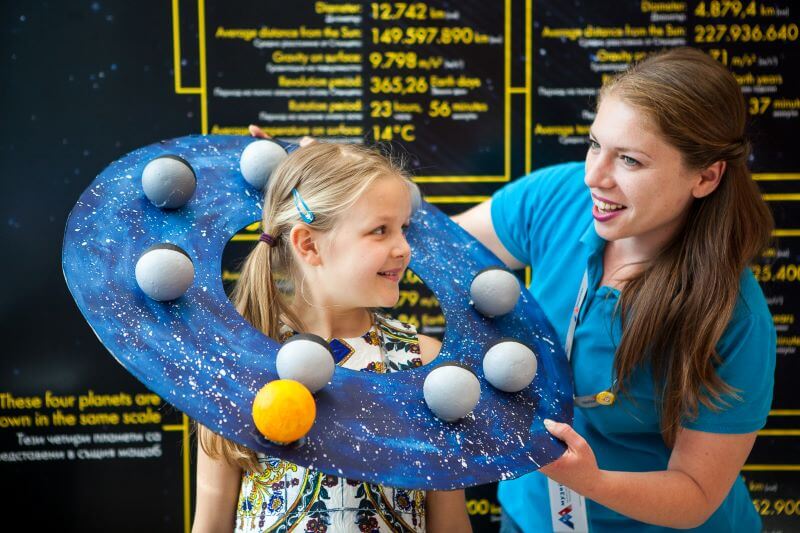 Its name may mean "little museum" in Bulgarian, but Muzeiko has had an outsize impact on education and museum programming in the country. For over seven years, Eastern Europe's largest children's science center has introduced tens of thousands of children and their families to the fascinating world of science.
Today, it is taking on an even larger role.
In late 2022, the America for Bulgaria Foundation gifted Muzeiko to Bulgaria's children. As a public institution managed by Sofia Municipality, Muzeiko will continue to be children's favorite portal to scientific discovery even as it explores new ways to support STEM — science, technology, engineering, and mathematics — teaching and learning in Bulgaria.
As Muzeiko transitions to its exciting new role, we look back on its beginnings and achievements over the years.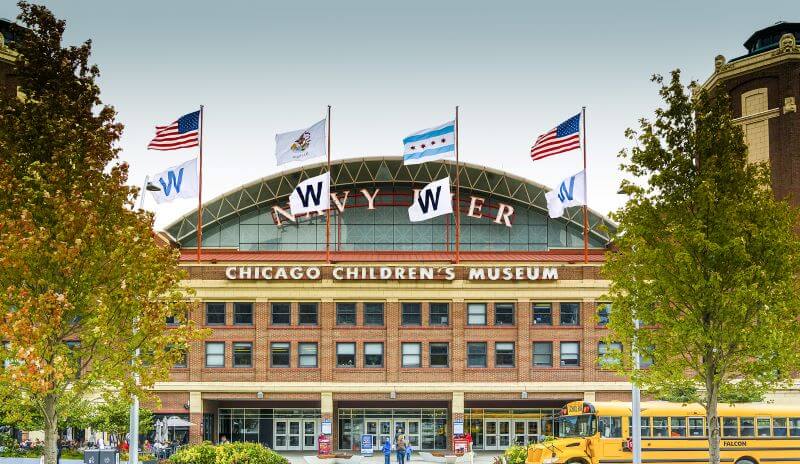 "It all started with a spark, which ignited a dream," says Desislava Taliokova, the America for Bulgaria Foundation's executive director, about the beginnings of Muzeiko back in 2009. The dream was to create a space where Bulgaria's children could discover science through their preferred learning method — play. In creating this space, the Foundation's management drew inspiration from a uniquely American institution, the children's museum. Here: The Chicago Children's Museum at Navy Pier, one of the original inspirations for Muzeiko.
Although it was a novel concept in Bulgaria in the 2000s, the idea of a children's museum was heartily embraced. Established with ABF's help at several Bulgarian museums, the so-called children's corners — interactive exhibitions and activities specifically designed for younger visitors — were immensely popular. It gave ABF the confidence that building a standalone children's museum would greatly enhance learning for Bulgaria's children as well as their families. Here: Young museumgoers explore a prehistoric home exhibit at Blagoevgrad's Regional History Museum in 2010.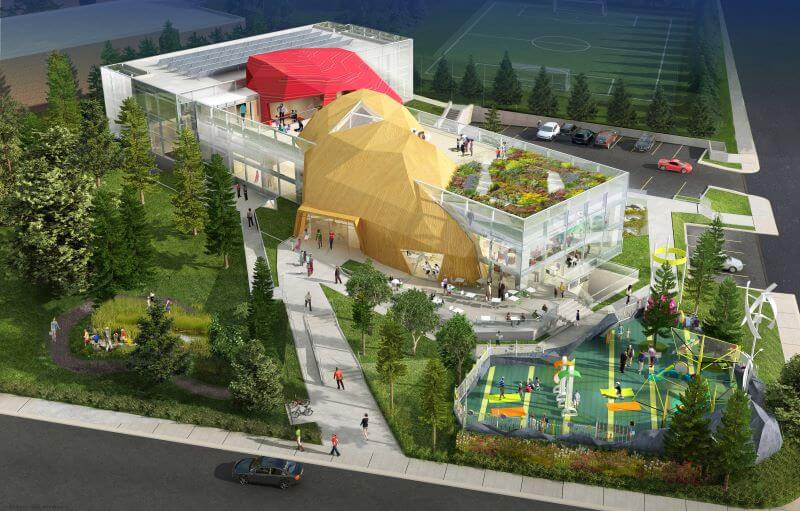 Muzeiko's impressive building was created by New York City–based Lee H. Skolnick Architecture + Design Partnership. It features three levels of exhibits with more than 130 interactive games and activities; a roof terrace with a garden, a climbing wall, and a planetarium; a makerspace; a play area for toddlers; and an external playground. The three colored domes in the middle are a nod to Sofia's natural surroundings.
ABF's long-standing partnership with Skolnick was also behind the transformation of Pirogov's Children's Hospital and the visitor experience at the Bishop's Basilica of Philippopolis in Plovdiv.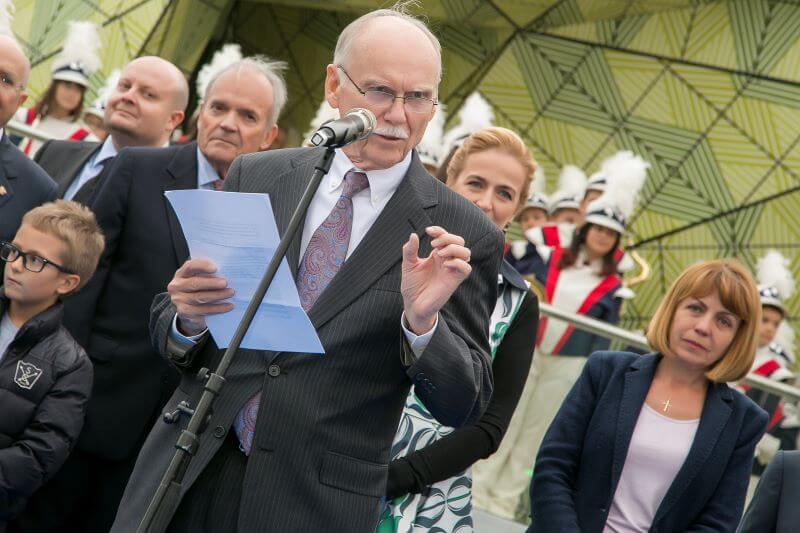 Muzeiko officially opened its doors to the public on October 1, 2015. Former ABF Chairman Lynn Daft's words at the opening ceremony seem prescient today: "Coming from agriculture, as I do, I like to see this museum as a living, evolving feature of the Sofia landscape." With more than 650,000 visitors to date, Muzeiko has not only become an important part of informal education in the capital but has also inspired the creation of other science and discovery centers in Sofia and beyond.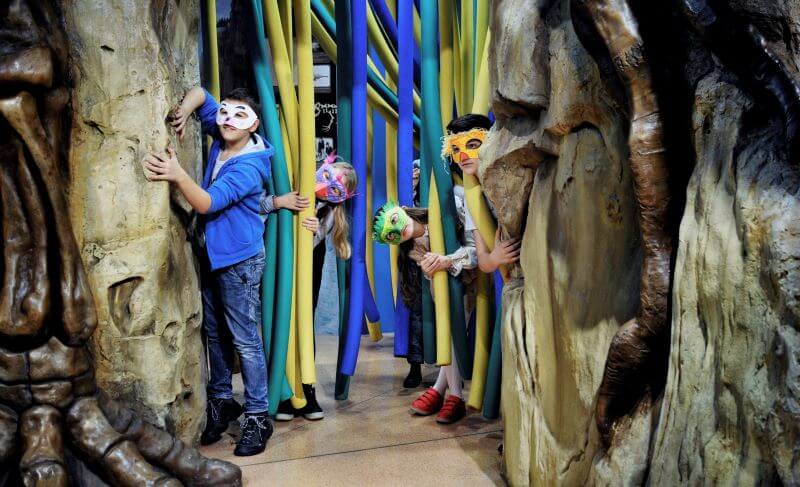 Discovery at Muzeiko starts underground, where children find out about archaeology, geology, and paleontology through fun games and activities.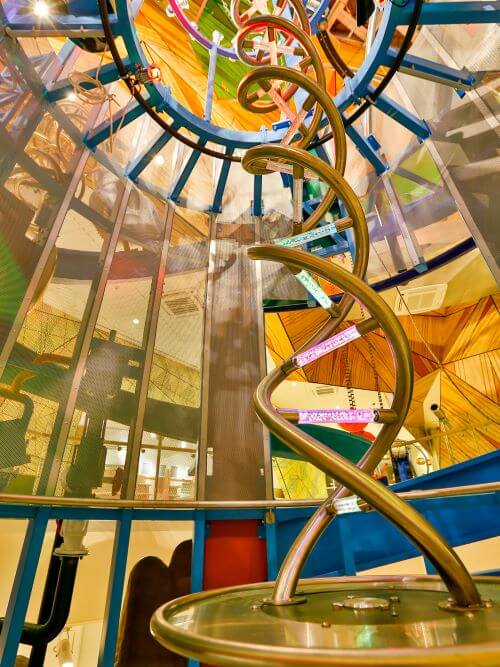 On their journey through time and space at Muzeiko, young explorers learn about the most consequential scientific advances today. Here: A giant DNA model.
Exhibits were developed by leading Bulgarian and international scientists, educators, and designers following contemporary trends in education.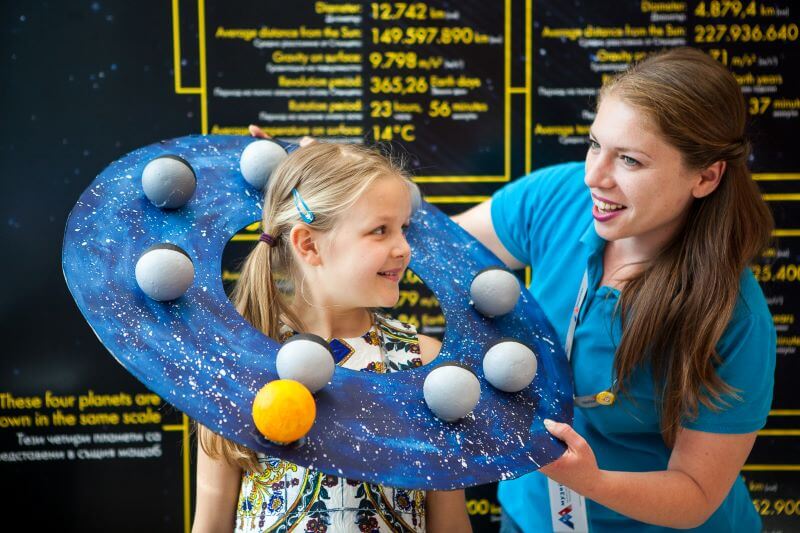 Muzeiko's top level uncovers the secrets of the known universe and the accomplishments of US and Bulgarian space explorers.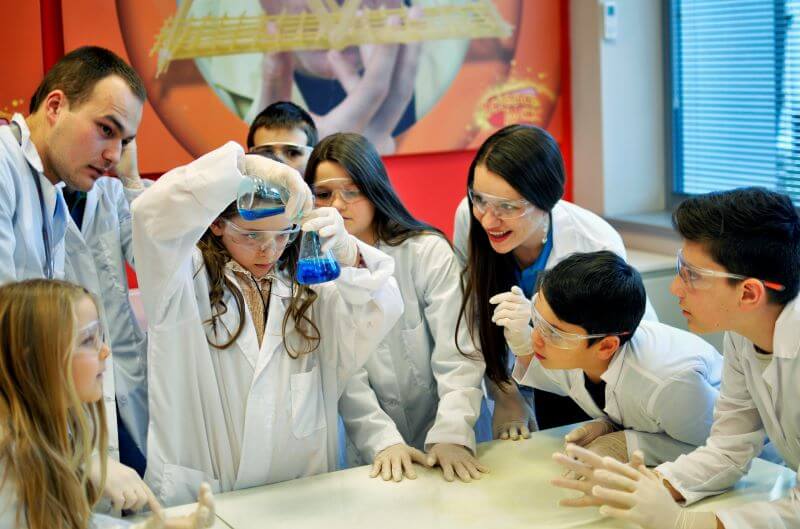 Muzeiko's extension in 2016 — staff lovingly think of the next-door building as Muzeiko's little sister, Muzeika — added science labs, a reading room, a children's radio station, cooking classes, a ceramics studio, and a vegetable garden, where kids learn by doing.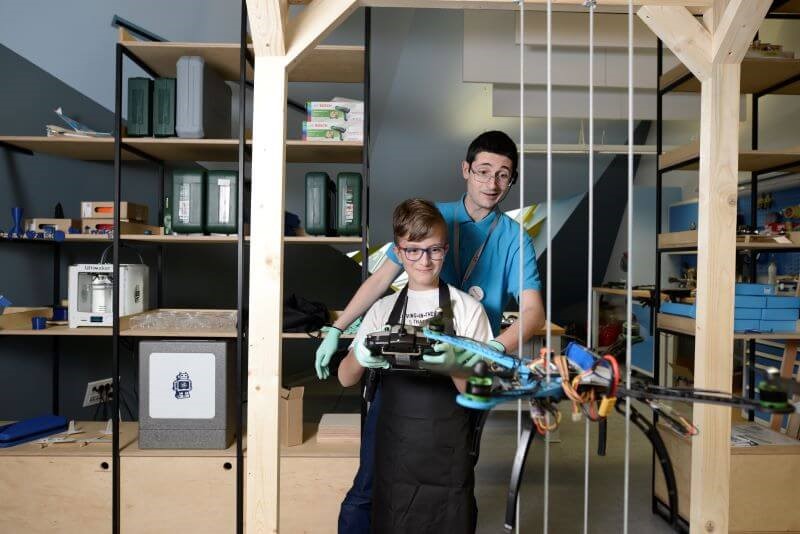 In Muzeiko's Makerspace, children become inventors and try out their own ideas.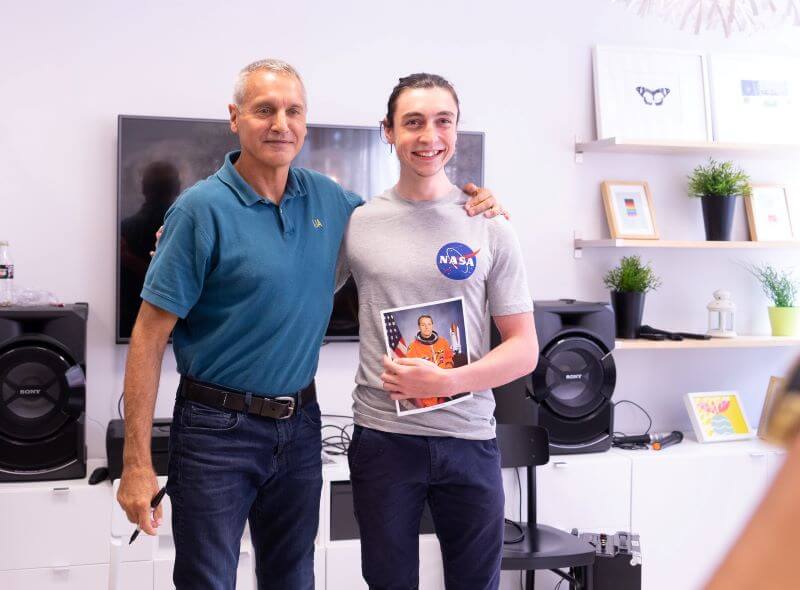 And at Muzeiko-organized events, young explorers meet science veterans such as NASA astronaut Richard Linnehan, who visited Bulgaria in May 2018. Science Night at Muzeiko, STEAM Quest, treasure hunts, team games for families — events are highlighted by Muzeiko on Facebook.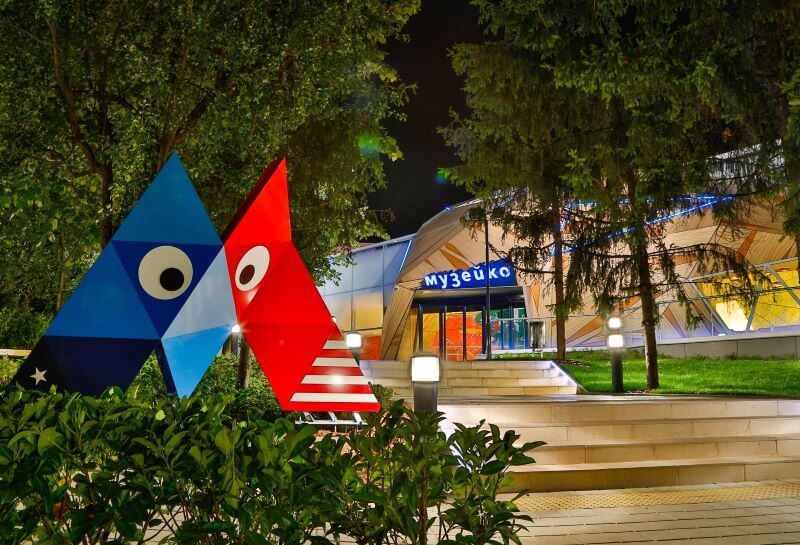 Muzeiko's impact goes well beyond education: it has provided hundreds of jobs to Bulgarian companies, entrepreneurs, scientists, and educators and is a popular tourist destination.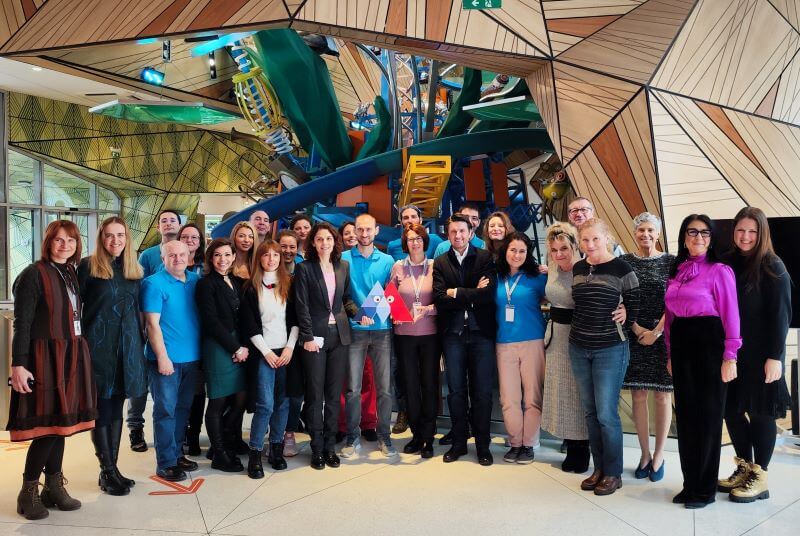 One of Muzeiko's best assets is its helpful, friendly team. You have a question about how an exhibit works? Want to learn more about rocks? Approach a team member and ask for help.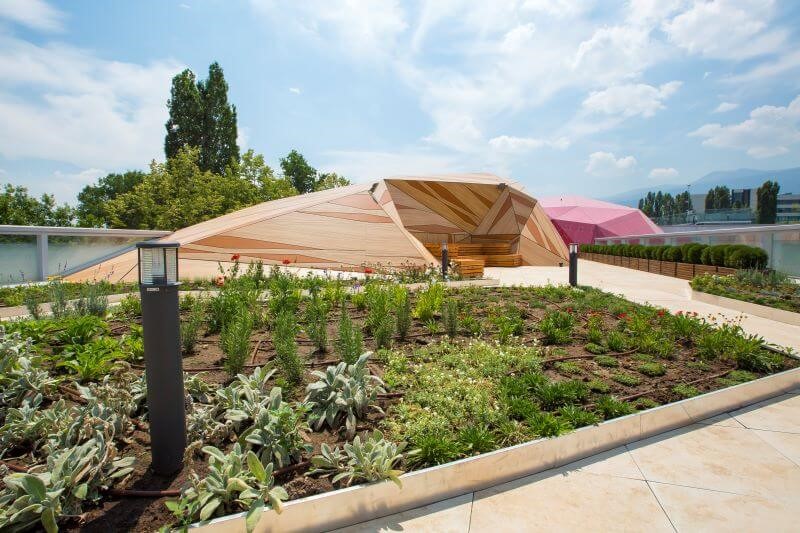 The Muzeiko mascot may be red, white, and blue, but Muzeiko is green at heart. Its use of new technologies to save energy, conserve water, and recycle waste has been recognized through multiple awards and certifications.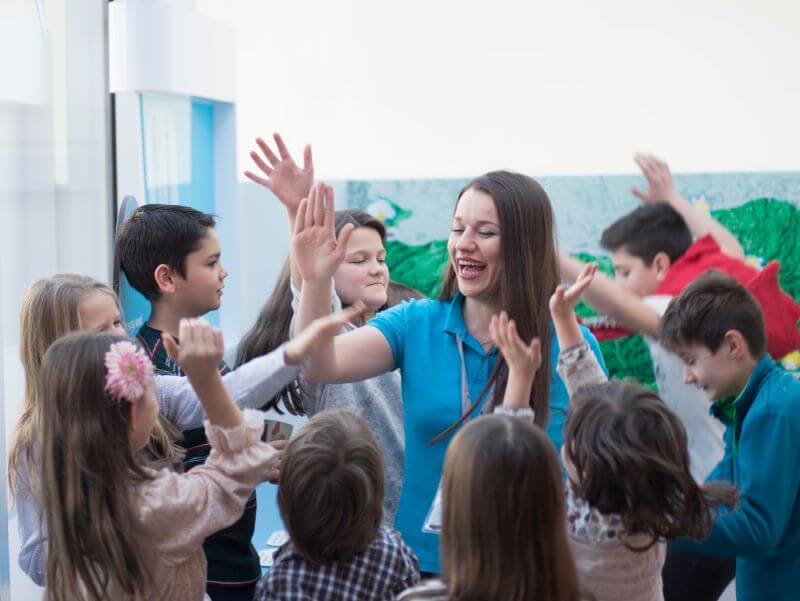 Supporting education, the cornerstone of a strong economy, is an important part of the America for Bulgaria Foundation's work. Since its founding in December 2008, of its total donations of nearly $300 million, ABF has donated more than half toward educational initiatives like Muzeiko in Bulgaria.