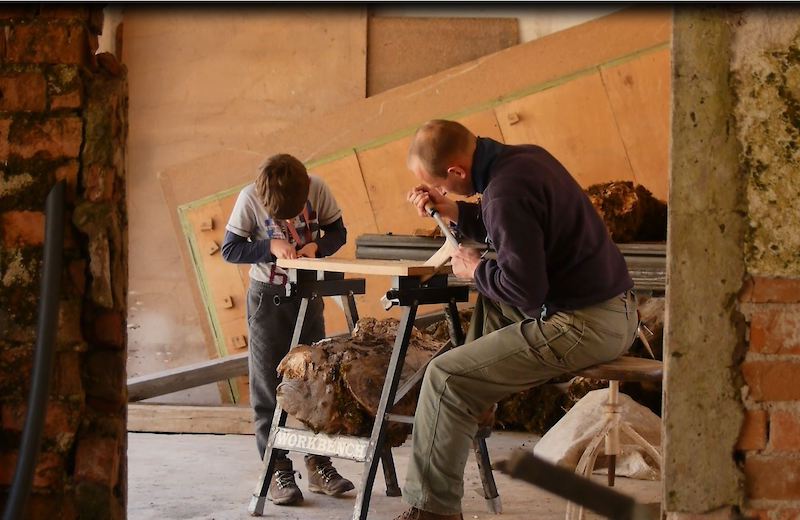 Can entrepreneurship help reinvigorate struggling communities? If the track record of the America for Bulgaria Foundation's Business Academy for Starting Entrepreneurs is anything to go by, the answer is a hopeful yes. For the past four years, the program has helped individuals in the Srednogorie region, Vratsa, Pleven, Lovech, and Smolyan start and grow small businesses. Its approach of connecting aspiring entrepreneurs with business veterans ensures that the imparted lessons are practical and useful.
The pilot edition of the program in Smolyan in the fall of 2020 gathered together 30 participants, most of whom were Bulgarians who lived abroad and came back to make a difference in their communities. Among them was Radenko Velinov, an artisan furniture maker with a grand vision for his birthplace.
This is his story.
The village of Smilyan's only claim to worldwide fame is Smilyanski fasul, a type of kidney bean with a characteristically buttery flavor and motley coloring that grows only on the banks of the Arda River. Smilyan bean soup is a staple at rustic mountain shelters in Bulgaria and increasingly a feature of haute cuisine as well. The bean is one of the few Bulgarian foods with an appellation of origin designation, with an annual festival and a museum dedicated to its promotion.
Proud though he is of his native village's culinary credentials, Radenko Velinov hopes to show that Smilyan and its environs have a lot more to offer.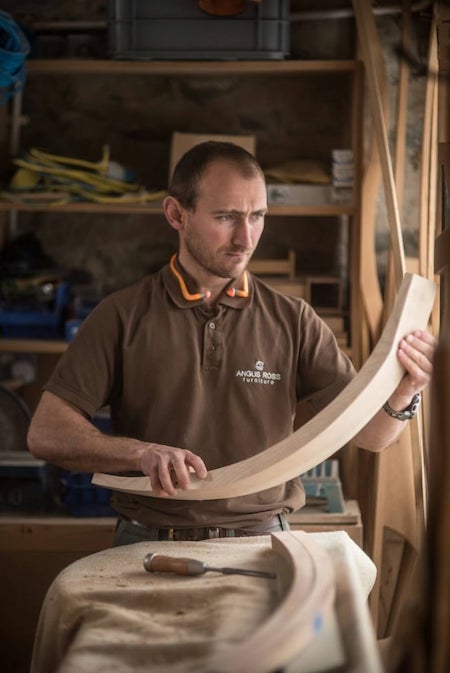 Various legends have sprung up to explain the region's heart-stopping beauty, all sharing a common theme—that the Rhodope Mountain must have once been a woman of stunning good looks. The female-centered origin story is likely also a nod to the fertility of the local soil, which is perfect for growing beans and other crops. Add to that a mild climate, fresh air, sun-kissed valleys, cool forests, and a plentiful water source in the Arda River, and you will know why so many chancing upon the place over the centuries have stayed.
Invariably, newcomers brought with them their traditions and crafts.
A master woodworker, Radenko wishes to preserve that heritage and revive traditional occupations in Smilyan. He is repurposing an old purification plant, locally known as The Purifier, into an artisan center. When he completes the renovation, the center's workshop and exhibition space would enable artists and makers of various stripes to practice, display, and teach their craft to others.
The Purifier today is a sad remnant of Smilyan's former industrial glory—a time when jobs were plentiful at the potato and fish processing factory the purification plant served. At its peak, the factory was the largest on the Balkan Peninsula, employing several hundred people from both Smilyan and neighboring villages and providing income to dozens of small farms and businesses in the area. The factory was privatized in the 1990s and shut its doors for good in 2000, depriving the locals of a vital source of income.
Radenko has an emotional relationship to the place. His family home sits on a terrace just above The Purifier, and he associates its former hum and whir and the aromas that wafted from it with childhood. Its barren silence and gutted appearance now are a fitting metaphor for the whole region's economic decline.
Restoring it isn't just a nostalgic pursuit, however. It's about jumpstarting Smilyan's economic heart, albeit to a different rhythm. Rather than creating industrial jobs, The Purifier would encourage more sustainable development by reviving traditional occupations such as woodworking, weaving, and metalworking, among others. Radenko's hope is that bringing artists and craftsmen under the same roof would catalyze collaborations and the establishment of small businesses, attracting tourism and benefiting the local economy.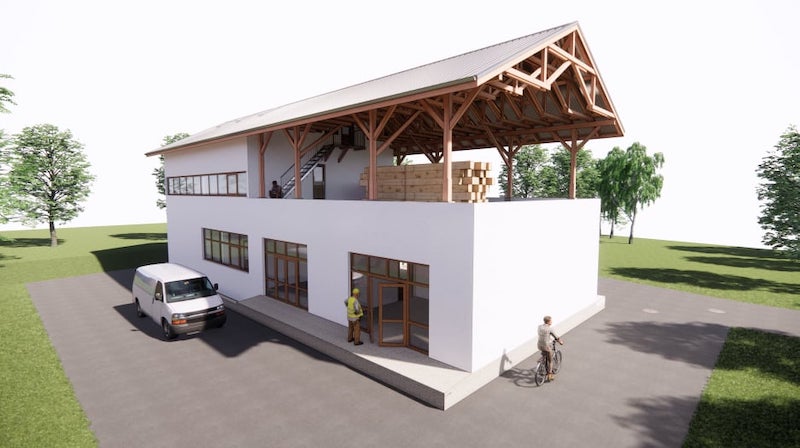 The only thing that would stay the same is the name: The Purifier. "Making art or practicing a traditional craft is a kind of purification, emotionally and spiritually," Radenko says.
His vision for The Purifier has attracted an incredible amount of support. Several Smilyan locals and expats living in the area helped him put in a new roof and start remodeling the interior. A local lawyer is handling the administrative paperwork pro bono. Friends and family are pitching in with ideas, donations, and labor. Business Academy for Starting Entrepreneurs helped Radenko identify revenue sources and start drawing up a sustainability plan.
Keith Halstead, a retired English teacher and videographer living in Smilyan, produced a short video about The Purifier's comeback and is managing a Facebook group dedicated to the project. "I could see the vision he had, and I'd like to see creative people coming in and starting small businesses in Smilyan," he says, by way of explaining why he is helping Radenko.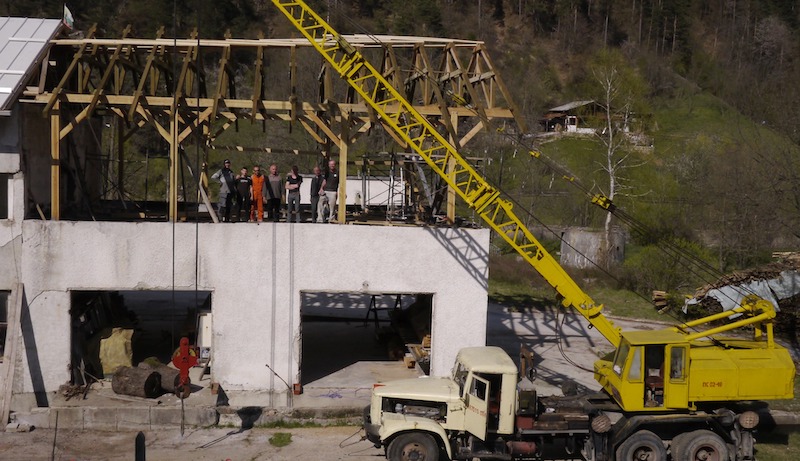 John Parker is a London-born painter and founder of the Rhodopi Art Collective, a group of artists and makers who, like him, live and work in the Central Rhodope Mountains. John assisted Radenko with the roof replacement and continues to donate his time and experience to The Purifier because he sees it as "a genuine piece of community-minded work, benefiting so many people in this area, which could do with… a focal point bringing together some of the talent and skills of the people who've chosen to live here."
A number of other local artists and craftsmen have expressed an interest in setting up shop at The Purifier. Among them are Mariana Barakchieva and Simon Roder of Nanka Creative, a handicrafts family business; a glassblowing artist; several painters; a cloth weaver; a leather worker; and a metalworking craftsman who makes furnishings and decorative pieces. In addition to helping them develop their businesses, The Purifier would be a place of learning, where artists and makers can pass their craft on to the next generation and anyone else willing to learn.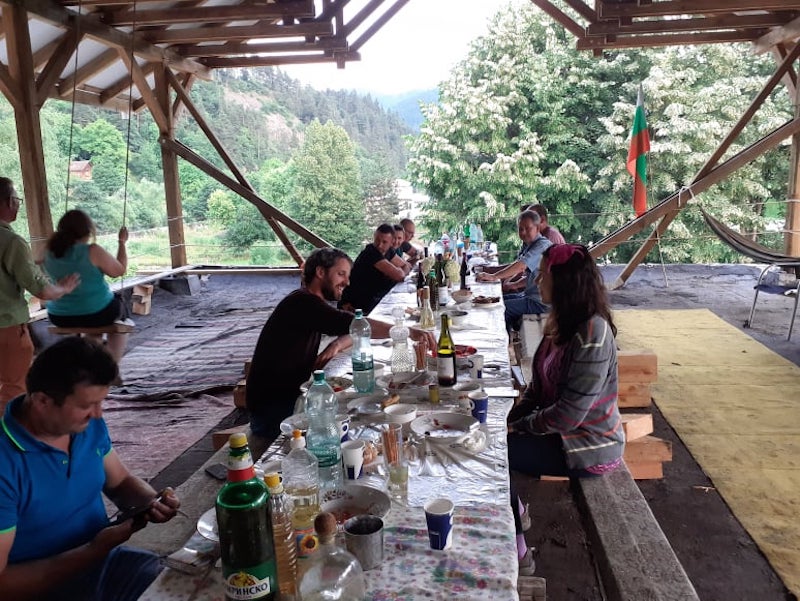 The plans for the artisan center draw on Radenko's experience at furniture making studios in Scotland, a country that places a high value on craftsmanship and where he lived for nearly eight years. Woodworking, in particular, is an esteemed occupation, with hundreds of individuals from around the world applying for coveted apprenticeships at Scottish studios every year.
Radenko trained with some of the country's best furniture makers and woodworkers such as Angus Ross, Pol Bergius, Leo Norris, and Max McCance, learning about traditional woodworking techniques, modern trends in the craft, and sustainable sourcing of hardwoods. He also learned the joy of "converting a simple wooden beam into something practical and beautiful" that would last for generations.
Although Radenko claims to have had "no experience, just naked passion" when he first started knocking on craftsmen's doors in Scotland—prior to that, he had worked as a forester in Bulgaria and done some landscaping and carpentry work in the United States—they all recognized Radenko's potential right away. "You could immediately see the quality of the guy," says his closest mentor and now friend, Pol Bergius, of Black Dog Timber.
Radenko's industry, skill, and modesty opened so many doors and made him so many friendships that his leaving party was a who's who of Scotland's top furniture makers, according to Pol's description. Leo Norris, another designer craftsman he worked with, not only supported Radenko's training in Scotland but also donated 1,000 pounds to The Purifier project.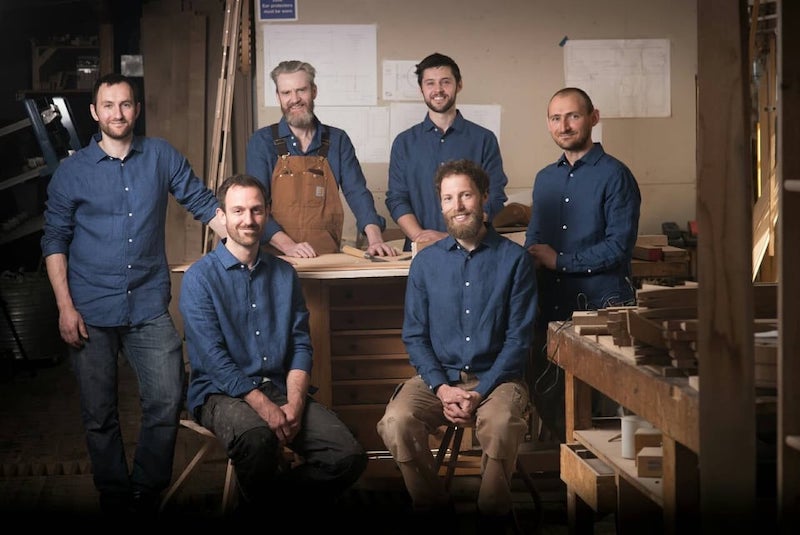 Pol recalls that a client of his had a particularly emotional reaction to the blanket chest Radenko made for her. "It was a simple piece, but it was beautifully made," Pol says. On delivery, she teared up, moved that she could leave her children and grandchildren something unique and lasting.
For Radenko, feedback like this is humbling but also motivating. "I could see how well-respected the arts and crafts are in Scotland, and how well-organized and united Scottish artists are. This is how I got the idea to bring back those positive impressions and experiences to Bulgaria," he says.
Pol is certain The Purifier will succeed because "Radenko has a very old-fashioned commitment to the job he has to do, which is very rare nowadays." Leo observed that "Radenko is not fazed by big projects. He would just get on with it."
Work on the arts and crafts center in Smilyan has only just begun, and even though Radenko is putting everything he makes into it, The Purifier will require considerable additional investment to complete.
Yet, Radenko is undeterred and is getting on with it, just like he did when he first started seeking opportunities with Scottish artisans a decade ago.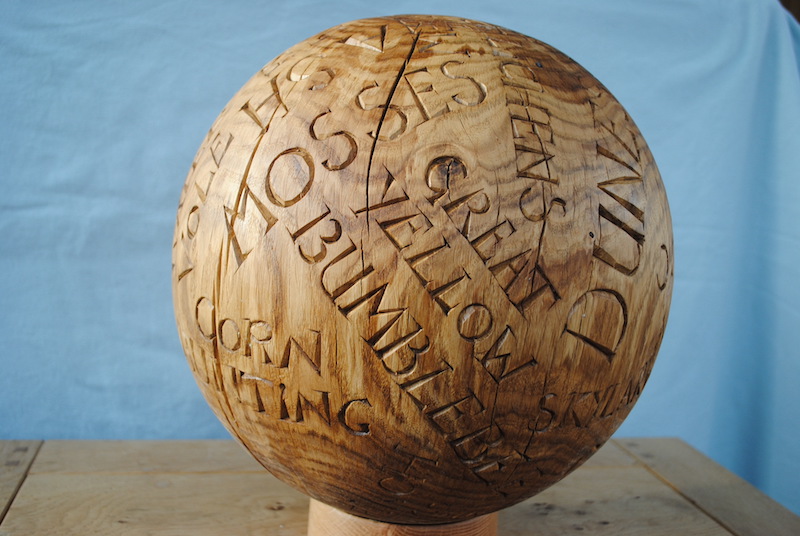 To anyone standing in front of The Purifier today, the patchwork of old and new plaster and brickwork and construction foam may look discouraging, but if you listen to Radenko describe his vision, you can almost see the final result: a place alive with the sounds of creation.
In that vision, the whole region has become a magnet for creative people building businesses that espouse slow consumption, honor traditional crafts, and promote a sustainable use of resources—and for visitors embracing those values. In that environment, guests and locals exchange experience and bond over shared meals of Smilyan beans and other local delicacies.
With Radenko at the helm—or more likely at the workman's bench—this sounds less like a dream and more like an attainable goal.
Go see for yourself. Smilyan is 100 km south of Plovdiv and just 20 km from Greece. Pamporovo, one of Bulgaria's leading ski resorts, is a 40-minute drive away. The region's hiking routes, caves, and riverside resting points will delight lovers of the outdoors, while its rich cultural and culinary heritage will take more than a single trip to explore.