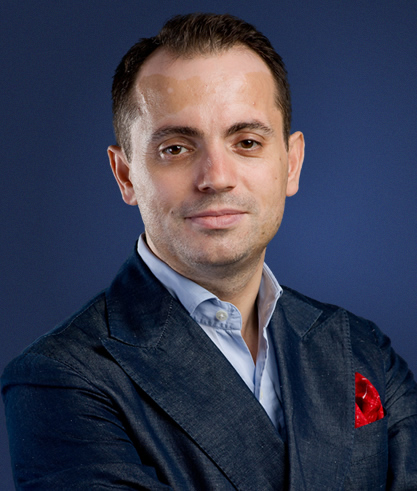 A spur-of-the-moment decision brought Elvin Guri to Bulgaria in 1992, and he ended up staying for the next three decades, becoming a successful entrepreneur and one of the largest individual investors in Bulgarian education.
His support for Teach for Bulgaria, Junior Achievement Bulgaria, and the American University in Bulgaria (AUBG) has helped hundreds of youth advance their educational goals. As a business investor, he has enabled more than 15 companies to expand their activities throughout the country and beyond. Today, these companies have a combined turnover of more than 250 million euro and employ over 5,000 people.
After graduating from AUBG in 1996, Elvin worked in international development for over five years, a year and a half at the headquarters of the European Bank for Reconstruction and Development (EBRD) in London and four years in its Sofia office. He started his first business, JetFinance, in the early 2000s, transforming it, over the next several years, into one of the most successful consumer credit companies in the region. The successful sale of the business in 2008 to BNP Paribas launched him on the path of investing. Today, he invests through Empower Capital, a VC fund that supports growing businesses.
An Albanian by birth, Elvin joined the RE:TURN team on its US East Coast tour in November 2019 to tell Bulgarians abroad why he chose to build his life and businesses in their birth country. A self-described "Bulgarian patriot by choice," in this interview for the ABF newsletter, he also talks about what Bulgaria needs to become competitive regionally and globally, what motivates his giving in the country, and why he became a part of the largest private initiative to connect Bulgaria and Bulgarians abroad.
You have lived in Bulgaria practically since 1992, minus the two years you spent working at EBRD in London. How and why did Bulgaria become your adopted country? 
I ended up in Bulgaria by chance. I wanted to study abroad because the last couple of years of high school we were basically out demonstrating, and no one was studying. I was going to take advantage of any opportunity to go study abroad, and the line in front of the Italian embassy for scholarship applicants was huge! (He laughs.)
We were hanging out with friends one morning in Tirana, and one of us said, "Have you seen the advertisements for the American University in Bulgaria on TV?" A couple of us went there, picked up an application form, filled it in, and they invited us to take some tests. Little did we know that these were the TOEFL and the SAT. So, we went in without preparation. I ended up with a very low score, but sufficient for me to become one of the first six Albanians to get a place at AUBG.
Your decision-making is no longer that spontaneous, I guess…  
Oh, you'd be surprised (laughs). There is subjectivity in all decisions, even business decisions, partially because, as humans, we see things through our own personal experience. All decisions have an objective element, facts as we see them, and a mix of hope and illusion. I suspect we need both, and one should feel comfortable with the right mix if one is to live with himself.
After AUBG, you embarked on a career in international development. You were based in London for a couple of years. What made you change course?
London was never the destination. I was always going to come back to Albania, and Bulgaria was supposed to be a pit stop. But Albania was just recovering from the Ponzi scheme scandal of 1998–99. So, I just moved to the Bulgarian office of EBRD. I had a basic understanding of the language, and I felt that, in terms of development, Bulgaria could be a good primer, a good example as to where Albania could hope to go a few years after Bulgaria. In the last year of my employment there, two things happened: I began thinking about starting my own business, and I met my future wife. My range of options narrowed down considerably. (He laughs.)
You had a very broad education at AUBG, majoring in applied economics and history. This must have prepared you for different career fields?
At AUBG, I remember being more in love with macroeconomics than with microeconomics, but when I repeated these subjects at the graduate level, microeconomics was more useful to me because it went into specifics. Microeconomics, the behavior of players in the industry, is something that can be directly useful to you. Macroeconomics deals with how inflation affects fiscal policy, which is useful when you are 22 and you want to change the world. But in the telecom industry, microeconomics will be more useful if you want to know how to price a particular product or if you want to plan an action.
In entrepreneurship, I learned more from history than from economics. One of the classes I took was about the philosophy of history. One of the debates in history, which most people consider very fact-based, but it is not, is the role of individual leaders in determining or shaping the actual course of history. There are two schools of thought. We grew up thinking that the masses move history, and other people said the masses are inert and leaders move them. This pushed me very hard to develop an interest in the science and practice of leadership. History combined with a healthy interest in current events helps one build good relationships, which I think are mandatory for a good organization. At the basis of a strong organization, there is always good communication.
Speaking of the practice of leadership, you have had a very active role at AUBG after graduation. You have served on the Board of Trustees for over a decade, you have pledged $1 million in scholarships, and you even spent two months there talking to employees, professors, and students to help chart a course for the university's next several decades. Why have you invested so much time and resources in AUBG? 
In Washington, DC, I was introduced as a graduate of Oxford University [where Elvin completed his MBA in 2015], and I corrected the moderator. Actually, much more important for my personal and professional formation was the fact that I graduated from AUBG. That is definitely more important because you grow up as a person, you build your character at 18, so the environment at the university at the time, if you are open to it, can really shape you. At 39, you expand your horizons, but you are formed as an individual. AUBG undeniably formed me as a person.
When you see the achievements of AUBG graduates, the placement of AUBG graduates, both in their countries of origin and outside, I am convinced that AUBG has been a force for good. I see AUBG as the best long-term tool to produce a new class of leaders and a new class of citizens for the region.
Did AUBG inform your philanthropic philosophy; is this where you learned to give back? 
Sooner or later, I think, most people engage in some sort of "philanthropy." It's neither new, nor a groundbreaking idea: I would like to point out, though, that the concept of "giving back," as an extension of or a motivation for philanthropy, is new. The Georgievi brothers [Evlogi and Hristo Georgievi, 19th-century Bulgarian bankers, entrepreneurs, and benefactors], who financed the establishment of the University of Sofia, invested in the future of the nation rather than giving back to it. There is a key difference. The same goes for George Soros, from whose scholarships many of my classmates at AUBG and I benefited. These are just two of the examples that have inspired me.
These men are entrepreneurs as well as benefactors. Is work like theirs what you envision when you speak of social entrepreneurship? 
To me entrepreneurship means taking responsibility for decisions, for the solutions of particular problems. In that sense, entrepreneurship is something that can be practiced, learned. You can be an entrepreneur in a for-profit organization or in a nonprofit, you can be an entrepreneur in your life or as a politician. Entrepreneurs seek to solve existing problems in new ways. Social entrepreneurship is the practice of entrepreneurship for the achievement of social goals. It is a lot more than simply conducting a business while also thinking about the environment or society as a whole. It is about thinking actively about your place as an individual and as an organization in society.
In different contexts, social entrepreneurship could mean different things. In countries like Bulgaria today, any business that helps to create jobs, that pays taxes and social security, and that generally seeks to operate within the legal framework of the country is a social enterprise. Such companies help to change the business and social environment in the country.
The technology sector in Bulgaria has been an unmitigated success. Can its achievements spill over into other areas and maybe translate into larger social and political change? 
Now, entrepreneurs in general should seek to steer change… I don't believe one can force change, but I do believe the tech community has, as a whole, has contributed to strengthening and improving Bulgaria's image as a country and as an investment destination. That said, we are at the very early stages of development of this ecosystem. We rank very low in the value-added chain of this industry. Bulgaria is still known as an outsourcing destination. In order for us to build a proper, successful tech industry, we have to move up this value chain. We have to offer products and services and be recognized for that.
Is Bulgaria attractive as an investment destination?
If I were a New York–based investor whose mandate was to invest all over the world, I would be very hard pressed to answer that question with a yes. For us who have decided to live here and build our lives here, raise families here, the answer is an unqualified yes. Our challenge is to provide sufficient reasons to sufficient people to see the better side of Bulgaria. The strongest argument to invest in countries like Bulgaria is not "come here and you will make a lot of money." Go invest in those large markets that offer great opportunities, but invest in Bulgaria and the region because it helps you diversify away from those markets. That's how people think of small-market investments—diversification. We cannot attract big investors because we do not have enough qualified people, and it is a factor of size, not just of availability.
People would say, well, look at Slovakia, look at Hungary. Yes, but don't compare with them now, but with the way they were 15 or 20 years ago, when those companies decided to set up shop in those countries. Today, the demands for countries like us are so much higher because Hungary and Slovakia raised the bar. Slovakia is the largest manufacturer of cars in Europe today. The concentration of car manufacturers there is huge. In order for us to succeed, we have to be better than the best, and this cannot happen with us fighting for the big investors. We have to fight for the smaller firms to come here, and parallel to that, we have to fight to build our own big, successful firms, local firms. This is where funds like Empower Capital come into play.
I have become, by necessity, an economic nationalist. Small countries need to build national champions. As a region, we need to create leading firms—regional firms that can compete for business effectively both within the region and abroad. That's how we become attractive.
You always talk of "we" in reference to Bulgaria. Do you identify as a Bulgarian now that you have lived here so long, and is this why you decided to participate in what is essentially an effort to tell Bulgarians abroad that Bulgaria is worth investing in? 
I have been a Bulgarian citizen for 15 years, so I am an Albanian patriot by blood and by birth, but I am a Bulgarian patriot by choice. This is why I participated in this event. I don't see RE:TURN simply as a way of bringing Bulgarians back to Bulgaria. I see it as a tool of keeping the diaspora interested and involved. I don't expect results tomorrow, but I do hope that sometime in the near future some of the people we met and we spoke to in these meetings and others like them will find enough interest and courage to uproot themselves, change their lives, by seeking stronger involvement with Bulgaria and causes related to Bulgaria.
What thoughts did you come away with from the RE:TURN events?  
All of these meetings are exhilarating. They make you feel really good. You meet people that are generally interested, that seek not just a venue, but also a good place where their emotions about being Bulgarian can come out. I didn't have many expectations that someone would say, "Hey, I am committing to this or that," but I was hoping that someone would get to a point where they would say, "How can I help?" And in that, I was not disappointed. What can I do to help the causes, the companies that the funds have invested in? Can we help them position themselves in America? Can we help find investors? Can we donate to some of the causes? All of these came up in the conversations.
The most interesting comment that I heard was: we need to do these more often, every six months. We should try to create a forum where the diaspora, especially younger people, can channel their energies and their resources toward certain positive change in the country. We have to work really hard to make these events an unmissable part of the social calendar of the diaspora. We cannot do this on an ad hoc basis. People have to anticipate, have to want to attend, and plan to attend these events in the future in the hope that they will get a positive vibe. Which is something that you really do not get from the media today. That's why I emphasized the good news when I spoke. We get enough bad news from the media. But, in reality, we are not doing as badly as people think.