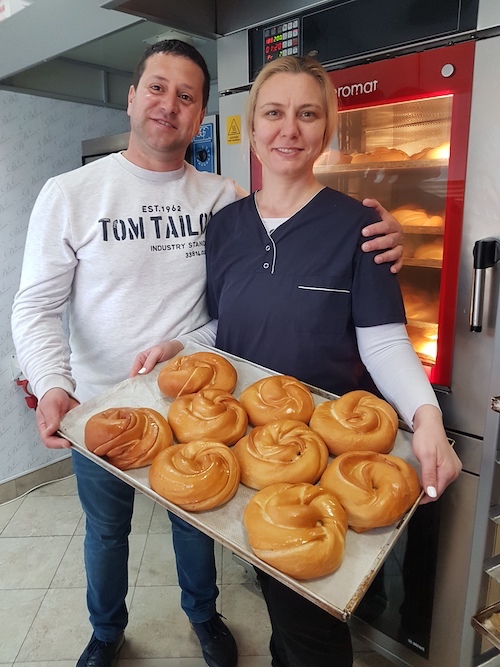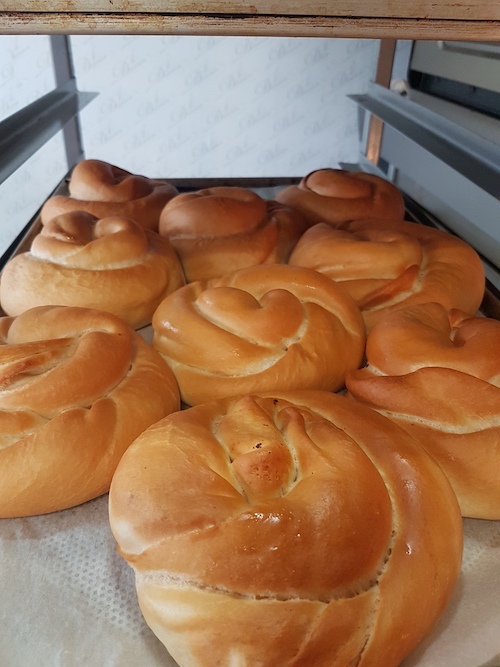 Banitsa is Bulgaria's favorite on-the-move breakfast and a go-to snack at all times of the day. The popular cheese-and-egg-filled phyllo-dough pastry is sold at shops strategically placed in city areas with a lot of foot traffic.
When movement ceases, banitsa sales drop. On weekends, these shops are shuttered or work at a fraction of their workday capacity. Today, the once-fragrant vicinity of banitsa shops feels abandoned: no pedestrians crowd around them for a bite of cheesy goodness; the city smells intruding on the senses have nothing to do with food.
A month-and-a-half-long state of emergency in Bulgaria as a result of the coronavirus outbreak halted most nonessential economic activity and restricted the movement of people throughout the country. Although essential to Bulgarians' way of living, the banitsa shop is one of the many establishments that has suffered as a result.
Darina and Milen Mihov's banitsa shop is no different. Located on a busy commercial street in downtown Stara Zagora, Bulgaria's sixth-largest city, before the COVID-19 outbreak, their shop allowed them to maintain a staff of five and a comfortable lifestyle for themselves and their two children. In addition to selling to hungry passersby, they supply a supermarket chain with sweet and savory pastries year-round.
Today, with people observing social distancing measures and limiting movement only to essential trips to the supermarket or pharmacy, they have seen their sales contract precipitously. Like many other small-business owners, they often wonder how they will get by if the state of emergency continues.
The promise of economic independence and a life that offered more than just getting by prompted their move away from Sofia, the capital, six years ago. They also wanted to have more time for their children and for each other.
But the slower pace of life and smaller incomes in towns mean that fewer people eat out when they are not out and about. The vast majority turn to home cooking as a budget-friendly alternative to takeout in economically challenging times. As a result, the Mihovs only sell a third of the banitsas they used to, and orders for baked goods from the supermarket chain are down to a fifth of what they used to be before the outbreak.
As Milen and Darina scrambled to make up for the shortfall in production, they started searching for alternatives. Milen learned that the 89 residents of a local senior citizen home were getting less food because a part of the home's meal budget was allocated for sanitizing and cleaning materials at the outset of the coronavirus outbreak. The family offered to fill the shortage; the America for Bulgaria Foundation and US Embassy Sofia stepped in with a small donation through their #StandingTogether program to help them cover the cost of the necessary ingredients and part of the labor. The collaboration supplied delicious breakfast to the home's residents for the month of April.
"We were helping out and staying in business at the same time," Milen says, adding, a hint of pride in his voice: "And the feedback was that the residents really liked our food."
The donation also allowed Milen and Darina to keep all five of their staff members. For now. Before Easter, they had only two orders for kozunak, the egg-rich sweetened bread Bulgarians traditionally eat for the holiday. Sales during Easter weekend were down to a quarter of their usual volume. Some of their competitors have already closed shop.
The senior citizen home received some of the Mihovs' delicious kozunaks. "We were really pleased with the kozunaks," says Ilya Alexandrov, the home's director, adding that because of the social distancing measures, the residents are not allowed to go to the village store and wouldn't have been able to buy Easter goods, as they usually would have. "This is a really good initiative. It really helps us," Alexandrov says.
"This year we made small kozunaks because people are alone at home and don't get together with the family," Darina says. "Other years we would normally sell about 300 big kozunaks, but this year we sold about 150 half-sized ones."
"Easter used to be a good holiday for us. We would give out bonuses to our employees. This year, we were happy we could pay their wages," Milen adds.
Despite the shortfall, Darina sticks to her pre-outbreak schedule: she wakes up at 2:30 am to go to the banitsa shop and preps for the day's needs. Milen, who is usually in charge of logistics, is less busy these days, so he helps their 8-year-old and 13-year-old with online learning and homework. Darina is home by midday, so the family spends the afternoons and early evenings together.
"It's a good thing that we are all together, but I can't really appreciate it fully because we are pressed by the circumstances," Darina says.
Sofia's banitsa shops are doing slightly better, perhaps because big-city people are more used to eating out and incomes are higher. Do Milen and Darina wish they'd stayed in the capital?
"No, no," Milen says. "We will make it here, too. It may take longer, but it will happen. And I am happy we could help out along the way as well."