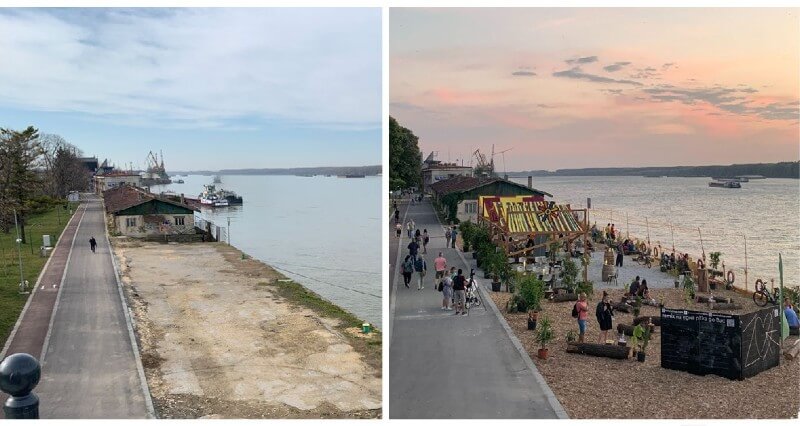 When Ani Kodjabasheva and the rest of the Collective's team of architects, designers, and artists first started talking about transforming the space around River Station in Ruse, a few skeptical eyebrows were raised. However, the first intervention the group proposed was to be temporary and fun, so the local authorities green-lighted the project.
Once a busy transportation and social hub, Ruse River Station is now an urban eyesore lined with concrete and abandoned buildings. Although it is "the place most characteristic of Ruse," according to Ani, who is a native of the city, locals have no reason to go there anymore.
The Collective's team wanted to change that, for at least a month. Their idea was to enlist the help of local students in creating spaces where people could host public events and workshops, exercise, or just hang out.
So, in 2021, the Collective launched Rivers of the City: Ruse Edition, having earned recognition for the Rivers of Sofia festival the previous year, which transformed stretches of Vladayska's riverbanks in downtown Sofia into spaces for socializing and leisure activities.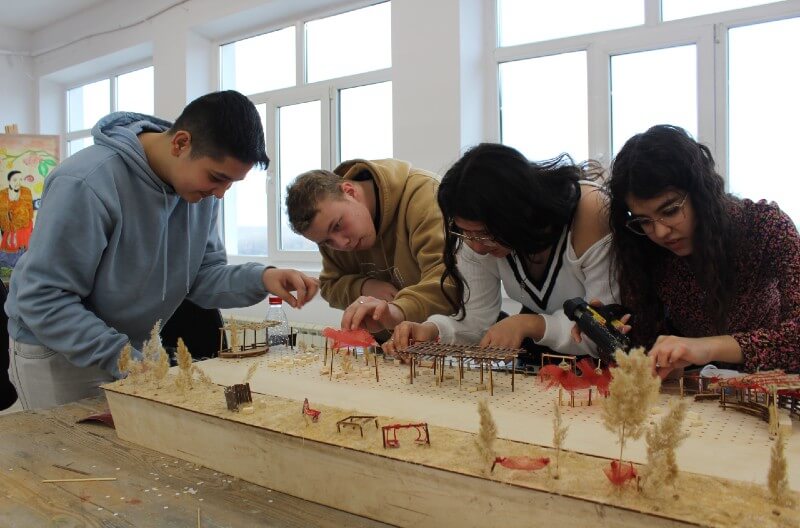 Four local schools signed up to participate in the Ruse initiative in early 2021, their leadership initially more curious than supportive. The real magic started happening when Ani and the rest of the team began working directly with students from these schools. The team found that the participants, all individuals on the cusp of adulthood, had never been asked how they wanted their city to change — or been given the power to determine what that change would look like.
Throughout the spring of 2021, the initiative's 22 student participants and their mentors from the Collective met several times to work on a concept for River Station's temporary makeover. Their meetings were designed "to create a safe space allowing each of them to say whatever was on their mind and unleash their imagination," Ani says. The proposals they came up with were a result of teamwork, however, and all the better for it. By the program's end, the students had created miniature mockups of their vision for a rejuvenated, social River Station.
The real impetus for the initiative didn't come until late August, though, right after summer break, when the time came to implement that vision.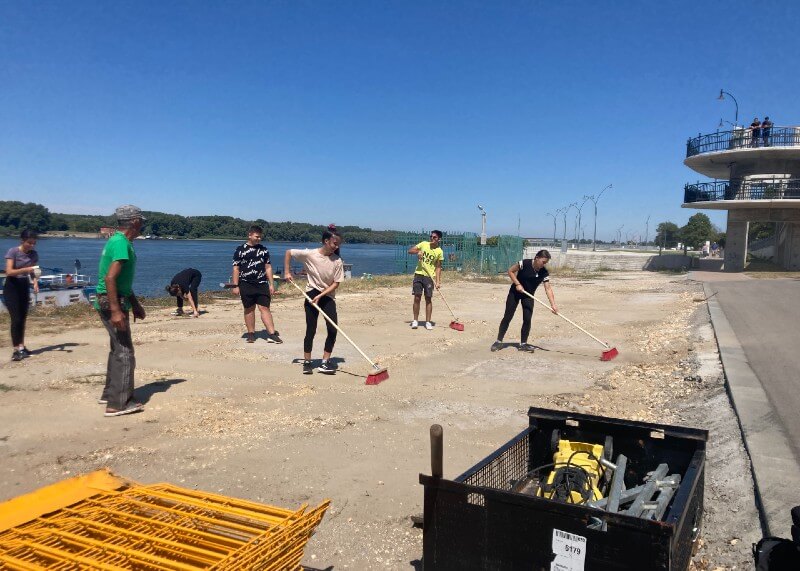 Only half of the original student group showed up for the installations' construction, but those who did were so excited that their ideas were trusted and that their project was finally coming to life that "they couldn't leave," Ani says. Some of the students commuted daily to be able to participate, and a few recruited their parents to do some heavy lifting, too. Volunteers were joined by local entrepreneurs, who offered sponsorship or provided in-kind donations; citizen groups, who lent logistical and other support; and art collectives and tourism organizations, which helped with programming.
"Initially, we weren't planning to have an opening event, but in the end, so many people got involved that we had to have one," Ani says, laughing.
Inauguration day drew in hundreds of people, with a diverse lineup of events and activities such as open-air movie screenings, a fire-eating performance, yoga practice, sports competitions, archery lessons, birdwatching, and boardgame nights ensuring a steady stream of visitors to the formerly derelict River Station in the ensuing days. An estimated 5,700 people took advantage of the month-long initiative, and if Facebook numbers are to be believed, Rivers of the City events were among the most popular in Ruse's cultural calendar for 2021.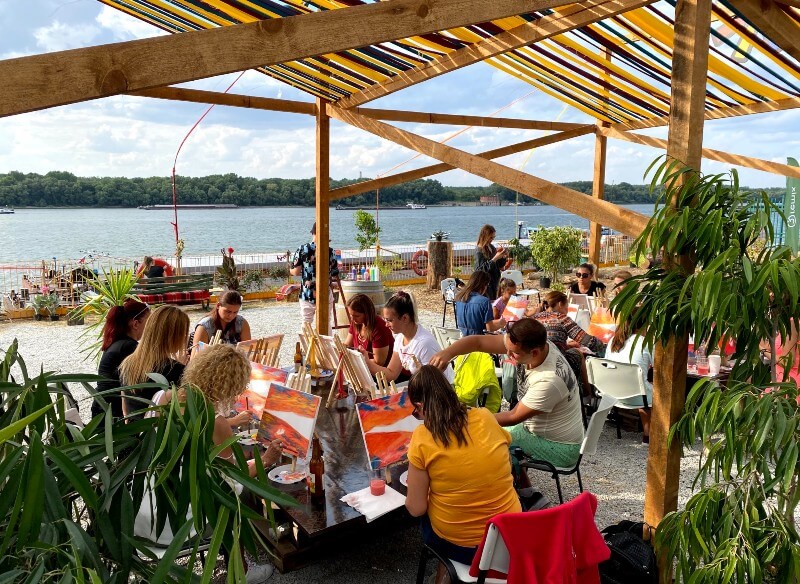 "Feeling that their voice is heard" is an empowering experience for young people, Ani says. Moreover, "when they see that something is possible, they come up with further ideas." Tellingly, several of last year's participants are now working on landscaping solutions for a local park, while two others are partaking in an EU-funded program in a related field. Most significantly, a young man from the Professional High School for Construction, Architecture, and Geodesy conducted a poll among several hundred Ruse residents to determine what improvements they wished to see in their city.
Participants in the first edition also came back to mentor this year's cohort — a welcome development given the overwhelming interest in the 2022 initiative, which opens at the end of May and will last until October 1. Many more service and activity providers are participating in the festival this year, while volunteers from as far away as Sofia and Ukraine have signed up to help with construction and cleanup. To mark the expansion, Rivers of the City: Ruse 2022 will open with three days' worth of programming, with events and activities also scheduled for every weekend thereafter.
"There was a clear need for [an initiative like] this," is Ani's succinct summary. More important than the recreational value of the festival, however, is "people's feeling that they have a say in charting the city's future," she explains.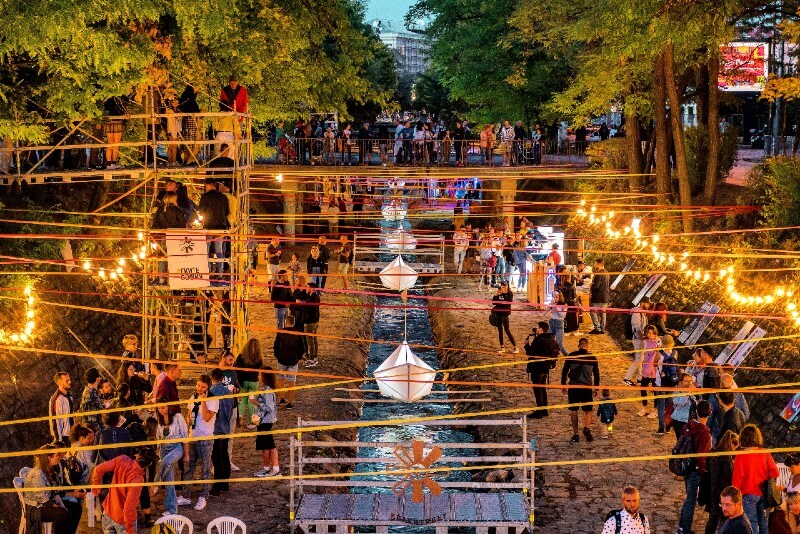 For the Collective, that future is linked with the respectful use of Bulgaria's waterways and their inclusion into greener urban living. The team hopes to expand their involvement in Ruse and Sofia and spread their vision of urban renewal through community activation to other Bulgarian cities as well.
The organization's work to inspire youth to get involved in the transformation of urban spaces was recognized in 2021 by Civic Europe, an incubator for civic initiatives in Central, Eastern, and Southern Europe, as well as by the America for Bulgaria Foundation, which supported both editions of the Ruse festival.
In 2021, Sofia Municipality recognized the Collective's Rivers of Sofia initiative for its outstanding contribution to the city's culture and sustainable development, and this year it will fund the Collective's campaign to overhaul Sofia's signature Lions' Bridge area.
In 2022, Rivers of Sofia was shortlisted for a New European Bauhaus Prize from among 1,100 other initiatives from across Europe.
Photos by the Collective