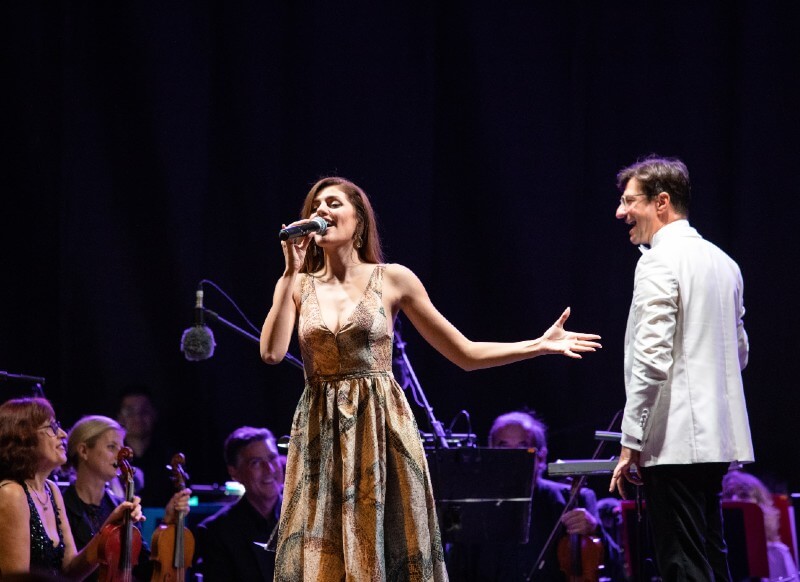 Mihaela Fileva is, in every respect, a star. A beautiful, talented, and versatile singer-songwriter with a nearly-twenty-year career, she is well known and loved by audiences in Bulgaria.
Privately, she is a deeply caring person, and because of it, she publicly supports a variety of socially important causes and initiatives connected with environmental protection, equal rights, and cultural heritage. Several years ago, she teamed up with internationally renowned orchestra director and conductor Maxim Eshkenazy to help make classical music accessible to children and their families across Bulgaria. The resulting program, Fortissimo Family, was supported by the America for Bulgaria Foundation for nearly a decade.
This September, Fortissimo Family's star cast reunited for the I  Music concerts, in Ruse and Sofia, organized in partnership with ABF. They were joined by opera singer and world beatbox champion Adriana Nikolova, better known as Pe4enkata, and the Ruse Philharmonic Orchestra for a magical extravaganza of classical and folk arrangements, film music from the US and Bulgaria, and original works.
We talked to Mihaela Fileva about her collaboration with Maxim Eshkenazy, socially engaged art, and her current projects and future plans.
The America for Bulgaria Foundation: How will you remember the I  Music concerts?  
Mihaela Fileva: The idea of ​​this year's concerts was to reach out to people who rarely come in contact with classical music or with a large symphony orchestra. This was also why we chose a concert venue that was not in downtown Sofia, where we have had concerts until now, but in the Druzhba district. The Druzhba Lake area is extraordinarily beautiful and a great place for a concert. The weather was also on our side. Classical music instruments are very fragile — they cannot be exposed to humidity for a long time — and we kept an eye on the weather forecast all the time. We had rain during the rehearsal for the concert in Druzhba, but, thankfully, during the concert itself, the weather was wonderful, and there was a really large audience. It was very sunny in Ruse all day, but we got a few drops of rain during the concert. We started looking at each other a little nervously, but the audience's positive energy prevailed over the dark clouds. Both concerts had wonderful weather, very good energy, and large audiences.
ABF: You have worked with Maxim Eshkenazy for years. Do you share his ambition to provide access to good music for every child in Bulgaria and to dispel the myth that there is a separation between classical and popular music? What is your personal mission in this professional collaboration?

M.F.: Truth be told, every artist, regardless of their field, partly aims to cultivate good taste and an aesthetic appreciation in the audience, especially the younger audience attending their concerts, whether these are classical, pop, jazz, rock, or funk music concerts. Artists teach their audience about aesthetics and quality so that the latter can appreciate the effort and preparation it takes for a musician to get onstage, usually years of training and hard work. This is a really important mission.
Part of the reason I got to know Maxim is the Fortissimo Family program, which he launched with the America for Bulgaria Foundation. At the moment, it is part of the Sofia Philharmonic programs, which is another sign that these programs for children are impactful and of national significance. Educating an audience from a very early age develops a society's cultural appreciation and enables us to make better art because, ultimately, it's that audience that will appreciate our art.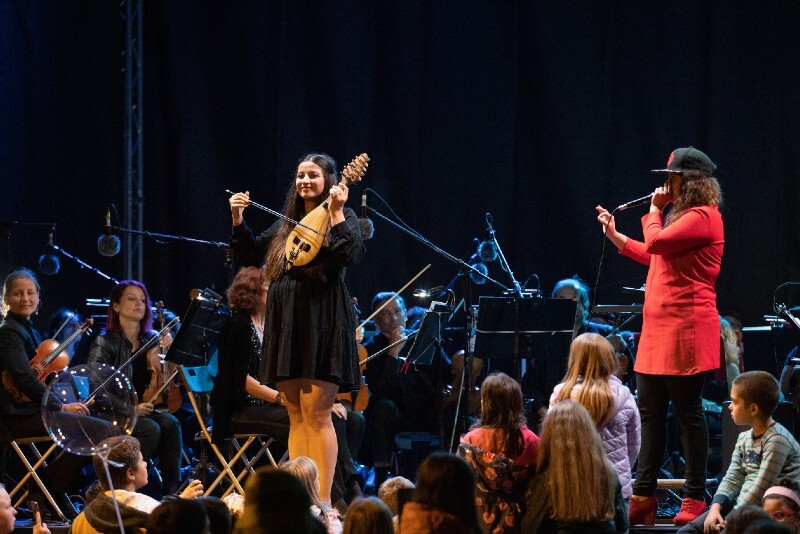 ABF: A significant part of the I  Music concerts was dedicated to the film heritage of Bulgaria and the United States. In this regard, do you feel that you are a part of this heritage, or does a modern artist like you wish to distinguish herself from the past?
M.F.: I think that we cannot build a future without remembering the past. This is true in every aspect of life, not just art. It's always a real joy for me when I can perform classical works onstage or when I take part in musicals or perform film music. During these concerts, I had the opportunity to sing the song "Hush, Hush," which is from the soundtrack to Lubimets 13 [a 1958 Bulgarian musical comedy, ed.]. This is one of the first attempts at producing a musical in Bulgarian cinematic history, and it has great music composed by Petar Stupel, a beautiful violin solo, and very pleasant orchestration. The song is marvelous. It's incredible what you can do with a melodic line when accompanied by a symphony orchestra. It's really thrilling!

ABF: Collaborations between artists and across styles have a special energy. How important is working with other artists to you? What does it bring you?

M.F.: I first saw how diverse music can be during my studies at the National Academy of Music. Our professors encouraged us to be brave, to experiment, to express ourselves through different forms and expressive elements. In fact, because I have been trained to constantly search for what's different, for challenges, it is a real pleasure for me when I have the opportunity to collaborate with musicians from other genres, such as classical or rock musicians. Recently, I was also part of a jazz project.
Artists should not limit themselves; challenges provoke musicians, help them grow. I like trying out new things, exploring new horizons, and challenging my creativity and skills, on the one hand, and my audience, which is used to seeing me in a certain light, on the other. This is why I look for collaborations with people who take me out of my comfort zone. The resulting synergy, the excitement of novelty, is something that I'm sure thrills the audience as well.
ABF: Is there a style of music you haven't performed but would like to try?
M.F.: Yes, and it is the style that runs in our [Bulgarian] blood. I have done absolutely nothing related to traditional folk music. These two concerts made me think about this because, apart from me, they also featured Pe4enkata — a world beatbox champion, one of the best beatboxers in Bulgaria, if not the best. Her musical education allows her to perform different styles of music with ease, and for the concerts she had prepared some fascinating arrangements on folk themes featuring a traditional string instrument and beatboxing accompaniment. It was very interesting to listen to and watch this organic symbiosis between styles, elaborated with such taste and skill.
ABF: Not only are you one of the most talented and versatile Bulgarian artists, but you are one of the most socially engaged ones as well. You support initiatives promoting sustainable, environmentally friendly lifestyles, the rights of the LGBTQ+ community, and others. What motivates your social engagement?
M.F.: For me, things are very simple when it comes to social engagement. I direct the attention I get, as if with a mirror, toward topics, causes, and initiatives I find important and deserving of the broader public's attention. It also shields me from the vanity inherent in our profession. This gives me additional confidence that there is a point to being a recognizable person.
I think it is right and critical for public figures to express their views on important subjects, even if these subjects make people uneasy. Especially when it comes to controversial subjects, we must say out loud what we think. I often see colleagues of mine who avoid expressing opinions on these subjects for fear of losing the part of their followers who don't share their views.
But I think that you gain much more than you would lose in these situations. You gain supporters. By speaking out, you give courage to the voiceless and to those without the power to speak about these issues themselves. You also get closer to your audience because you believe in the same ideas, on a purely human level, not just musically. Everyone deserves equal rights, no matter what social group they belong to, no matter their skin color, religion, sexual orientation, etc. We are killing our planet, and it's time to start doing something about it. These should not be topics that divide us; quite the opposite. I like it when I see at my concerts people who believe in the things that I care about and that make me a more complete human being, the things that require urgent attention and transparent and active public debate.
ABF: Is there a role for art and artists in socio-political processes? Is art toothless, or does it have the power to achieve actual results, to change the world for the better?
M.F.: This is largely the artist's personal choice, whether they make music, paint, or do something else. Art is a natural extension of the person who creates it and has the power to build entire worlds. In the not-too-distant past, art was one of the few ways to express certain positions with impunity, so it seems to have had more "teeth" than art today. I am inspired by art with a soul, art that has an idea behind it, its own character and conviction that it has the power to change and influence. Art is also a means of communication: it doesn't have to have sharp teeth; it just needs to be provocative, thought-provoking, and addressed to the right audience so that its message gets across.
ABF: The Foundation supports a variety of projects furthering the development of young people and their successful entry into the labor market. As a successful young person, will you share your formula for success? You once sang: "I can do anything, even fly, / It only takes faith." Is faith in yourself the most important prerequisite for success?

M.F.: In the context of this song, I meant faith in God, but the truth is that faith alone is not sufficient to make your dreams come true and help you grow. There are many qualities that every person, not just the young, should cultivate in themselves if they want to feel good because success is subjective, dependent on how the individual defines it. For me, success is harmony, happiness, having not to worry about simple everyday things. For other people, success may be a completely different thing, but no matter how we define success, there are qualities that are invariably part of the journey, and possessing them helps us move forward faster — hard work, social skills, curiosity, patience. There are many of them, and they are different in the different stages of a person's development.
Self-belief also matters. And seeing yourself in the eyes of people who believe in you is always helpful.

ABF: Which quality of yours do you like the most?
M.F.: Maybe that I manage to look at the bright side of things, without panic, no matter how difficult the situation. If something happens at work or in my personal life that throws my daily life off balance, I manage to tell myself, instead of losing it, "Now wasn't that interesting!" Being able to hold it together until it blows over really helps me and the people around me.
ABF: What's next for you professionally, and where can audiences see you in the coming weeks?

M.F.: I promised myself that this would be the year when I say yes to any project that takes me out of my comfort zone. So, I acted in a TV series for the first time. The episodes in which I play the role of Isabella Kostova will be broadcast very soon. I took on the challenge of being part of a big musical production — something I had literally dreamed of. I am playing the part of Esmeralda in The Hunchback of Notre-Dame, a production of the Stara Zagora State Opera. There is a performance in Stara Zagora on October 6.
I invest the bulk of my energy into my concerts, of course. There are two more dates left on my national tour – the next stop in the tour is Smolyan, on October 11, and on October 12 we are in Kardzhali.
On October 22, I have a big club concert at Sofia's Joy Station. I perform with my whole band: Vasil Krumov (guitar), Vasil Vutev (drums), Krasi Todorov (piano), and Sasho Obretenov (bass).
I'm recording some music and working on the next songs I plan to release. I have a very interesting collaboration coming up with an artist with whom I have long dreamed of working. And it's finally happening.
I am very happy to meet people who appreciate and like my music, and I will have many opportunities for that in the fall.