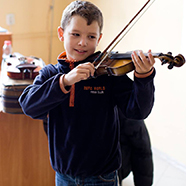 What do chocolate and classical music have in common, you ask? The answer is Fortissimo, conductor Maxim Eshkenazy and violinist Harry Eshkenazy's novel project to bridge the gap between classical music and children in Bulgaria. Fortissimo is a musical family that brings classical music to the modern world and tells its scenic, magnificent history. It consists of concerts and lessons in three independent programs – Fortissimo Fest, Fortissimo Class and Fortissimo Family. Different in style, but with the same passionate heart and soul, Fortissimo Fest, Class and Family recreate famous classical works with sincere enthusiasm and unbelievable emotion. Thanks to NESTLÉ Bulgaria, Fortissimo Family and Fortissimo Class reach more and more children and families, and this year the company also supported the big final Fortissimo Class concert for children from Vidin.
NESTLÉ Bulgaria also organizes numerous initiatives aimed at encouraging an active lifestyle and balanced nutrition. The biggest initiative is LIVE ACTIVELY! Its supporters participate in 35 different sports, but also dance in over 20 disciplines. More than 300,000 Bulgarians nationwide have enjoyed various activities in the company of some of the most popular Bulgarian athletes and stars. The twelfth consecutive edition of the initiative took place in 2017.
The company is committed to creating a better future for young people in Bulgaria, which is why it has been organizing internship programs for over 19 years. At the end of 2013, NESTLÉ announced its European initiative NESTLÉ Needs YOUth, aimed at helping 330 people under the age of 30 get a permanent job or internship.
NESTLÉ Bulgaria's long-term social partners are the Bulgarian Red Cross, Bulgarian Food Bank, Holiday Heroes, and Sofia Municipality.
Author:  Neli Angelova, Corporate Affairs & Communication Manager, NESTLÉ Bulgaria