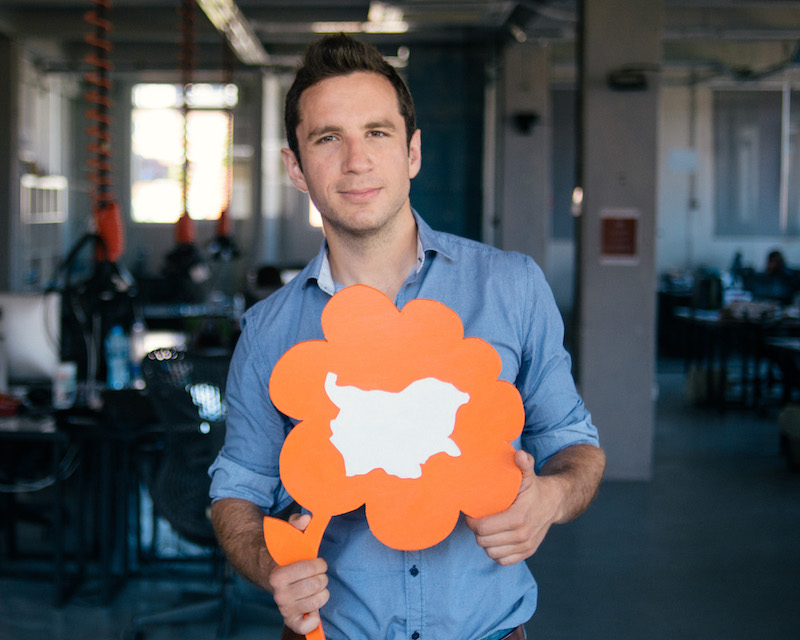 After living abroad for several years, in 2008, social entrepreneur Hristo Boyadzhiev returned to his native Bulgaria, where he cofounded Tuk-Tam, a grassroots initiative to connect Bulgarians across the globe. Hristo joined the RE:TURN team on its US West and East Coast tours in 2019 and spoke to fellow Bulgarians there about his own decision to return, about founding Tuk-Tam, and about the many opportunities Bulgaria offers today. A joint initiative of the Bulgarian Venture Capital Association (BVCA) and the America for Bulgaria Foundation, RE:TURN is the largest private effort to re-engage Bulgarians abroad with their native country.
This is the story of a man who dreams of connecting Bulgarians, no matter where they are, here or there—Hristo's story. 
In the winter of 2007–2008, Hristo Boyadzhiev was mere months away from completing a bachelor's degree in business administration at the American University in Washington, DC. He was outgoing, popular, and active at extracurriculars, even as he managed to be top of his class—an ideal recruit for the many high-powered firms and organizations regularly scouting for talent on campus. In his senior year, several potential employers made contact, but by that winter Hristo had already decided: he wasn't interviewing.
He was going back to his native Bulgaria.
Hristo was aware his decision would raise some eyebrows back home, so he connected with others who would be going the same path. The group would hang out and speak the English-inflected Bulgarian they had developed over time, but also share relocation and career information and generally help each other with their homecoming. They'd be raising eyebrows together. (Returnees were viewed as failures at the time. Hristo sums up this perception best: "He didn't make it abroad, so he is coming back to Bulgaria.")
That's how Tuk-Tam ("Here-There," in Bulgarian) was born.
Hristo had met the other founders online, while they were all still working toward university degrees outside Bulgaria. They had messaged back and forth, but they all refer to this one exchange as the founding document. "Hi, I read you were returning to Bulgaria," Mariela Stanulova, a founder and one of Tuk-Tam's most active members over the years, wrote to Hristo in December 2007. "A friend and I are trying to create a group of Bulgarians who studied abroad and came back to Bulgaria so we could help each other, help others return…" Symbolically, they first came together as a group, online, on March 3, Bulgaria's national holiday.
From the very beginning, it was clear Tuk-Tam was destined to be more than a social circle. It did tide over Hristo, Mariela, and the five other founders through the first few months back home, but it also did so much more, for so many others. Within a few months of formally registering Tuk-Tam as an NGO, the founders had organized their first job fair in Sofia, titled "Career in Bulgaria. Why not?" It was attended by 350 job seekers and 33 companies.
More plans were in the works as well. In the following months and years, a guide for returnees materialized as well as a mentoring network, Tuk-Tam Buddy, connecting veteran returnees with new arrivals. The demand for socializing was strong, too, so they organized monthly networking events, among the first organizations to do so in Sofia at the time. In the past couple of years, two social clubs were established, for alumni of US and UK universities, in partnership with the US and British embassies, respectively.
Crucially, over a decade, Tuk-Tam expanded its scope to address the needs of more than just returning Bulgarians. Hundreds have received support with adjusting to life abroad as well. Among them are university applicants looking for the right school. Through the Tuk-Tam network, individuals who have already secured admission to their school of choice find accommodation, friends, and useful information about their new homes. The network is also how young professionals make their first contacts, personal or professional, in a new place.
Back in Bulgaria, thousands find work and new friendships through Tuk-Tam's social and career events, the latter being a great resource for companies looking to staff existing teams or support expansions as well.
New opportunities emerged as Tuk-Tam's offerings evolved and its community grew. Hristo had worked two jobs to support himself through school in the US and perfectly understood the relief financial aid provided, so the year 2016 saw the addition of a scholarship fund to the range of opportunities available to Tuk-Tam community members. Funding for the scholarships is entirely crowdsourced, with recipients committing to "Go, Study, and Come Back," a condition that gave the fund its official name. To date, Tuk-Tam has raised more than 160,000 Bulgarian levs from 453 donors and five partner companies, funding 21 scholarships, including four to be awarded this year. In twelve years, more than 430,000 people worldwide have benefited from Tuk-Tam services and programs, the organization's career events in Sofia alone attracting 800 companies and 15,100 job seekers.
Even more impressively, for the first decade of its existence, Tuk-Tam had only two paid employees and was powered almost exclusively by the enthusiasm and voluntary labor of the founders and the dozens of volunteers helping with various initiatives. All the while, everyone juggled full-time jobs, hobbies and other projects, and busy personal lives. Online exchanges at odd hours of the day or night became the organization's signature way of communicating.
Hristo's unwavering dedication and can-do attitude over the years—he had become the informal face of the organization thanks to his smiling, approachable demeanor—have been a huge factor in Tuk-Tam's success. He always made time to brainstorm and fundraise for, promote, and support Tuk-Tam's work in any other way he could (the tech company he was in charge of developed Tuk-Tam's website, for instance), even as he ascended physical and metaphorical peaks elsewhere.
The decade after his departure from the US was the most productive period in Hristo's life, both personally and professionally. An energetic leader with a knack for business and a taste for adventure, at 34, Hristo has climbed some of the world's highest mountains and worked in leading companies in the auditing, energy, and digital product development industries. (Meanwhile, he managed to complete a master of science degree in international management at ESADE Business School in Barcelona, Spain.) As commercial director and later as CEO of digital product agency Despark, he divided his time between Sofia and London, grew the company from 15 to 35 employees, and cultivated successful relationships with clients such as Disney, Vodafone, the Associated Press, BNP Paribas, and King's College London.
But this wasn't enough.
Much as Hristo enjoyed the thrill of winning a big client and the satisfaction from developing a popular product, he yearned for work that went beyond turning a profit. "Uniting people around something bigger than 'I am here to make money' is important to me," Hristo says.
So, it was no surprise to anyone who'd been paying attention to Hristo's regular updates to friends and acquaintances when he announced his decision, in mid-2018, to make Tuk-Tam a full-time occupation.
Since then, he has been at the helm of the organization, a yet-unremunerated but gratifying position that allows him to apply his leadership and business development skills to a cause he believes in: he wants to help build a global community of Bulgarians working together for the betterment of Bulgaria and Bulgarian communities around the world.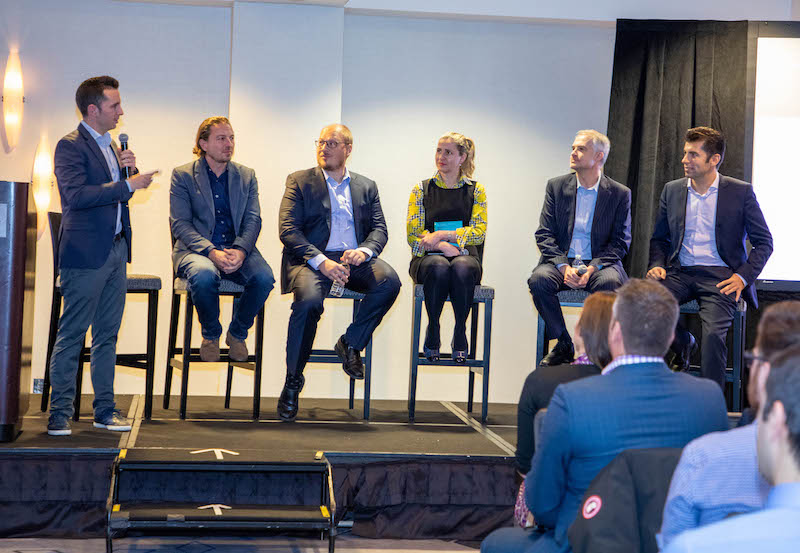 "Bulgarians are all around the world, and we want to unite these people in a community whose members help each other. There are countries that have cracked the code of how to do that. We want to figure out how to do that for Bulgarians," Hristo says.
But this won't be just a huge support network: it's a community focused on bettering Bulgaria. "We are building a network of people who have seen a different way of thinking and working and have certain expectations. This is how we improve the environment around us. These are people who have demands from their companies, their communities, and themselves. Their companies start presenting those demands at the level of industry. This will then translate into industry demands from the state." It's a bottom-up approach to change.
Can you be part of this process even if you live elsewhere?
"You don't have to come back to be active in Bulgaria. Become a mentor to someone in Bulgaria. Teach an online course. Help someone when they settle in your neighborhood. Invest in a company," Hristo says.
Clear goals, a pathway to their achievement, and follow-through are the norm at Tuk-Tam today. Introducing a business approach to running an NGO was intentional: it comes in handy in a project as ambitious as Tuk-Tam, Hristo says. Today, with 12 full-time employees developing products and key partnerships, the organization operates very much like a business, its work guided by KPIs and success measures. "We may be an NGO, but ask anyone and they'll tell you it feels more like a startup," Hristo says.
Under his leadership, in November 2019, the organization partnered with the RE:TURN initiative to reach out to Bulgarians living on the US East Coast. Tuk-Tam is also rolling out two new products, A Guide to Bulgaria, а portal with essential information for current and future returnees, and a platform uniting the global Tuk-Tam community. Also in the works is a global fundraising campaign in support of Bulgarian education. The Tuk-Tam team has chosen November 1 as the campaign date, the day honoring nineteenth-century educators, largely believed to be responsible for the Bulgarian National Revival.
Reflecting on his decision to return to Bulgaria after college, Hristo says, "It might sound clichéd, but the pull of the homeland was strong." This was not all, of course. For someone as business minded as Hristo is, what also swayed him was that "I have always felt that if I wanted to develop, Bulgaria would offer much better opportunities."
Thirteen years after choosing the path of return, he is all the more certain of that.