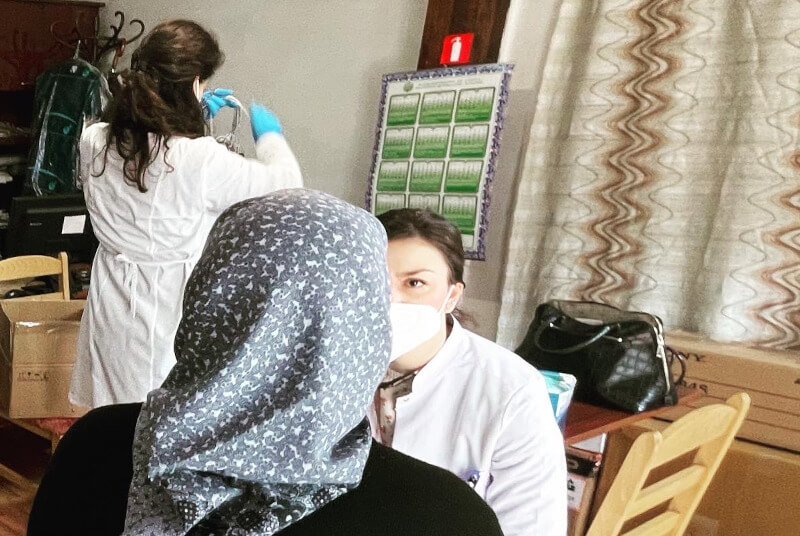 Being Bulgaria's highest populated village isn't Ortsevo's only claim to fame. The stunning views, meandering hiking and biking trails, and crisp air in this little-known gem of a place in southwestern Bulgaria provide some of the country's best recreational opportunities.
Despite the village's health-promoting potential, however, the 150 people that call it a home rarely if ever see a doctor—and not because the wholesome living conditions have rendered medical care unnecessary. There simply isn't a health center or a doctor's practice for miles around, and itinerant GPs often don't have the time or resources to diagnose accurately.
Ortsevo was the first destination in the Village Doctor program, an initiative of the Practicum Foundation launched a year and a half ago to address the gap in care in medically underserved communities such as Ortsevo. Through the program, a team of doctors, medical students, and residents spend a weekend in each location conducting medical examinations and tests and making referrals for treatment. Medical equipment and supplies are provided by the organizers. Any local, regardless of age or medical status, can take advantage of the opportunity.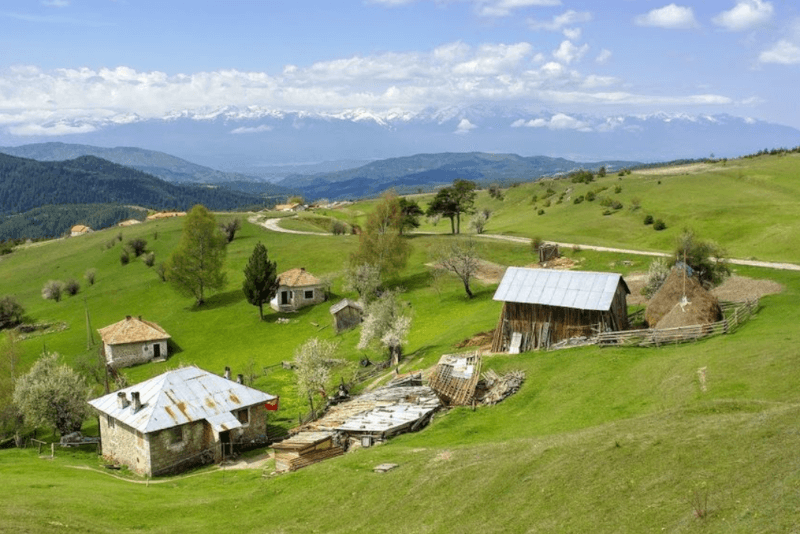 In Ortsevo alone, 35 individuals received thorough physical assessments and were referred for follow-up where necessary.
The Village Doctor checkups are free thanks to donations from businesses, while support from the America for Bulgaria Foundation extended much-needed medical care to several additional communities across Bulgaria. In all, over 500 people from seven villages have benefitted from the free medical exams so far, while dozens have obtained timely referrals for conditions requiring prompt attention.
Healthcare access gaps aren't the only challenge Village Doctor is trying to address, though.
"Village Doctor is solving problems that discourage every medical student," says Dimitar Mechkov, a fifth-year student at the Medical University of Sofia. Among these challenges are bureaucratic hurdles and poor communication between universities and hospitals, which make finding medical internships an arduous experience, at best. Conditions at state-run hospitals are not for the faint-hearted, while unclear work placement rules and low pay for students and residents often drive many abroad. Finally, disruptions due to the Covid-19 pandemic set back many a student's learning journey.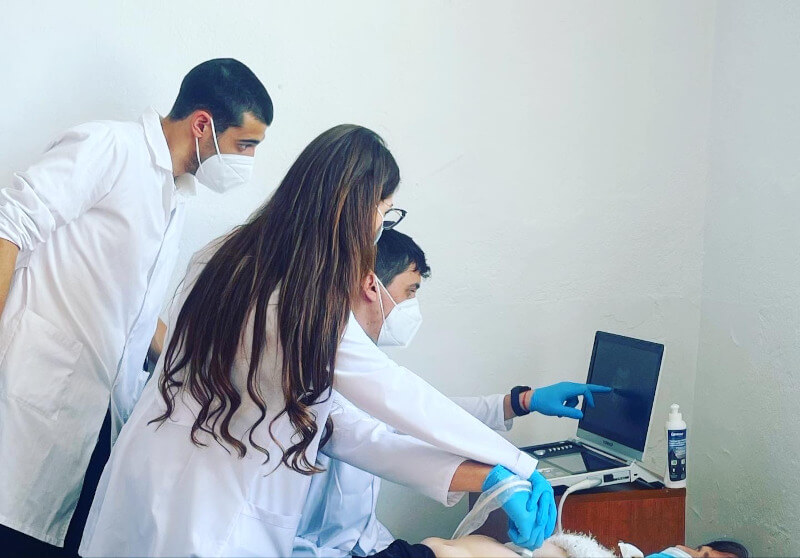 Dimitar, for example, works as a patient care technician and a surgical nurse at two different hospitals and not only because a single salary barely pays the bills. "You simply can't miss opportunities to get practice," Dimitar says, even if that means you start at the bottom of the medical pecking order and change bedpans for a while. At least, that lets you observe doctors at work and, hopefully, gets you noticed, Dimitar explains.
Dimitar's dedication to the profession and eagerness to learn stood out two years ago when Practicum founders Milen Christov, Iva Taneva, and Georgi Kalchev launched their mobile laboratory service laboratoria.bg. Dimitar was one of 70 medical students and residents who staffed the mobile testing units the company deployed all over Sofia to facilitate access to Covid-19 testing.
Dimitar and his fellow trainees made one thing clear: in a medical system beset by staff shortages like Bulgaria's, medical students and residents are a largely untapped resource with enormous potential. In addition to manning testing sites, during peaks in the pandemic, young medics were at the forefront of the fight for patients' lives, with many Covid wards being staffed by student volunteers. Dimitar's own stint at an isolation ward lasted ten months.
While the pandemic is mostly behind us, inadequate access to medical practice remains a problem for learners. Practicum Foundation chairman Milen Christov uses a driving analogy to show just how dire the situation is. "Medical graduates are expected to become racing champions after spending six years doing written tests. What we provide is driving practice," he says.
"We can keep at least some of these young professionals in the country if we offer them adequate training, internships, and financial security until they become fully trained doctors and earn the right to work independently," he adds.
By offering crucial diagnostic practice, the Village Doctor initiative, the Practicum Foundation's first, fills an important gap in young medics' training.
Getting hands-on experience is part of why Teodor Daskalov signed up for Village Doctor. The Medical University of Sofia student was part of the team that visited Ortsevo in February last year. His feedback is inspiring: "I am now in my third year and every day I am more convinced that I made the right professional choice—helping people. Because of the pandemic, I did not have as much access to hands-on practice at the university, but thanks to the Practicum Foundation and their Village Doctor initiative, I was able to gain experience and put my knowledge into practice."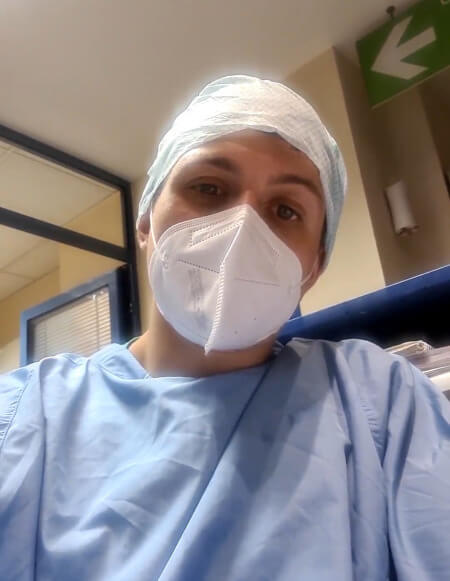 According to the manager of laboratoria.bg and Practicum co-founder Iva Taneva, another important goal of the organization is the creation of a community "of motivated, ambitious young people who share a common goal and support each other. Young doctors in Bulgaria deserve support, security, and appreciation."
The foundation's team is working on scaling Village Doctor and providing further support for young medics' career development. In addition to the mobile care initiative, they host training seminars and offer laboratory internships and healthcare management practice to qualified candidates. Their ambition is "to support students throughout their learning journey. This includes their residency years. We want to create additional opportunities for development," Iva Taneva says.
One of the most recent site visits in the Village Doctor program was to the village of Klisura, a 45-minute drive from downtown Sofia. Under the guidance of two experienced cardiologists, Dimitar and the other trainees on the team diagnosed several conditions needing immediate attention.
One takeaway from the experience for Dimitar was that proximity to the capital does not ensure better access to care.
But there is cause for optimism, too. Initiatives like Village Doctor offer the makings of a solution for those who have chosen lives away from urban centers—as well as practice for young doctors anywhere.
Support young medics' career development by making a donation to Practicum now.