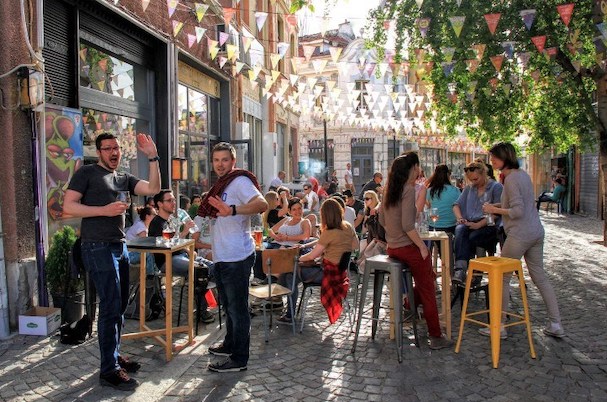 Bulgaria is that place where, not so long ago, people read Dr. Quinn, Medicine Woman fanzines, and many 30-plus-year-olds can still name most of the characters in that TV show; where locals nod when they mean "no" and shake their heads in agreement; where you are likely to be greeted by a frown but bound to make lifelong friends; where yogurt can be added to pretty much every meal or had as a drink; where you will find your language ability challenged by the insurmountable clustering of consonants (Try rolling your tongue around city names Blagoevgrad and Pazardzhik!); and where locals will go on about the country's rich history and cultural heritage while it's the locals themselves that are worth visiting Bulgaria for.
Bulgarians are also known for aylyak—a laid-back state of being, which may involve hours of meandering conversation over coffee, beer, or a meal, similar to the outlook on life conveyed by the Spanish "mañana, mañana." (Bulgarians joke that unlike the "mañana, mañana" attitude, though, aylyak involves no unnecessary rushing.)
Because Bulgaria's second city, Plovdiv, is European Capital of Culture in 2019, and because "it is generally held that Plovdivians do aylyak best," as writer Dina Mishev points out in her Washington Post article about the country, it is no surprise that, over the past few months, Plovdiv has been abuzz with international visitors and that some of them wrote about their experiences in glowing terms. Revealingly, everyone seems to have enjoyed the aylyak pace of it all.
Mishev traveled to Bulgaria with her family to reconnect with her Bulgarian roots and to visit some of the places she had heard about as a child from her Bulgaria-born father. The first stop on the Mishevs' itinerary was Plovdiv, but the family also lingered in Veliko Tarnovo, the medieval Bulgarian capital—which, the author argues, should be Bulgaria's next European Capital of Culture. Tarnovo has the history as well as the spirit. The city's old quarter was the center of town life in the Middle Ages: pay a visit, and you will find out why medieval travelers likened it to Constantinople, Rome, and Jerusalem all at once.
New York Times reporter Sebastian Modak spent a week exploring Plovdiv after the city earned a spot on the newspaper's 52 Places to Go in 2019 list. After visiting the obligatory Roman ruins and the old quarter with its well-preserved nineteenth-century architecture, Modak made a stop at the construction site of the early Christian Bishop's Basilica, a 4-5th-century church housing 20,000 square feet of ancient Roman mosaics, whose restoration is funded by the America for Bulgaria Foundation. The Basilica will once again open its doors to the public in the fall.
Plovdiv's rich history notwithstanding, Modak was far more impressed with its people. He hung out with Plovdivians of all stripes, identifying "a new breed of artists, entrepreneurs and community leaders… just as concerned with the city's future as they are with its past." These individuals have helped create a vibrant art scene, shine a light on social ills, and build original entrepreneurial ventures such as a popular bar, Cat and Mouse, as well as an associated guesthouse and coworking space, funding an independent journalism outlet, Pod Tepeto.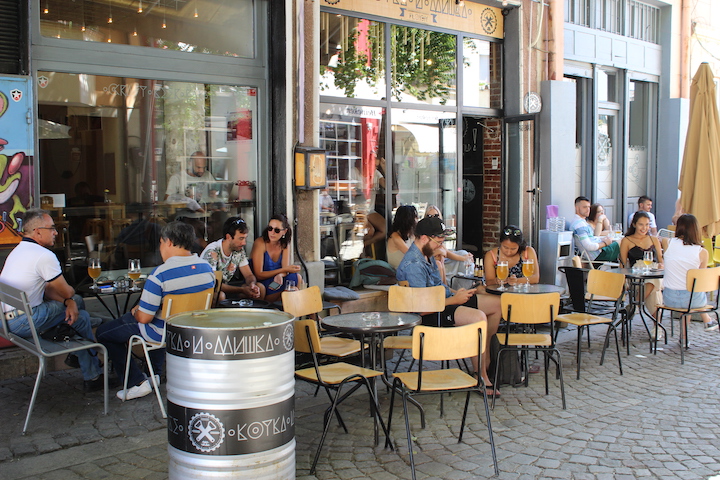 It is at Cat and Mouse as well as at Plovdiv's many other bars, cafés, and restaurants that visitors to Plovdiv can experience aylyak at the source. Mishev describes the perfect aylyak scene: "The building next to Cat & Mouse is a cafe named Central Perk, styled to look like the cafe of that name from the TV show 'Friends.' Latte- and espresso-sipping customers speaking French, German, English and Bulgarian relax here in sofas and armchairs." That's right: aylyak practitioners don't drink; they sip. (And yes, Bulgarians love American TV shows.) Despite the nod to New York establishments, Plovdiv's café scene is "unlike all the Williamsburg carbon copies… you could nurse a beer for a full hour at a neighborhood bar without getting dirty looks," Modak enthuses in his New York Times piece. Aylyak-ing isn't about appearing unhurried; it is about being unhurried.
The Guardian offers a handy guide in English to the best places to visit in Plovdiv for anyone wishing to experience true aylyak. "Stress is prohibited here," is how one of the listed restaurants advertises itself. Unsurprisingly, the restaurant's name is Aylyakriya, a practitioner of aylyak.
Need any more convincing that you should visit Bulgaria as soon as possible?
Planning an extended Bulgaria trip? Read ABF's August newsletter for additional ideas about where to go on your journey. Head up north and explore the towns around the Danube River, get your trekking gear and visit the spectacularly beautiful Eastern Rhodope mountains in the Bulgarian south, or explore the mysterious Thracian Tomb of Sveshtari in northeastern Bulgaria.
Photos by Pod Tepeto