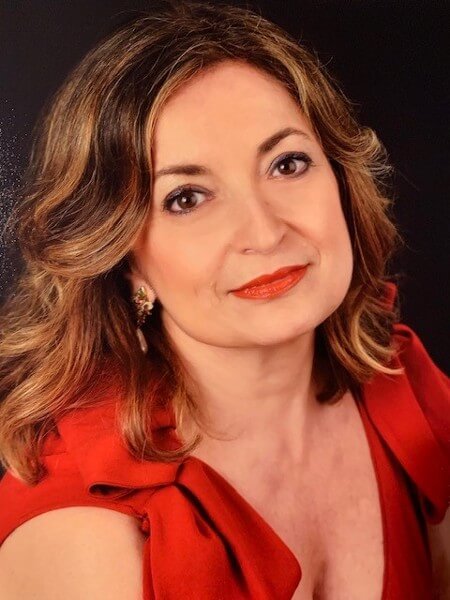 Giuseppina Zarra has served as Ambassador of Italy to Bulgaria since January 2021, but she is hardly new to the country. Her first foreign assignment with the Italian diplomatic service was in Sofia, from 1994 to 1998. She kept in touch with her Bulgarian friends and has been coming back regularly since then, no matter where her work took her.
Ambassador Zarra was born in Salerno and was educated at the University of Urbino and later at the specialization school of the Italian Society for International Organization. In addition to assignments at Italian missions around the world, Ambassador Zarra served in various capacities at the Italian Permanent Mission to the UN, the Italian Delegation at the UN Security Council, and the Ministry of Foreign Affairs in Rome.
Most recently, she was Diplomatic Advisor to the Minister of Transport and Infrastructure (2015–2018) and to the Minister for European Affairs (2018–2019). Until she assumed her current duties, Ambassador Zarra served as National Coordinator for the EU Macrostrategy for the Alpine Region and a member of the Intergovernmental Commissions on Trans Alpine connections and the Trans–European Transport Network.
Ambassador Zarra and her team are partners in the America for Bulgaria Foundation's agritourism call for proposals.
We talked to the ambassador about her thirty-year relationship with Bulgaria and the country's potential for developing as a destination for rural tourism.
America for Bulgaria Foundation: You and your team helped judge the submissions in the agritourism RFP. What were the distinguishing features of the best projects?

Ambassador Giuseppina Zarra: Rural tourism, or agritourism, as an alternative to mass tourism, better matches tourists' different needs with the offerings of nature, culture, historical heritage, traditions, and local customs and uses unique tourism resources sustainably. In Italy, agritourism favors small production systems, integration with the environment, in particular with forests, and proximity to cities known for their art or ancient towns and villages.
For me, it was a surprise that many of the RFP projects that I had the privilege of reviewing were already working in the field of tourism. The applicants were moved by a desire to stay in the places where they live and to develop these places. All of them were family-run businesses.
The selected projects are planning to involve or already involve their local communities, an important feature of Italian agritourism as well — using local resources and contributing to the development of local communities.
Another characteristic of the selected projects is their originality. I have come across projects that I cannot wait to see evolve: therapy with bees, horse breeding, a water lily farm, a snails' museum, milking courses, organic gardening and living arrangements close to nature, camping, fishing in the Danube.
Instead of simply offering accommodation and food, all projects aim to involve visitors in their daily activities and provide an emotional, relatable experience — through the sharing of food, the cooking process, the wine produced in the winery, the beauty of the surroundings. This is a very personal approach that takes a lot of emotional as well as financial investment, but it also offers emotional rewards. All those features make this type of tourism different from conventional tourism.
ABF: How would you rate Bulgaria's overall agriturismo potential?
G.Z.: Rural tourism can be developed wherever the natural environment is not too urbanized. Therefore, Bulgaria is an ideal country for developing rural tourism. Many Bulgarian villages, especially in the northern part of Bulgaria, offer the right conditions for rural tourism due to their biodiversity, climatic conditions, and topographical features. Some places are true hidden treasures. In the mountainous and semi-mountainous regions of Bulgaria, but also in its plains, there is a unique combination of extraordinary nature, climate, and authentic rural atmosphere, natural beauty, historical and archaeological treasures, which are in great demand by foreign tourists. And then there is the Danube.
There are risks that we need to be mindful of and tackle in advance so as not to exacerbate the problems of mass tourism and so we can preserve the benefits of rural tourism. Rural areas still face some challenges such as technical, water supply, and road infrastructure problems because of Bulgaria's significant intraregional disparities. I hope that by focusing on this area of the country, the America for Bulgaria Foundation's RFP will direct central and local authorities' attention to the need to improve these conditions and help those very motivated and entrepreneurial Bulgarians succeed. In Italy, thanks to agriturismo, the Italian countryside has been able to save a very important part of its valuable historic rural buildings and sites and has ensured the survival of traditional agriculture in disadvantaged areas by promoting local crops and production, traditions, and a healthy lifestyle.
ABF: As a representative of Italy, the birthplace of agriturismo and a lodestar for countries aspiring to develop their own rural tourism sectors, what recommendations do you have for Bulgarian policymakers, organizations, and individuals wishing to develop the field?
G.Z.: To organizations and individuals, I would say: Follow your passion and love for your birthplaces. These will power your inspiration and original ideas and desire to work and develop agritourism enterprises so that more people can experience and appreciate the hidden treasures of Bulgaria.
As for policymakers, at the local or national level, I recommend that they put in place a good legislative framework that includes standards for this high-potential subsector and financial support for start-ups. Clearly drawing the line between what is agricultural tourism and what isn't can also help to avoid abuses.
I will give an example from the Italian ministry of agriculture. Starting in 2013, the Italian government created an Italian agritourism brand, accompanied by a classification system. The brand identifies enterprises operating according to agritourism-specific laws and regulations and is represented by a sunflower enclosing a farm.
The classification of agritourism farms, as is already the case for hotels, has the aim of giving the public a general idea of the maximum level of comfort, the variety of services, and the quality of the environmental context (nature, landscape, tranquillity) that each enterprise offers.
To implement this system, the ministry of agriculture, in collaboration with all the regional administrations and national agritourism associations, has promoted considerable national and international research to better understand the needs of Italian and foreign tourists with respect to agritourism offerings. The results of this market and client satisfaction research have been translated into a simple scoring system that rates tourism businesses and places them in one of several categories.
The requirements and relative scores are proposed for the whole national territory, although regional administrations can adapt the national requirements to the local reality in consideration of the characteristics of the agricultural enterprises intended for hospitality, the size of the businesses, and the cultural orientation, landscape characteristics, or local uses and traditions.
Each business is identified through a category and receives a rating of 1 to 5 sunflowers.
This system aims to harmoniously represent the spirit and personality of the Italian farmhouse in its various forms and enhance the agricultural aspect of the experience, which is one of the most significant expectations of those choosing a farmhouse for their holidays. The system also considers aspects relating to the environmental context in which the agritourism activities take place.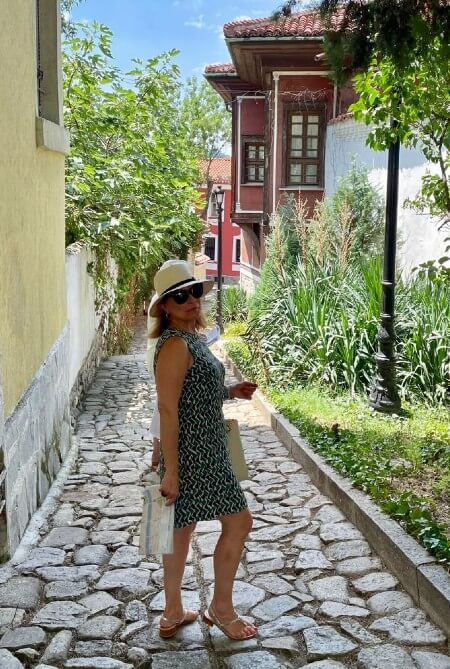 ABF: If you were minister of tourism of Bulgaria but still had your Italian sensibilities, what would you emphasize in tourism promotion?
G.Z.: I think that there are many wonderful places in Bulgaria, both historical and natural, which are not yet known abroad and should be actively promoted to attract tourists. Where possible, they should be included in different thematic itineraries. Bulgaria's historical and natural heritage needs to be valued. Some examples are the Valley of the Thracian Kings near Kazanlak, the Architectural and Historical Reserve in Nessebar, the Perperikon stone complex, the early Christian complex in Sandanski — the place where Spartacus was supposedly born. A number of archaeological sites are yet to be developed and presented even to the Bulgarian public, such as the Thracian cult complex near the village of Starosel, the Thracian architectural complex on the Kozi Gramadi peak, the submerged church near the Zhrebchevo dam, not to mention the numerous monasteries around the country.
As for natural attractions, the beautiful Bulgarian nature offers different forms of year-round tourism. For example, all kinds of trekking trails can be built, and this is where the two forms of tourism can converge. Italy is a pioneer in both fields, and I think it can pass on its rich experience to Bulgaria.
Finally, I would point to the richness of traditional Bulgarian culture and the numerous crafts, which are, unfortunately, gradually disappearing. I am talking about ceramics, woodcarving, weaving, foundry, embroidery, and others. They can certainly be integrated in agritourism activities.
All of the above can be combined when there is a village nearby where one can experience the pastoral atmosphere, the authentic communication with nature, and life with local people.
ABF: You've known Bulgaria for nearly thirty years. What are the positive changes you've seen over three decades? Please comment on changes in general but also tourism-related changes if you can.
G.Z.: My first assignment abroad, which was in Bulgaria, ended in 1998. In the meantime, I have maintained contact with numerous Bulgarian friends. I have always been interested in developments in the country, including in the cultural sphere. As I came to visit over the years, I always noticed some positive changes, but I think the biggest change happened after Bulgaria entered NATO and the EU. Bulgaria has certainly gained from this, and it is good that it returned to the big European family. This of course didn't affect the spirit and traditions of the country I came to know and love during my first stay here. This is really good because diversity is one of the strengths of the European Union: after so many years, I still indulge in the sensation of walking along the beautiful old streets of Sofia, or visiting the monasteries in the countryside, or celebrating traditional family occasions. I love exploring the streets of Sofia, getting lost in the countryside, discovering little-known archaeological sites and monasteries. It's nice to discover new places every time and realize just how rich Bulgaria's contribution to the world's historical legacy is.
Over time, Bulgaria has succeeded in discovering even more hidden treasures from the ancient Thracians. How can I forget my first visit to the Archaeological Museum in Varna to see the great archaeologist Ivan Ivanov's initial discoveries of old golden artefacts from 1979? Since then, Bulgaria has brought to light many more findings that have helped to frame its ancient history and contribution to world culture.
I have one suggestion: there is still room for improvement in the level of service at hotels and restaurants. For example, it is still common to serve people at the same table at different times. This is a mistake that encourages impoliteness because it invites people to start eating while others are still waiting for their orders, which detracts from the gathering's conviviality.
ABF: The agritourism RFP is the result of a partnership between several organizations, including the Italian Embassy, and the approved projects are all characterized by their community mindedness and reliance on partnerships with other businesses and organizations. Why is this partnership-based formula successful, in your opinion?
G.Z.: A partnership is essential for improvement at both the managerial and operational levels. Just think of the importance and centrality of creating a link, even if only in terms of knowledge and methods. More value for others means more value for oneself. Therefore, a partnership is not just a general form of cooperation, nor a simple relationship of trust. It is a long-term business relationship that involves a reciprocity of requirements.
Agritourism is an Italian peculiarity, and it is one of the best examples of the multifunctionality of our country. The practice of agritourism creates an effective link between regular agricultural practices (cultivation, breeding, and forestry) and the exercise of hospitality on the farm. In these terms, Italy is one of the best-known destinations for rural tourism in Europe, attracting millions of tourists from around the world each year and sharing its experience and know-how in the agritourism sector.
ABF: You have traveled quite a bit around Bulgaria. What are your favorite places? What is Bulgaria's best-kept secret, in your opinion?
G.Z.: I feel at home in Sofia, whose center I know very well because it is unchanged in its layout since the 1990s, and after all those years, I found it to be well restored and preserved. I like walking and visiting the small shops and galleries, the artisans, some antique shops between Alabin and Vitoshka Streets. Then I very much like Varna, where I have spent many beautiful vacations. The Valley of Roses and the Preobrazhenski Monastery, with its picturesque setting, charming architecture, and powerful frescoes. I wish to visit places that I haven't been to yet on the Black Sea coast and in the mountains. Bulgaria has so many natural splendors! A prime example, in my opinion, is the Rhodope Mountains, which offer a wonderful mountain getaway at any time of year.
ABF: Your favorite Bulgarian food?
G.Z.: Can I name three? Banitsa, sarmi, and moussaka. But what I really appreciate is the quality of vegetables and fruits, like tomatoes, cucumbers, peppers, cherries, and peaches.
ABF: What's the most delicious-sounding word in Bulgarian, in your mind?
G.Z.: All the flowers' names, like zyumbiul or bojour, neven, kokiche… But even a common word like chekmedzhè sounds funny and exotic to an Italian!