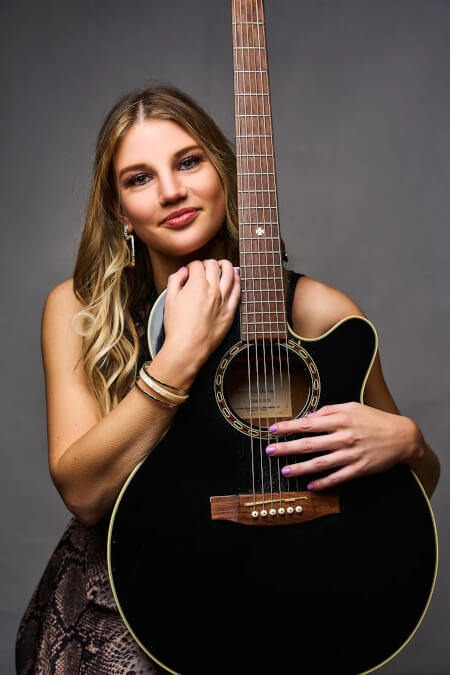 Sarah Harralson knows about being a good community member. Not only does she come from a culture of service and mutual aid, but she is also a native of Tennessee, nicknamed the Volunteer State. Even so, she never expected to be at a community building festival in Bulgaria — much less so to be headlining at one.
An up-and-coming country music singer/songwriter from Nashville, Sarah was a leading act in the 48 Hours Varusha South Festival in Veliko Tarnovo this August. The annual festival brings together community activists and artists in a celebration of community achievements.
Sarah's soulful renditions of "Hello, My Friend" and "Time and River" — the English-language remakes of two Bulgarian evergreen music hits — alongside Veliko Tarnovo deputy mayor Neyko Genchev, performing under the pseudonym Barney Esville, were heartwarming highlights of the festival.
Sarah talked to us about her ongoing collaboration with Barney Esville, who enticed an American to sing songs beloved by most in Bulgaria. This led to Sarah's first trip to Europe, her participation in two of Bulgaria's most recognizable community festivals, Veliko Tarnovo's Varusha South Festival and Sofia's Rivers of the City, as well as a Balkan tour. We also talked about Sarah's love of country music and her volunteering work.
America for Bulgaria Foundation: You live in Nashville, Tennessee, the center of the country music scene, and Bulgaria is not part of your regular circuit. To what do we owe the pleasure of your presence here?
Sarah Harralson: I never expected to be here. It feels very random that music has taken me to Bulgaria, but it's been such a nice surprise. I am in Nashville, and in April of this year, Barney Esville reached out to me on this site that I am on, SoundBetter.com. A lot of Nashville musicians and musicians all around the world are on that site, where people can collaborate or hire each other for any sort of music need. I have done a lot of work there with people around the world, just singing on people's songs or collaborating on music. So, it was very ordinary when he reached out to me to collaborate on a song, just part of something I am already used to. Barney Esville asked me to sing on a song, "Hello, My Friend," with him, and he told me the story behind it — how it was translated from Bulgarian, a very popular hit in Bulgaria. I recorded my vocals at my home studio in Nashville, and I sent them over his way. He asked if he could release the song with me as a featured artist, and I said yes. It's on all the streaming services. This May, he let me know that it was charting on the Hotdisc Top 40 UK Country Chart [the song reached #15 in June, ed.]. I thought it was great how successful it was.
The song itself is not something that you would typically hear in modern country music in Nashville. It has a very different vibe. Part of it is that it was an older song that was popular in Bulgaria and has been translated, but it was so nice to hear how popular and well received it was over here, especially the new version. He kept me updated with the success of the song, and this summer at the end of June he was giving me some thoughts about coming to Bulgaria, doing some shows with him. That's when I found out Barney's real identity… (laughs) I had no idea he was also vice mayor of that town! That's when we started to plan the whole overseas tour.
ABF: What is it about this collaboration that appealed to you? Was it the song's theme perhaps, or was it something else?
S.H.: In country music we are used to singing about love, broken hearts, and all sorts of relationships, but not so much friendship, which should be more of a theme in music, I think. That's why the theme was definitely appealing. I loved how it was just "let's get together, no matter where we are and have a good time." I loved the melody and the theme. All of Stefan's music [Stefan Diomov is a Bulgarian music composer who wrote the music for the Bulgarian versions of both "Hello, My Friend" and "Time and River," ed.] has very appealing stories and melodies.
ABF: How important are friends and friendships in your life?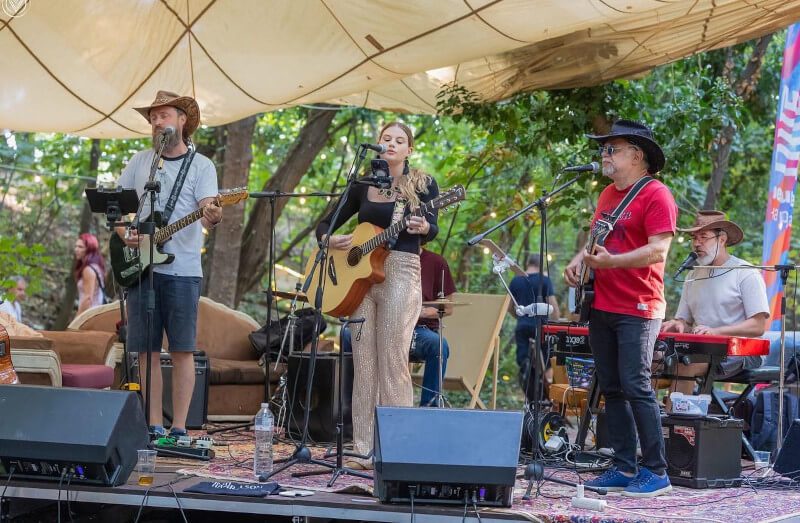 S.H.: It's universally important to have strong friendships and relationships, even in music. You can have so much talent and skill, but really it comes down to the relationships and friendships that can take you somewhere.
ABF: Friendship is a very personal, sustaining thing. But what about friendship between countries — is it possible, and are collaborations like yours and Barney Esville's its embodiment in a way?
S.H.: Especially in Nashville, in country, you think about collaborating with people who are in Nashville or in the States because a lot of country music can be about being in your own country. But country music is so well received and loved around the world as well. That's been such an eye-opening thing in the past few years, how many people around the world love country music and the storytelling aspect of it.
Having friendships with people in all parts of the world is so important because music is so universal. We all want the same thing, we want peace, we want good music, friendships. It's been so nice to work with people around the world and tell each other stories through music.
It is so wonderful to see the friendships that are being made between countries through this foundation and through music. When people hear songs like this it is a reminder that there can be friendships and love between countries no matter what's going on in the world.
The lyrics of "Hello, My Friend" are so unifying in a sense and make you, for a few minutes, forget about some of the hate between countries.
I have done recordings with people remotely, but this is my first time in Europe and being able to meet with someone that I recorded with internationally. And yes, this was my first international tour! We started in Veliko Tarnovo with the 48 Hour [Varusha South] Festival and then we headed over to Nish, Serbia. We played in Craiova, Romania, back to Tarnovo, and then Skopje, North Macedonia, Thessaloniki, Greece, and now Sofia. It's been such a wild ride but such a great experience.
ABF: Your relationship with music is as broad as it is deep. You come from a musical family and have been writing music since you were 10. Tell us a little more about your background please.
S.H.: My grandad was a bluegrass musician. He was always playing accordion. He and my mother always encouraged me to pursue music. My mom got me into piano lessons and musical theater at a very young age, so I was always drawn to music.
My siblings are much older than me. As a child, they were already out of the house. Growing up, I felt like I was an only child. That's why I think I was so drawn to music, emotionally, as a way to get out my feelings.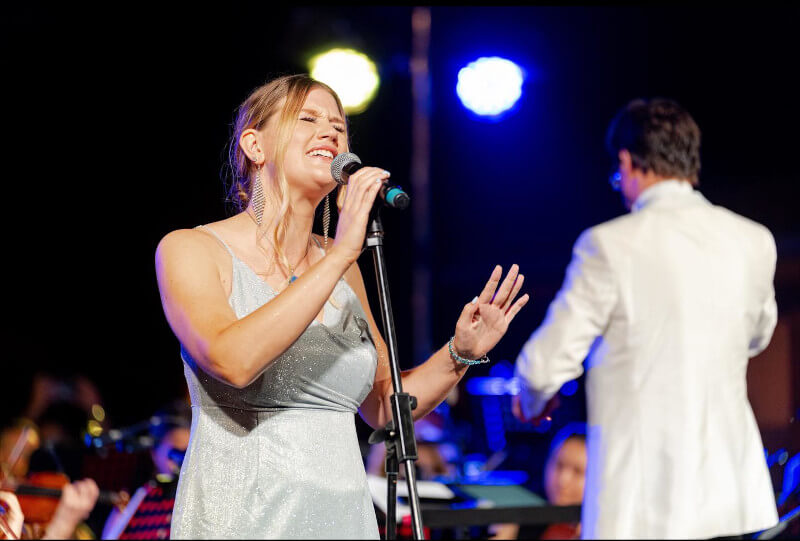 When I graduated high school in Knoxville, in east Tennessee, I wanted to go to Belmont University, in Nashville, to pursue music. I studied music business and production there and also worked on the business side of the music industry, in music royalties and music licensing, while pursuing my own music as an artist and songwriter. Knowing how to read artist/label contracts and understanding how artists get paid has been so beneficial for my own career as an artist.
During Covid, I got really into producing and just having more of an online presence to work on songs with people around the world.
ABF: What are the main inspirations for your work?
S.H.: With country music it's so important that the music you are creating is authentic. That's what the genre is about, authenticity, storytelling. I get inspired by mostly real-life experiences, meeting people and traveling. It's so important to do a large variety of things so I can stay inspired. But during Covid, I started to get more outside the box. I am not just going to write with the same people and work with the same people; I am going to start working with people in other areas and internationally. I even write in other genres to see just what I can do with music and where it can take me.
ABF: Your preferred genre is country music. What is country music to you? 
S.H.: Growing up, I was always around a lot of different genres in my household. My mom listened to a lot of pop and rock. My grandad was into bluegrass, and my dad always really loved country music. I grew up in the Southeast, in the States, where country music is very popular, and that's one reason I was so influenced by it, but I also just loved the storytelling aspect of the lyrics and how authentic the genre felt. It just felt like a suitable genre for me, just telling stories. I started with piano, but I taught myself guitar in high school, and I really fell in love with guitar. When I moved to Nashville and started writing with other songwriters, I just fell in love with country music.
It is also very relatable. Even people who don't listen to country music have said the genre can be very relatable because they have maybe gone through similar experiences in life.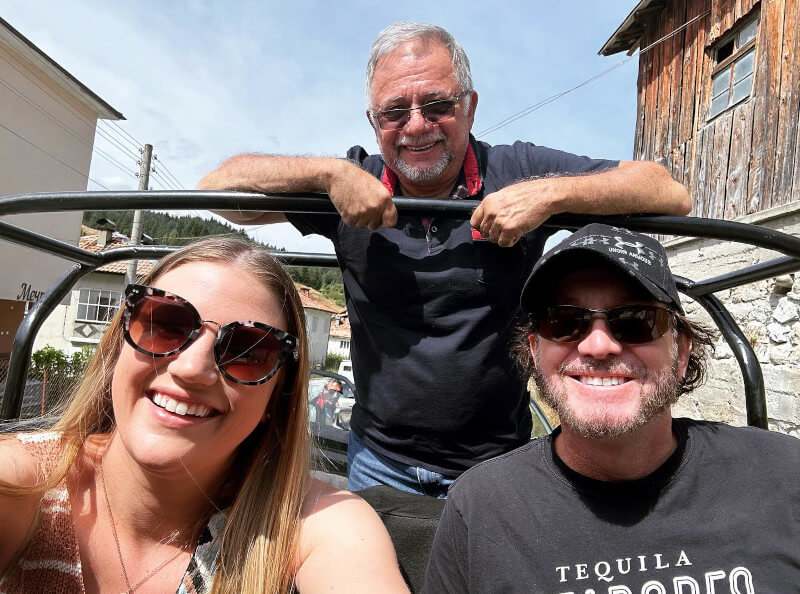 ABF: You mention on your website that you believe in the healing potential of music. Can you please elaborate on this?
S.H.: When I was studying music in Nashville, we were told over and over again: you can be an artist, you can be a songwriter, but until you know what your mission is as an artist or what your identity or purpose is as an artist, you may not get anywhere with music. I put a lot of thought into that. Since 2015, I have been volunteering with an organization called Musicians on Call, where you get to sing songs at patients' bedsides in the hospital. This was really eye-opening for me because I realized these are the kinds of people that really need music the most. Through that, I really saw the healing power of music. And I thought, well, this is maybe my purpose with music — that I can bring to people music that they can relate to.
When my mom passed last December, I had already written a song for her called "Blue Ribbon." I recorded it for her, and she got to listen to it a few months before she passed. When she passed in December, I wanted to release it for the world, and I released it in March of this year, which is colon cancer awareness month. So, a lot of people going through the same thing that she did got to hear the song. That's been one of my most special songs to release because I truly got to see the impact of this song on other people.
My mom was a social worker and lawyer, but she always encouraged me to do music and pursue whatever my dreams might be in life.
ABF: So just like music, helping others runs in your family! How important is volunteering to you?
S.H.: It's something I grew up around, it's something that you do, you volunteer. At school, you need a certain amount of volunteer hours, too. It's so important because it shows people that you care. You don't need something in return to give someone something. It's not just about me and what I am doing. I need to give my time to something as well. That's why I love volunteering through Musicians on Call. Music can be such a rollercoaster; for musicians, there are a lot of rejections, disappointment. But when I am giving music to people who need it the most, who can't get out of their beds or their room, it reminds me why I do what I do.
The America for Bulgaria Foundation promotes the development of active local communities and is a proud supporter of the Rivers of Veliko Tarnovo initiative, part of the 48 Hours Varusha South Festival. The Firefly over the River concert, featuring music from America and Bulgaria, helped fundraise for a new children's hospital ward in Veliko Tarnovo.