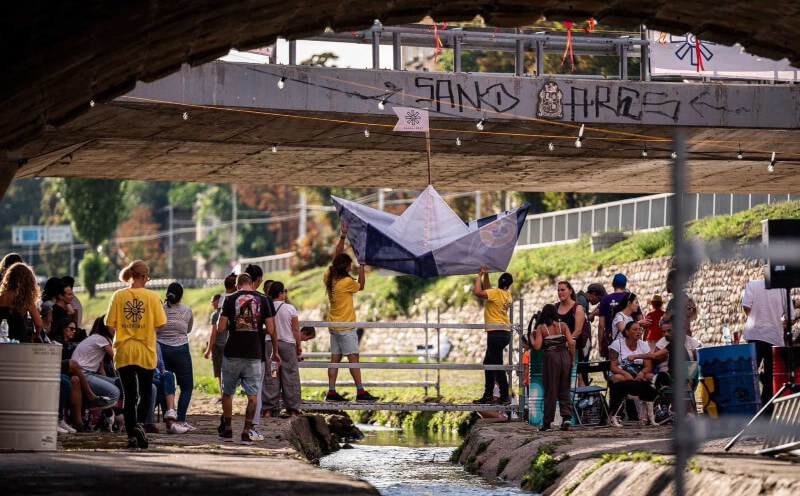 A dirty river canal, a graffitied back alley, and a parking lot's rooftop are no one's idea of good places to hang out. No one except The Collective's.
The Sofia-based nonprofit and its founder, Martin Yankov, see potential where others don't. Through pop-up interventions and events lasting from a single weekend to a whole season, the group of designers, architects, and event managers show that a parking area in Sofia and a formerly industrial riverfront in Ruse can become wonderful places for fun and recreation.
The Collective also shows that, with a little creativity and local communities' support, urban makeovers need not be costly. What is more, they can bring income by attracting tourism.
Most importantly for The Collective, though, reclaiming neglected spaces creates opportunities for locals to meet and bond over the shared goal of making their cities better places to live, work, and raise a family.
Mostly recently, with help from Business Park management, the America for Bulgaria Foundation, and other partners, The Collective transformed Sofia's leading business district and the surrounding Mladost 4 neighborhood. A colorful playground for children, comfortable seating, outdoor work areas, and pop-up performances every weekend are just some of the reasons the Business Park is the capital's hottest new hangout for the whole family!
For its work in urban renewal, The Collective won has won several awards, most recently a 2023 New European Bauhaus prize, Europe's most prestigious distinction for sustainable urban development.
We talked to The Collective's founder and visionary in chief, Martin Yankov, about his "positive rebellion" against the "It can't be done" mentality, about active Bulgarians nationwide, and about urban interventions' potential for tourism development and community building.

America for Bulgaria Foundation: The Collective is just three years old, but your interest in urban planning and renewal goes back much further. How did you become interested in the fortunes of cities and their people?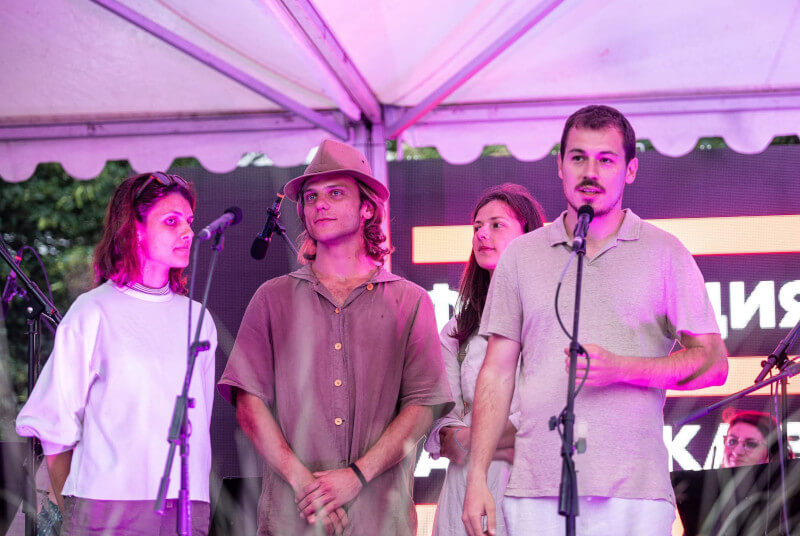 Martin Yankov, The Collective: After finishing middle school, I applied for Sofia's High School of Construction, Architecture and Geodesy and specialized in landscaping. This was the only subject I had excellent grades in [laughing]… After graduating high school, I studied landscape architecture with a focus on urbanism in England. Until my first class began, however, I didn't realize how powerful and impactful this profession is—how enormous its power is to change the destiny of an entire city and the people living in it. During my studies, I saw how we can really influence the environment we live in. It is not a fixture that we cannot change. On the contrary, we have enormous power to do so. This is how my idea for The Collective took shape.
ABF: What are you and your colleagues at The Collective trying to change?
Martin Yankov: The main goal is to make the living environment in Bulgaria more pleasant. We live in a truly amazing land, with great people, with ample opportunities and potential. The idea is to change the most neglected things, such as our rivers. Rivers are one of those things in an urban environment that, if changed, would have a tangible impact. This is how we started the Rivers of the City project in 2021.
Rivers are something fundamental to a city. More than 90% of the world's cities have a river running through them. At the same time, rivers are a unifying factor for cities, and this initiative can be scaled to different cities as long as the right model is created.
We started out in Sofia, then we did Rivers of the City in Ruse with the support of the America for Bulgaria Foundation and later of other organizations as well. After Ruse, we were contacted by the Municipality of Gabrovo, who wanted to replicate the model as well. For the second year, Rivers of the City will take place in Gabrovo.
Another initiative of ours is 100 Chairs [which transformed the space around 1 Budapest Street in Sofia, ed.]. The idea is that these initiatives take on a life of their own. Through them, urban spaces from Sofia to London can be revived. And, who knows, maybe one day we will be able to give something to both Europe and the world. Our dream is that this enthusiasm will also generate permanent changes.
By reviving neglected spaces and turning them into culture and event hubs, we can raise the overall tourism potential of Sofia and Bulgaria.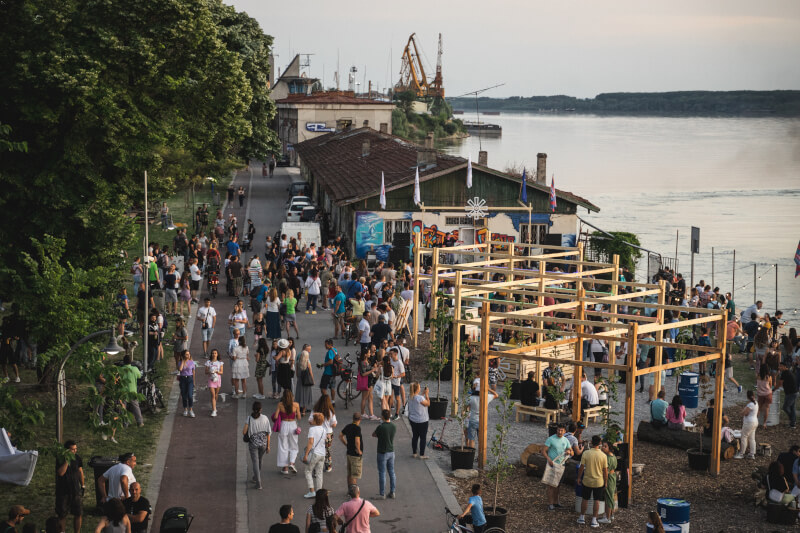 ABF: The work of The Collective and the events you organize are truly inspiring. What inspires you personally?
Martin Yankov: Someone recently told me that these space transformations show that we can make things better ourselves. In Bulgaria, there is a sense of resignation, a sense that "things are the way they are." With the things we do, we show that things can actually be different and easily so. The power to change our surroundings is in our hands.
Ever since I was little, I have heard complaints everywhere. "It can't be done, this country has gone to the dogs, nothing is right here…" We are doomed, by the sound of it. This negativity created a positive rebellion in me.
There is no "can't." There is always a way. I keep meeting downcast, negative people. But when you have a positive, rebellious idea—like transforming a garden through an artistic intervention—you will easily find supporters and collaborators.
ABF: Your work unites very different people and transforms them into a community of collaborators. How does a transformed garden nurture a community?

Martin Yankov: The planners of the large residential neighborhoods in Sofia such as Lyulin [where Martin grew up, ed.], Mladost, Nadezhda, and Druzhba provided large spaces between apartment buildings, which were used quite actively. For years, however, these spaces were left untended. The benches in these common areas are all broken, and only occasionally would a group of neighbors get together to fix them.
People now satisfy their social needs via their phones and are more alienated from one another. There are no occasions to meet your neighbors and talk. Everyone is busy going to work, coming back, sleeping, waking up, going out again: there is no opportunity for interaction. To change this—and it is an important thing to change because it is good to know the people who live around us, to have some kind of social space where we can come together and communicate—we need well-thought-out urban spaces. Participating in their making or renewal creates a connection between people.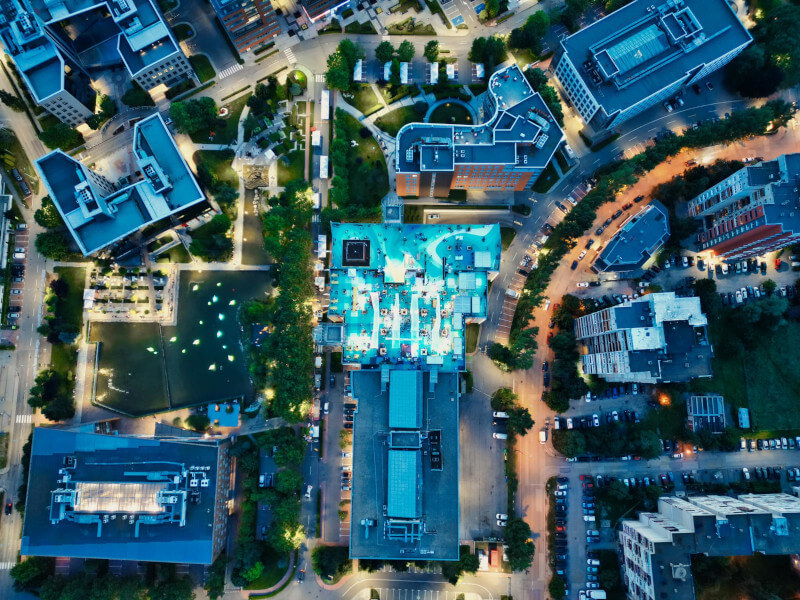 One approach in urban planning involves various stakeholders, especially the local community, in the process of planning, designing, and then building and maintaining public spaces. This way, people are empowered to take responsibility for the land they use. The government does not tell them where to sit, play, or socialize. People decide for themselves—whether they need room to do sports, places for their children to play in, or an area to walk their dogs. When things are planned this way, and especially when people are involved in the construction of these spaces—even if they just paint a bench or varnish a climbing frame—they recognize the place as their own. They get to know each other in the process, creating a community and a quality urban environment that strengthens those bonds.
In Mladost 4 in Sofia, we invited many neighborhood residents and company employees to participate in the design of the intervention we did at the end of June. In Ruse, we also managed to involve a lot of people. We worked with several technical schools and an art school, with young people from vocational schools who wish to work with their hands. In making these spaces, we looked to use their skills and desire to learn. It was really successful. All the young people who were involved in the first edition participated again in the second festival. Some of them joined us in Stara Zagora for the Na zeleno/Rivers of the City festival there in June.
In Stara Zagora, we played a supportive role; the goal there was to show that the city's Bedechka Park should be preserved as a park and not be built in. Local organizations organized the event and we supported their cause, in line with The Collective's other goal—besides improving the urban environment, we wish to create connections between different cities.
ABF: Do you see the makings of a national community of people working for the common good?

Martin Yankov: Everywhere in Bulgaria where we have worked, there are communities of active people working for a better urban environment and a better quality of life in the city. In Ruse, for example, we built connections with a very strong group of like-minded individuals who run many meaningful initiatives together. The Fellow Citizens Association unites various NGOs in Ruse: some deal with waste recycling; others work for a cleaner urban environment; still others are sports or culture focused; and there are those dealing with the preservation of architectural heritage. There are cool, active people in every city.
Importantly, we work with businesses and local authorities as well.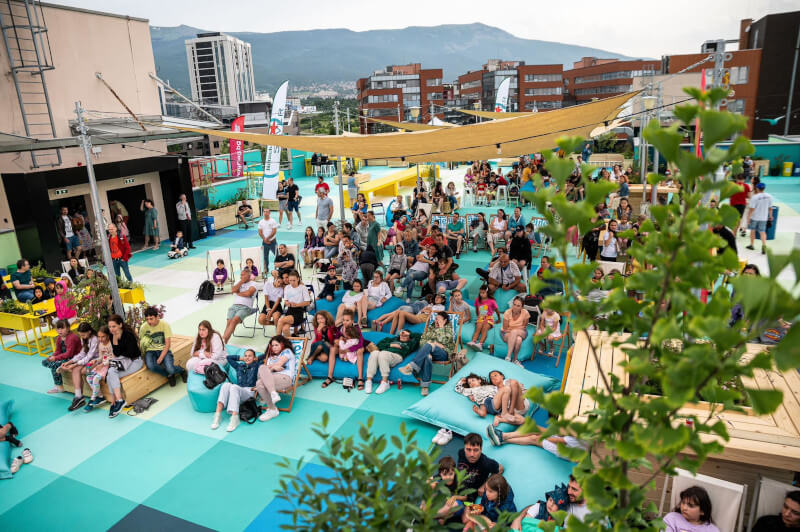 We were contacted by a group from Blagoevgrad right after the first edition of Rivers of Sofia. They come from different walks of life—some are in business, others in other occupations—but are united around causes, such as cleaner rivers, and by their love for their city.
Stara Zagora has a very strong local community that years ago prevented a change to building regulations that would have allowed construction in Bedechka Park. There are even university dissertations examining this example of a local community organizing quickly in defense of their city.
ABF: What are the key factors for The Collective's success, in your opinion?
Martin Yankov: Many people and organizations have been involved in all our projects— and this, I believe, is our organization's greatest strength and the reason we have achieved what we have so far. A good example is the first Rivers of Sofia festival. I knew nothing about organizing events, but then a friend came along who organizes events and has experience finding sponsors. Another friend with experience in communications joined us, then a third who knew about architecture, and a fourth who organizes festivals. Petar Dimitrov, the founder of the A to Jazz festival, provided know-how and even oversaw one of the festival's three locations, at Eagles Bridge, which, unsurprisingly, was the most successful one. The whole festival was a huge success. The power of uniting different people behind a common goal was clear to see.
You have to enjoy what you do. I enjoy transforming places and watching people enjoy something I've helped create. It brings me satisfaction and a lot of pleasure.
ABF: Let's talk about your latest intervention in Sofia, in the city's business district. You conducted surveys among employees and neighborhood residents. Were you surprised by what people said?
Martin Yankov: We spoke to residents of Mladost 4 and those working in the Business Park because we wanted to get a realistic idea of their needs. We spoke with executives from the various businesses and with people from the Business Park itself—from cleaners to owners.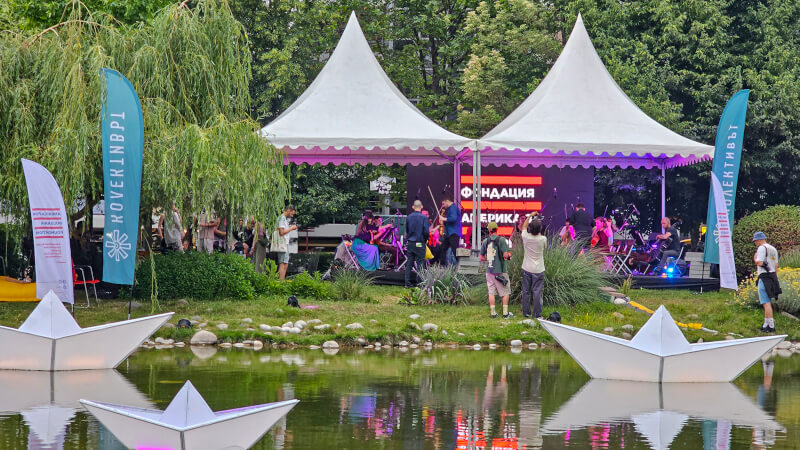 We found that the greatest need is for playgrounds. At the same time, some of the businesses were resentful because their employees would go out on their lunch break, and there would be nowhere to sit because there were mothers with children everywhere. Therefore, we decided to go for a completely unused space that no one even goes to—the roof of the parking building—and build a children's playground there. This gives mothers a place to gather and eases demand for the benches on the ground level. Children now enjoy a better environment in a certified playground, with rope swings, climbing frames, balance equipment, and more, and there is more seating space for Business Park staff. We built benches and tables with charging stations, and Yettel provides free high-speed internet on the grounds of the entire Business Park. The whole design was largely based on these surveys.
Something we didn't expect was that people from different businesses and Business Park buildings would want to get to know each other, would want a space where they could socialize. We asked the HR directors and business owners what they thought about this, because technically the different businesses are competitors, but we got overwhelmingly supportive answers. The events we organize are a vehicle for people from different businesses to socialize. This way, they can feel good about going to work and have a chance to make new friends.
ABF: What other places would you like to make over in Sofia?
Martin Yankov: There are dozens. In downtown Sofia, there are Roman ruins in the rectangle between Sofia's Central Market Hall, the Old Main Department Store, Banya Bashi Mosque, and Saint Petka Church, and this place is currently not particularly inviting. With a very slight intervention, like some temporary vegetation in pots and chairs, the place can become one of the most social places in Sofia. And this will cost several thousand levs, not millions. Making the place more inviting will be a huge bonus for our history, for tourism, and for our city as a whole.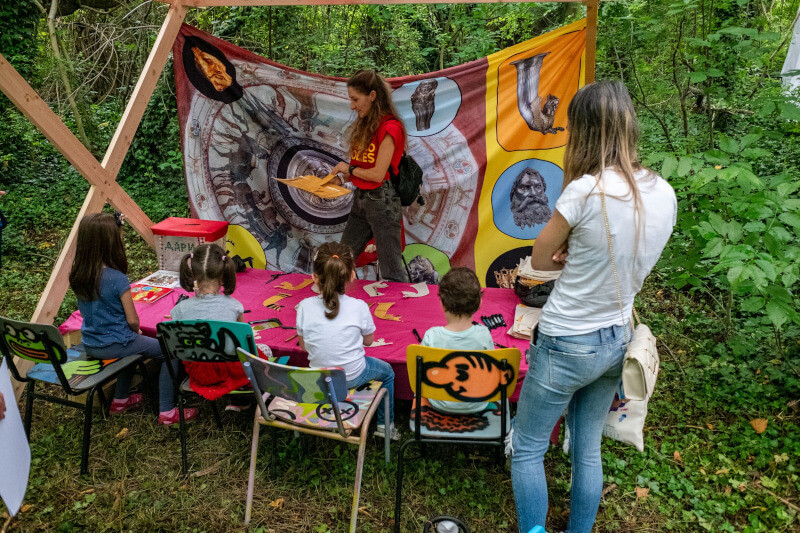 We usually do three-day events around these interventions, but we also try to have longer-lasting experiences. The intervention in the Business Park is there for the whole summer, and in the winter we will develop a project for a permanent intervention.
The Rivers of Sofia project will bear its first permanent fruit in the urban environment. On September 1, near the Toplocentrala Center for Contemporary Arts, in South Park 2, we will officially unveil a new urban river beach, almost in the center of Sofia.
If we activate all these neglected spaces, we will transform our capital into a leading tourist destination.

ABF: Where do you see Sofia in ten years' time?

Martin Yankov: I see it using its resources—both natural resources, such as rivers and mineral water, and its history. My vision of Sofia is of a city with neighborhoods that, thanks to both residents' initiative and the municipality's support, are alive and vibrant and flourishing in a very beautiful, organic way.