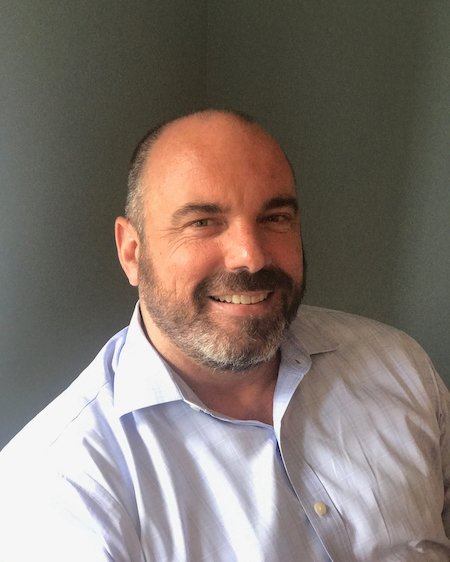 By Scott Briggs
Scott W. Briggs, AIA, is Associate Principal at SKOLNICK Architecture + Design Partnership, New York. His work is focused on cultural planning and design projects that integrate architecture, exhibitions, interpretation, graphics, and media to create engaging visitor experiences. Scott has served as project manager and design team lead on many of the firm's notable cultural projects including museums, visitor centers, exhibitions, and libraries. He has worked with the America for Bulgaria Foundation on Muzeiko, Pirogov Children's Hospital, and the Bishop's Basilica of Philippopolis.
 Scott received bachelor's degrees in fine arts and architecture from Rhode Island School of Design. He is a Registered Architect and currently serves as Secretary of the Executive Board for the New York City chapter of the American Institute of Architects.
"You know Plovdiv?!" he said inquisitively, pointing at my shirt. I had just sat down for lunch at an outdoor café in Provincetown, Massachusetts, and our waiter seemed a bit incredulous. I was wearing a T-shirt promoting the 2019 European Capital of Culture. The tiny seaside resort in the northeastern United States brings dozens of young Bulgarians to town each summer to work in its inns and restaurants. I explained I knew Plovdiv quite well and had visited several times. He was intrigued and in between courses lingered by our table as I explained our work in Sofia and now on the Bishop's Basilica. I learned he was earning some money in hopes of continuing his bioengineering studies in the US. Just another serendipitous connection I have made to Bulgaria!
Bulgaria holds strong and fond associations for me. I was extremely happy that ABF had decided to reengage SKOLNICK in the summer of 2018 to bring our museum planning and design expertise to this amazing Basilica project. And the birds were hard to ignore. Nancy Schiller lured us with tales of magical feathered creatures captured in stone. These would be the treasure, unearthed from the layers of time, that would make the Basilica, if presented in the most accessible and accurate manner possible, a place of great pride for the country. Who could resist such an invitation? It had been three years since the opening of Muzeiko with a fanfare of marching bands and fireworks. I was full of excitement for returning to work with ABF again.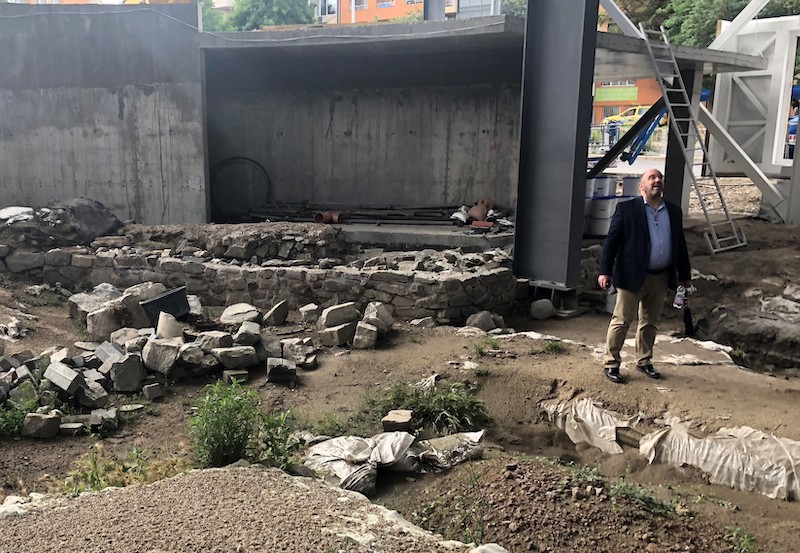 Shortly thereafter, our team was back in Bulgaria. The muscular growl of the language, the prevalence of American pop songs on the car radio, and the chunky Soviet-era apartment blocks of Sofia that fell away to become fields of vivid yellow sunflowers as we sped along the highway from the airport toward Plovdiv quickly returned me to a Bulgaria state of mind. Standing in the hot August sun along Maria Louisa Boulevard, it was difficult to imagine that the seeming disarray of sand, dirt, and stones I observed before us could become a world-class cultural destination. Though I knew the Foundation possessed no lack of determination and grit, having completed both the nearby Small Basilica and the complexity of realizing Muzeiko with much success, the prospect of engaging with the large Basilica site seemed more than a little daunting.
How to tell the story of so many strata of history on the site, of cultures and societies of which we were not familiar, combined with building a new interpretive center, while maintaining an active archaeological site that required delicate excavation during heavy building construction?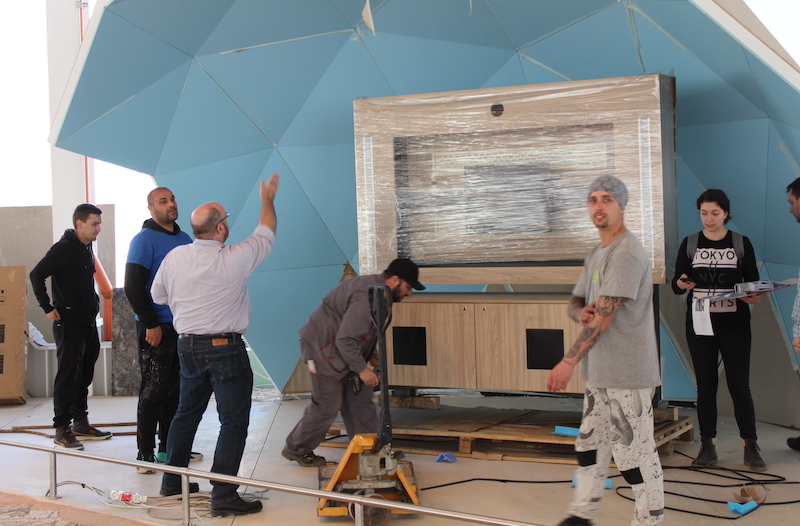 Our team quickly got immersed in the project, meeting the many professionals who had already committed much time and effort, often over years, to preserving this site and developing a plan to protect it for the future. A succession of meetings with the architectural team and content and archaeology experts immediately got us occupied with the collaborators for this unique endeavor. By the time we visited the nearby mosaics restoration studio, Elena Kantareva-Decheva cemented our understanding of this undertaking with her infectious enthusiasm for the work. We learned some of the "lingo"—tesserae, mortar, opus tesselatum versus opus vermiculatum—that we would carry into the interpretation of the site. With guidance from the historians and subject matter specialists working on the project, we also gleaned the essential terminology for the Basilica itself—apse, narthex, ambo, phiale, presbyterium, frieze, and architrave—and how this immense structure fit into the cardo and decumanus of the ancient Roman city grid. I tried to recall my college architectural history lessons on the Greek and Roman orders, but memory often failed me.
Enhancing understanding of the Basilica and its past was no small challenge given the many structures that have occupied the site over centuries, the layering of mosaics, and the various stories that could be told. We investigated and evaluated all types of immersive environments such as AR and VR, video technology, interactive models, and many other exhibition techniques. To reach varied audiences ranging from tourists to scholars, we know that a variety of means are necessary. Thus, some experiences became very immersive such as shadow projections illustrating daily Roman life, and the AR birds that come to life on the second floor, while more traditional museum displays and reader rail interpretive panels incorporating video programs are also part of the mix. We were especially pleased that ABF elected to consider experiences expressly for children, not simply as an afterthought. Having designed many immersive children's exhibits, we knew we could create authentic and engaging interactives that would inform school groups and families, but also provide an experience that visitors of any age could enjoy. The upper level's Discovery Zone became one of the more focused areas of design.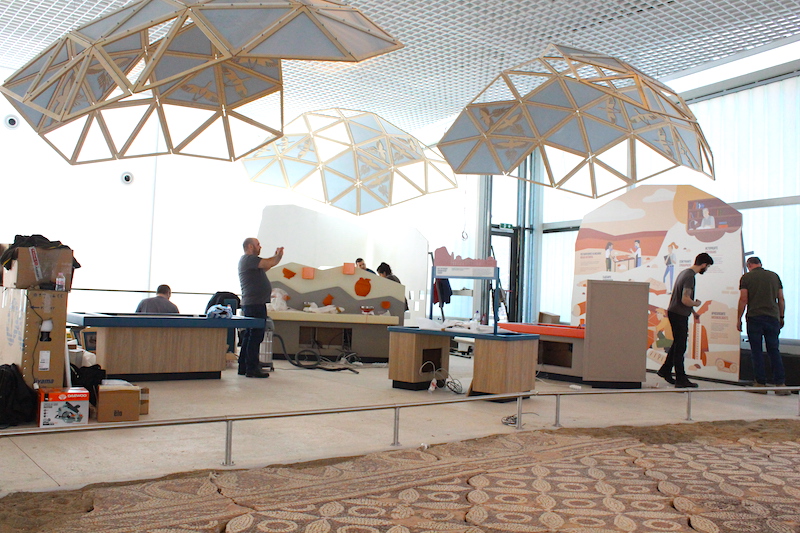 Just after the new year in 2019, we returned to Plovdiv to continue project development and meet with various consultants to the project. With all eyes on Plovdiv as European Capital of Culture, the city was mustering up all the hospitality, enthusiasm, and festivity it could find. Despite some bitter cold weather, a Babel's tower of scaffolding and video screens was being erected near the Basilica site. Those colorful T-shirt slogans assured us that we were in this "Together." Plovdiv was ready for a party, but the team had much to do!
Through 2019, the design of the exhibits, technology, and interactives quickly evolved. We worked with an exceptional array of Bulgarian talent on exhibit fabrication, graphic design and signage production, software development, video production, and production of interior design elements such as the reception area, gift shop, and lighting for the spiral ramp. A fabrication team in London was selected to build the specialized children's interactives. And a team from Hungary developed and programmed the AR Birds interactive animations. We held review and development meetings weekly with the ABF team and staff worked diligently to push all collaborators on deadlines. A July trip to London ensured that the exhibit prototypes developed by the fabricator there met our specifications. The exhibition project was a true international collaboration with SKOLNICK providing creative and design direction throughout to ensure that all elements would fit together seamlessly once they were brought together in Plovdiv.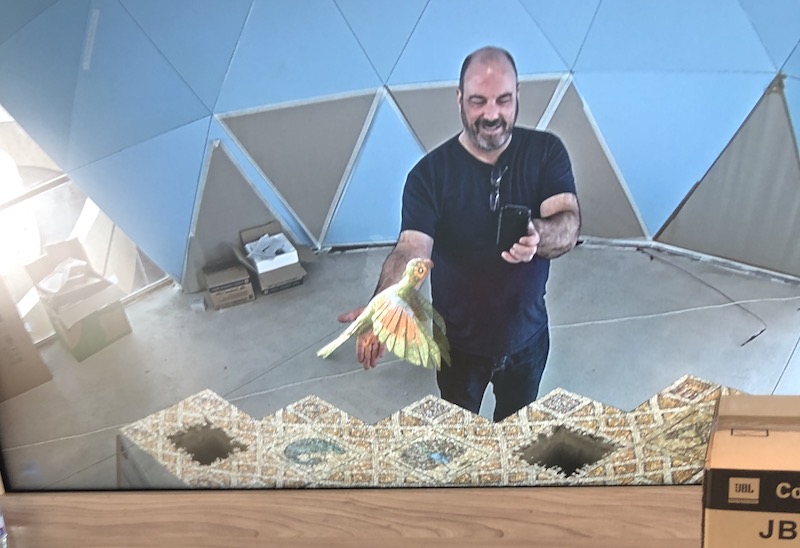 It has been a most fulfilling experience to develop new relationships with different ABF personnel, as well as get reacquainted with staff and consultants who were part of my earlier Muzeiko journey. This cross-cultural exchange, working together across many miles, is often challenging but immensely satisfying. I also enjoyed spending time in Plovdiv and getting better acquainted with this little gem of a city, including the winding cobbled streets of the Old Town, its storied hills and ancient remnants, and Kapana with its funky, hipster shops, cafes (lots of meatballs with lyutenitsa and rakia at Pavaj!), and exuberant, artful graffiti. Everywhere modern life and past civilizations rub shoulders.
By late February 2020, Plovdiv was preparing for Baba Marta with martenitsi strung in the parks. I arrived along with the crew from London to begin a hectic week of installation of the Discovery Zone and outdoor exhibits. We had little indication that a global pandemic was about to bring the world to a halt for more than a year. That the project was able to continue at a reduced pace and be completed during this strange time is a testament to the dedication and perseverance of the entire project team. The dust has now finally settled after the whirlwind of effort these past three years. I wish for people from around the world to finally be able to come to this sacred site in a most spectacular place and discover the wonders of the Bishop's Basilica for themselves.