The feeling of justice comes naturally with kids.  They are first class judges, without prejudice and with no desire for revenge.  Their decisions are very close to the basic principles of law.  Their intuition is strong and sometimes I have the feeling that we do not teach them but rather they teach us.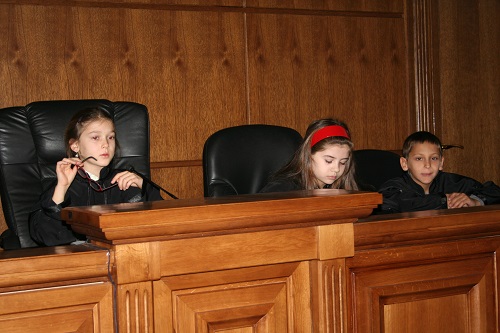 The Union of Judges works on the Civil Education project with schools all around the country, in big and small towns and villages, with children in 3rd – 4th grade and with high school students.  First we train children and then we stage a trial, usually based on a fairytale, for example the Little Red Riding Hood vs the Wolf.  Children play the roles of judges, lawyers, prosecutors, defendants, witnesses and investigators.  Our goal is not to make them legal professionals, but to overcome the feeling of a shortage of justice.  Our mission is to teach them to know their rights as well as their responsibilities. We give them a tool to listen, to control their emotions and to be aware of the consequences of their actions.  This empowers them to deal with their problems on their own or look for help and support whenever they need it.
Children usually sentence the wolf to community service and not to prison.  After the trial is over, children continue to discuss and ask questions.  How will the wolf dig and clean when he can't hold a broom? And, is it useful for the community if he cleans the grandmother's house?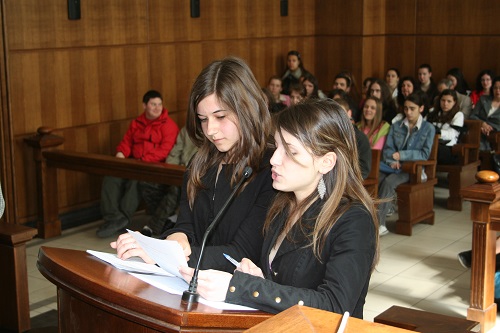 With the teenagers, we do forum theater about drugs and human trafficking.  The students play roles and the audience directs them throughout the play, changing situations and reactions to various scenarios.  I remember one student, he was obviously the class leader and very popular in his school, a very opinionated and aggressive boy.  He said: "Just give me the power and I will solve all issues without any hesitation."  We gave him the role of a prosecutor.  One of the girls played a mule who was caught with drugs on the border.  The investigators presented facts about the real criminal who gave her the drugs and the audience decided to present him as someone with a hard life, a difficult and abusive family. Suddenly, in the course of the trial, the prosecutor's aggressiveness was gone. He realized that he had to be fair and to bear responsibility for his decision and not to be vengeful.  We all evidenced his internal struggle. He found out that the State is to execute justice by the law and if someone with power and authority doesn't follow the rules, there will be chaos. 
When such problems are discussed at an early age, through play and speaking a language children understand, a day may come when institutions like the court will no longer be needed.  It sounds utopic but it is possible.  I believe in that.  
Vladimir Valkov, a judge at the Sofia Regional Court