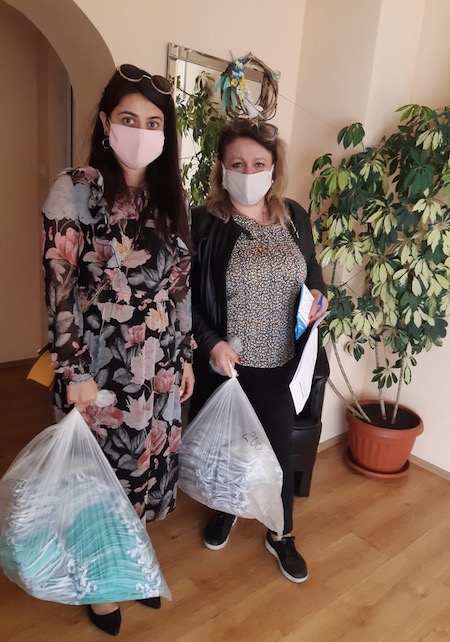 By the end of February 2020, people wearing surgical masks were becoming a common sight in the streets of Bulgarian cities. The supply of masks in pharmacies, however, was running low, so people began looking for alternative supply channels or started making their own.
Getting hold of masks wasn't a problem for Monika Getsova, an entrepreneur and owner of one of Varna's most popular stores for baby care products, Sladuri ("The Cute Ones"). She has her own line of stroller and baby room bedding, so she works with a number of textile factories and suppliers in the region. By March 13, when Bulgaria declared a state of emergency, she had commissioned a local factory to make masks for her family, employees, relatives, and a small circle of friends. Soon, however, the inquiries started streaming in. Not a day went by without store owners, policemen, delivery workers, and pharmacy staff stopping by Ms. Getsova's store and asking for masks.
"We weren't prepared for the huge demand… We received orders from every channel imaginable. People called from all over the country. They'd thank us and order again and again, for relatives of theirs," says Ms. Getsova.
As an entrepreneur, Ms. Getsova saw a business opportunity, but also a chance to help. There was a clear shortage, as the coronavirus outbreak had disrupted supply chains, and low-quality masks and speculative prices flooded the market. At the same time, many local factories were out of work because the foreign retailers they normally supplied had canceled a huge number of orders. After doing some research, Ms. Getsova found two factories whose work she liked and ordered a few hundred masks. After these sold out in a matter of days, she ordered more, every time insisting on the use of high-quality fabrics and four layers of fabric with a pocket that could fit a filter. She had a flyer and a video made explaining how to put on a mask correctly and how to properly wash hands.
"We were convinced that the masks had to be made of cotton. People would wear them all day after all; they had to be comfortable. There had to be layer of nonwoven fabric as well. We made masks that we would want to wear," says Ms. Gotseva, adding that she had a reputation for quality to keep up.
Then she realized she could do more: even when masks became readily available for purchase, there were still shortages among frontline professionals. She donated nearly 1,000 masks to medical workers, policemen, and nonprofit workers from Varna before coming across the call from the United against COVID-19 Response Fund.
"When I read about the program [United's funding program for hospitals and local initiatives, ed.], I thought it would be wonderful to meet the needs of people who cannot afford them. We had the production resource, were in contact with organizations working with such groups… and this is how it all came together," Ms. Getsova says.
She applied and was approved for funding, which allowed her to commission the production of 3,000 masks. These were distributed among social workers serving people with disabilities, disadvantaged families, and elderly individuals in Varna region. What is more, Ms. Getsova's orders helped keep the two factories in business and protect the jobs of nearly 50 factory workers.
Ms. Getsova is no stranger to helping others. She fostered a child, even as she raised her two biological children on her own. As a member of a Varna-based NGO uniting young mothers, she started working with children growing up in institutions, which she supported with her time and money. In 2013, during the international migrant crisis, she helped collect food and clothes for Syrian refugees and even had a Syrian family stay at her home for several months. She later became a guardian to a Syrian teenager, who became a part of the family. In Varna's worst emergency in the past decade, the flood in Asparuhovo in 2014, she helped out both as a volunteer cleaning up debris and as a donor contributing financially in support of affected families. To this day, she regularly participates in food and clothing drives helping local families in need.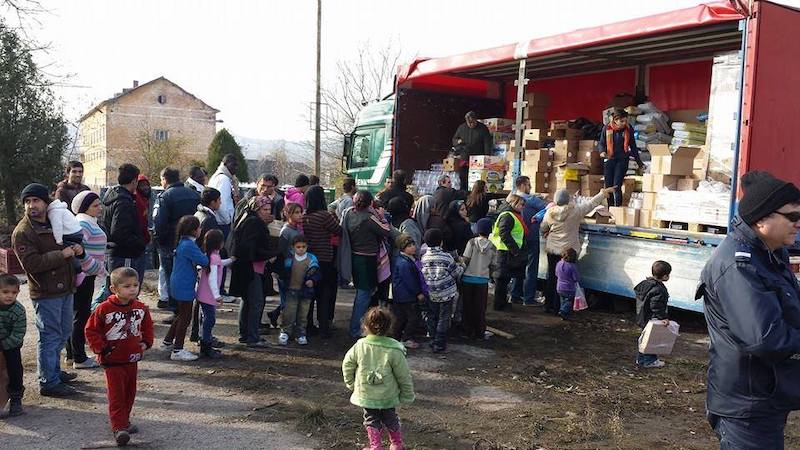 "We help out whenever there is a need," Ms. Getsova says, who gets really shy when she is asked about her helping others. She always uses the plural "we," too nervous to give herself credit for what she does, and is quick to point out, "There are many people I can rely on."
She says she doesn't dwell too much on why she does what she does. "It just happens," she shrugs.
Between March and May 2020, the United against Covid-19 Fund supported 112 local initiatives like Ms. Getsova's, benefiting nearly 700,000 individuals across Bulgaria. The fund was established by the Bulgarian Donors' Forum, America for Bulgaria Foundation, US Embassy in Bulgaria, and American Chamber of Commerce in Bulgaria in response to the COVID-19 outbreak in the country and worked with the financial support of Bulgarian, American, and international businesses and individuals.