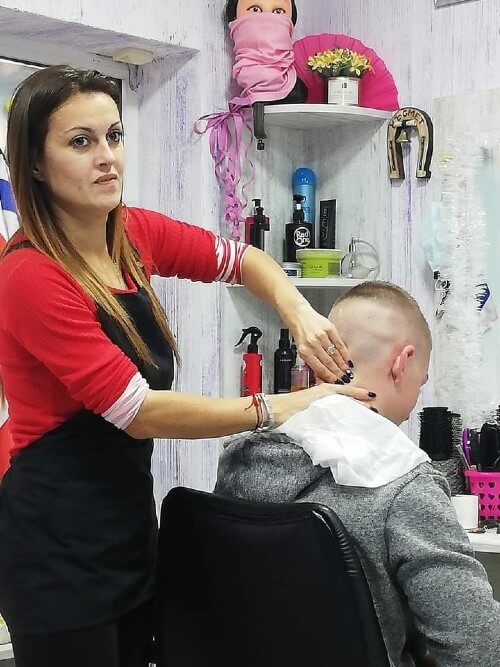 Neli Stoimenova doesn't take "not available," "not likely," and "not possible" for an answer. If what she wants isn't available, she looks for it. If something isn't likely to happen, she helps it along. When people tell her something isn't possible, she proves them wrong.
Neli's hometown, Lovech, in north central Bulgaria, doesn't offer equestrian sports, so she traveled to farms in nearby towns to learn horse riding and be with her favorite animal. Today, she is an accomplished rider and support member of an award-winning Endurance riding team.
Hairdressing was an unlikely choice for someone with a background in veterinary science and engineering and a job in pharmacy. But it was a childhood dream, so she signed up for a six-month hairdressing course, traveling daily for classes in Veliko Tarnovo, 55 miles away, even as she juggled family responsibilities, including a preteen son, and a full-time job.
Her friends and family cautioned that it would be risky setting up her own hair salon in the midst of a pandemic and the resulting economic downturn, making a profit — impossible. So, she sought out Business Academy for Starting Entrepreneurs (BASE), a free entrepreneurship course developed by the America for Bulgaria Foundation and in Lovech offered in partnership with the Council of Women in Business in Bulgaria. BASE gave Neli much-needed encouragement and key business skills.
Midway through the course, in July 2020, her hair salon, Nelana, opened its doors.
"When I decide to do something, I always see it through to the end. I am really obstinate like that," Neli says, laughing.
She admits to functioning on very little sleep for nearly a year, particularly when she did the hairstyling course, but she is happy with how things are going. "I have not had a single day without business since I opened the salon," Neli says.
BASE showed her the ins and outs of entrepreneurship, providing practical tips that she could apply right away. "I needed to know how to price my services, how to market them, among other things," Neli says. "It came right on time; I feel really lucky."
But most of all, BASE convinced her that the majority doesn't always know better and that the only way forward is believing in yourself. Through the program, she met like-minded individuals who provide continued support and encouragement. Often, fellow graduates send clients or are clients themselves. In recognition of her drive and excellent presentation at the program's end, Neli was invited to participate in the Leadership Academy of the Council of Women in Business, a one-year training program equipping women with the tools to succeed in business.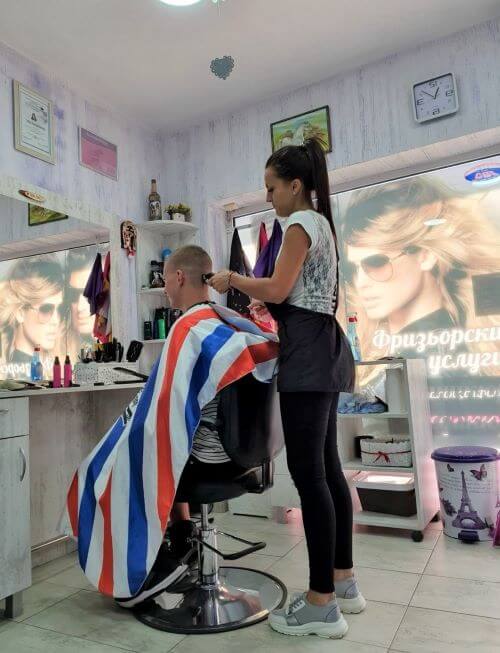 The grain of success was always there, though, most notable in Neli's can-do attitude. "I have never wanted to be one of those people sitting around with their arms folded, thinking, 'It can't be done,'" she says. "There is always a way."
And when it comes to the things Neli does, the only way is doing them well.
An extension of who Neli is, Nelana offers a boutique selection of services to an expanding pool of appreciative clients. No matter how busy she gets, though, she never takes shortcuts, and the attitude is never "This will do." A haircut includes a wash and scalp massage, and even a basic cut has Neli's full attention. "For me every haircut is like a painting: it has to look perfect," she says. "My clients are walking advertisements for my business."
She focuses on cutting men's hair, which she did an additional course in, although she does women's hair as well. A perfectionist, Neli admits to having a lot to learn and to needing additional training and practice for certain in-demand services such as occasion styling. "I do not want to offer 50 services at any cost, just for the sake of offering many services. I want to offer quality," she says. "I might not be the best, but my clients get the best service."
She hopes customers will come back because of the overall experience they get at Nelana.
Her dedication shows both inside and outside the salon. She stopped riding horses to make sure that no potential injuries could prevent her from providing the best customer experience possible. She has found an alternative way to stay involved in the world of her beloved four-legged companions, though: she is a support crew member, tending to riders and horses before, during, and after competitions. With her on the crew, her club has won a number of national and international awards.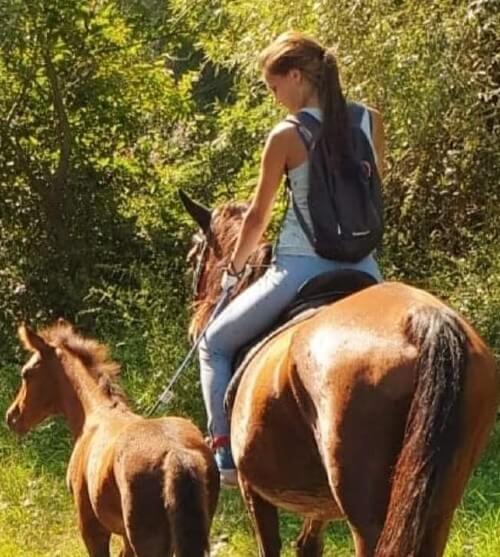 Neli's plans for the salon are equally ambitious: she first hopes to buy her own space and expand her offerings, and then open a chain of salons providing the same atmosphere and attentive service as the original Nelana.
When he got a haircut at the salon for the first time, a friend of hers remarked: "Do you usually spend so much time and effort on everyone or is it because we know each other?" he asked, in surprise. Surely, you can't treat regular customers this way, he seemed to say. And surely, this attitude to business isn't scalable.
In Neli, the challenge has met its match.
Business Academy for Starting Entrepreneurs (BASE) is an entrepreneurship training program developed by the America for Bulgaria Foundation and run in partnership with organizations such as the Industrial Cluster Srednogorie Association, National Association of Small and Medium Businesses, Association of Bulgarian Leaders and Entrepreneurs (ABLE), Council of Women in Business in Bulgaria, Magna Natura Association, East Accelerator Foundation, Society and Safety Foundation, and Trust for Social Achievement. Since its first edition in 2018, BASE has helped dozens of individuals across Bulgaria build or expand small businesses creating hundreds of jobs in places like Lovech, Troyan, Pleven, Mirkovo, Zlatitsa, Panagyurishte, Etropole, Elin Pelin, and Sofia.