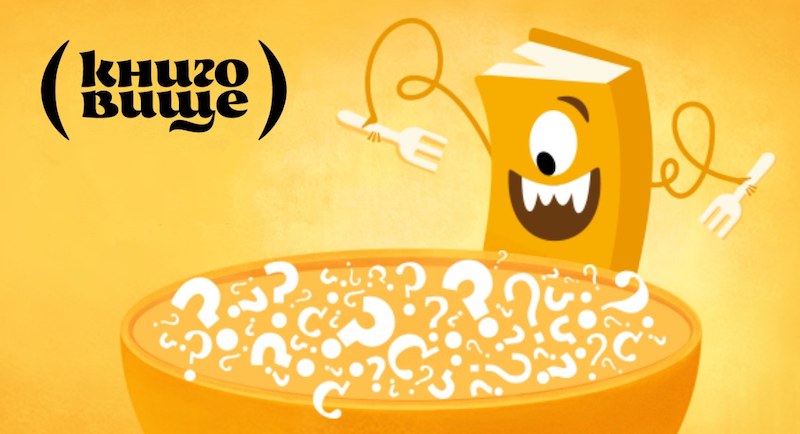 We've all heard it all too often: "Kids nowadays don't read because they are glued to their screens."
Knigovishte, however, proves that reading and screen time need not be in conflict. In fact, the online educational platform relies on children's love of screens and games to help them become better readers.
Here's how it works: students read books offline, then go online at Knigovishte.bg to take quizzes on the books, gathering points and virtual treasures, which allows them to compete with peers and entire classes. Doing well in Knigovishte means spending less time in front of the computer and more time with a book. As they advance through the levels in the game, kids fall in love with reading and the world of books.
(In Bulgarian, Knigovishte is a portmanteau of kniga, "book," and chudovishte, "monster," and is also an archaic word meaning "library.")
Anna Boyadzhieva experienced that firsthand with her fourth-grade class last year. "My students couldn't wait to hear the bell ring and take out their phones, but with Knigovishte we balanced what's useful with the fun stuff. Now they can both read and be on their favorite devices," says Ms. Boyadzhieva, who teaches in Varna's Yordan Yovkov Primary & Middle School.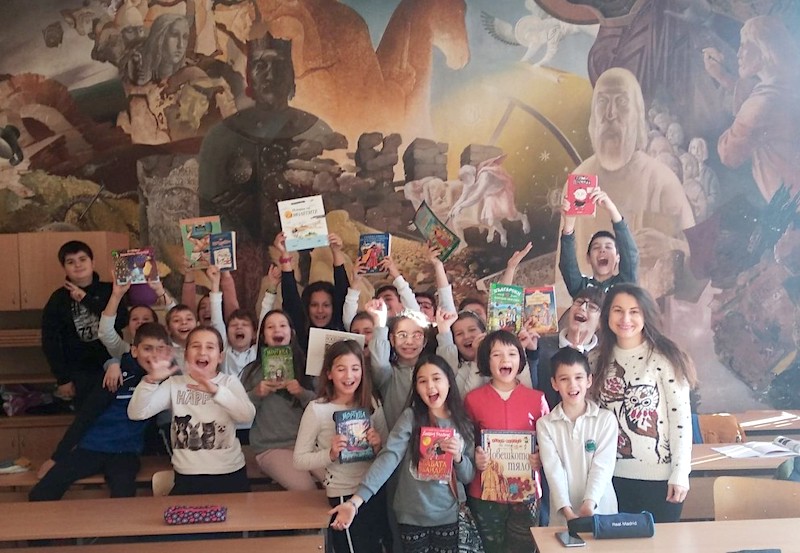 The change in her students' behavior during recess was notable: instead of the usual fourth-grade antics, students would discuss the books they read and the points they collected. Soon they were exchanging books and opinions about the best reads. They also started creating quizzes and questionnaires for others to use because these brought more points than reading and taking quizzes alone. A student in Ms. Boyadzhieva's class achieved Most Active Participant status during the 2019–2020 school year.
Vesela Bangeeva's fourth-graders at St. St. Cyril and Methodius Primary & Middle School, Sofia's 61st, were among the most active classes in the platform this year. But when her students first started using Knigovishte in 2019, some of them still had trouble reading. Part of the challenge was the length of literary works. Knigovishte provided a solution with its special section featuring encyclopedias and other popular science works.
"They quickly resolved their problems with reading and started reading books with pleasure. Their motivation has increased several times," Ms. Bangeeva says. A year later, her students are unrecognizable: they were named Knigovishte's Readers of the Month for September 2020.
Ms. Bangeeva attributes her students' reading progress in large part to the competitive element in the game. That said, "the exchange and togetherness are also key," she says. For her students, too, recess is a time for book exchange and discussions about quizzes and points. "Did you complete the questionnaire in Knigovishte?" is a question she hears more often than "Did you watch that TikTok video?" (The social network's biggest fans will be pleased to hear that Knigovishte is on TikTok!)
Ms. Bangeeva's and Ms. Boyadzhieva's students are no exceptions. Hundreds of students and their teachers use Knigovishte nationwide. More than 80 percent of educators say that the platform helps students read better and more and improves their performance in other subjects as well.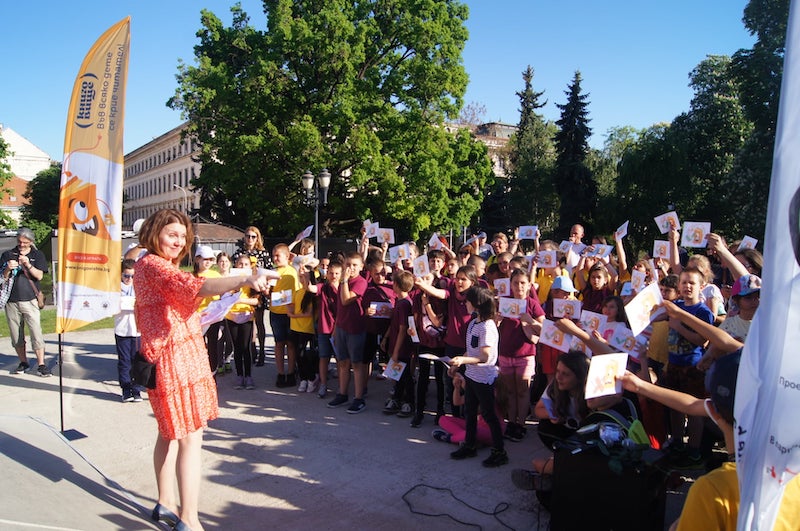 "The game is popular even with students who find reading unpleasant or difficult. This is why we believe that there is a reader in every child and that we can awaken that reader with interesting books and games," says Knigovishte cofounder Iskra Djanabetska.
"There Is a Reader in Every Child" is also the name of Knigovishte's campaign to gift 500 class subscriptions to the platform, reaching 10,000 students from grades 1–7 and their teachers. Support for the campaign comes from the America for Bulgaria Foundation, which is also funding the platform's continued development.
"Reading is at the heart of success in absolutely every subject. If you understand what you are reading, you will grasp math problems and facts in natural science, then history, geography, biology. If you master reading, and not just the mechanics of it, but read thoughtfully and with pleasure, this will open such immeasurable vistas that there will be no obstacles in front of you," says Ms. Bangeeva, whose students showed improvement in every area.
"Sure, I'd like to see more progress in math, but middle school will be welcoming some really knowledgeable and capable kids. I am really pleased," she adds.
Violeta Dimova is equally proud of her students' accomplishments. The primary school teacher from Yordan Yovkov School in the town of Tervel has been using the Knigovishte platform since 2019, to great success. "Knigovishte really motivated us to read more in order to have fun, gain knowledge, and explore other worlds," she says. Knigovishte is a frequent subject of class discussions as well as of recess conversations; this way, everyone is always learning something new. Knigovishte brings students together, and this is one of its advantages because "together is better," Ms. Dimova says.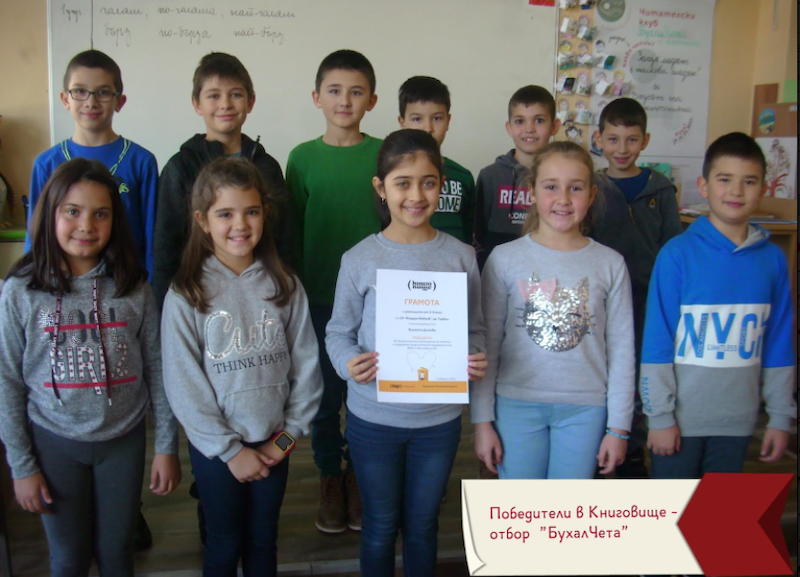 Thanks to the platform, her students' reading comprehension and quiz scores improved measurably. What is more, many of her bilingual students made considerable progress in Bulgarian.
In addition to Knigovishte-suggested books, Ms. Dimova's students enjoy reading articles in Look!—the platform's newly launched channel for child-friendly news.
Ms. Dimova will be parting with this class at the end of the school year. It is an emotional time also marked by excitement over the upcoming National External Assessment exams for the fourth grade. Despite the considerable demands on their attention elsewhere, however, Ms. Dimova's students are reading just as actively as they always have. They are also thinking ahead and keep asking her whether they will be able to continue with their group reading and point gathering next year as well.
What better evidence of success than that!