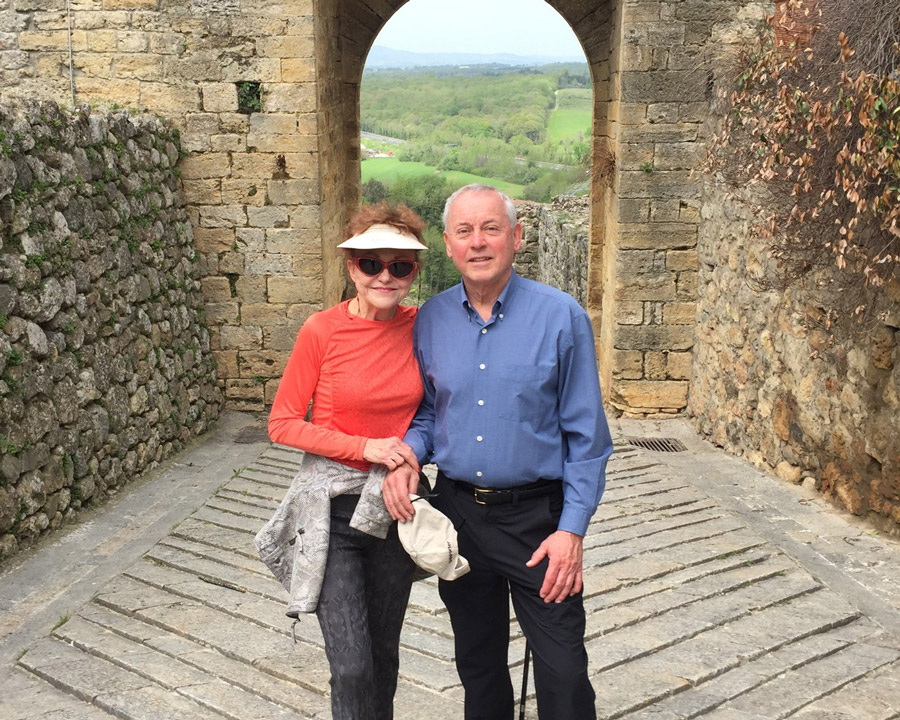 Seventeen years is how long it takes to raise a human being and prepare them for independent living; 17 years is the average time it takes to pay off a mortgage. The full course of education from kindergarten to a university degree lasts about as long. In 17 years, the average person in the United States will have changed four jobs.
Rebecca and Chris Matlon's commitment to Bulgaria's prosperity and democracy has gone into its seventeenth year. Through their involvement with the Bulgarian-American Enterprise Fund and its successor, the America for Bulgaria Foundation, whose board of directors Chris now chairs, they have helped encourage entrepreneurship in small towns and 21st-century practices at schools nationwide, supported startups in launching and scaling their activities, promoted transparency and efficiency in Bulgaria's judicial system, and been active spokespeople for the tourism opportunities the country offers. For seventeen years now—and counting.
They've been involved in Bulgaria longer than the country has been a member of NATO (since 2004) and the EU (since 2007). Their first trip to Bulgaria, in 2002, predates the emergence of an IT sector in the country and the global banking crisis of 2007–2008.
It was, in fact, because of Chris's solid experience in international banking that he received an invitation to serve on the board of the Fund and help steer the activities of the associated bank, the BACB.
"It was a fantastic idea," says Rebecca, who got on board right away. "Chris was also perfectly suited to the work that was involved." Moreover, both Chris and Rebecca had recently retired and, having lived most of their professional lives outside the United States, missed the travel and the experience of getting to know different cultures.
The couple met in the early 1970s in the cultural melting pot of New York City. They were soon married and headed for their first international adventure, in New Zealand. Over the next quarter century, they lived on four continents; built careers in international banking, with Chris helping developing countries adopt free-market practices and managing portfolios worth hundreds of millions of dollars; raised two sons; and witnessed firsthand two of the most consequential events in the 1970s, the Lebanese Civil War and the Iranian Revolution. By the time the Cold War was over, they were back in the United States. They spent the 1990s in New York and California before retirement and their shared love of the mountains led them to settle in a small town near Vail, in Colorado, in the early 2000s.
Yet retirement wasn't enough.
Both Chris and Rebecca admit they knew very little about Bulgaria when Chris first received the offer to join BAEF's board in 2002. They have since visited at least twice yearly and become ardent proponents of travel in Bulgaria. "The tourist potential of Bulgaria is incredible. I only wish that more people knew of it," Chris says.
Rebecca makes sure they do and tells all their friends and acquaintances about their Bulgarian travels. (These include visiting many scenic mountain routes and scaling Bulgaria's highest peak, Musala.) "If I could be minister of tourism, and I was given a budget, everyone would hear about Bulgaria," Rebecca adds. Even without a budget, she makes it her business to be a good PR voice for Bulgaria and Eastern Europe, which the couple has now traveled extensively.
Chris and Rebecca have also made every effort to get to know the country beyond the usual tourist haunts. In the days of the Fund, they visited some of the businesses and towns where the Fund and the BACB had investments and met a number of the people who worked there. After 2009, they continued traveling the country, now as part of the ABF board's effort to get to know the Foundation's grantees and partners.
Chris stayed on to help steer the Foundation because "we know there are still challenges here. We'd like to see the democratic ideals hold up and make a real difference," he says. His early involvement with programs like the Junior Justice Professionals Training Program—he and Rebecca hosted many events for JJPTP trainees in Colorado over the years—and other programs in the field of judicial reform has given both him and Rebecca detailed knowledge of some of the challenges Bulgaria still faces.
"If you don't have an environment [governed by] the rule of law, it will be very difficult to attract foreign investment. Bulgaria competes with a number of other countries for those investment dollars. If you can't go to the court system to resolve a contractual dispute, companies can go to another country," Chris says.
To Rebecca, the loss or waste of human capital is one of Bulgaria's most serious challenges. "I am very concerned about the brain drain. I am very concerned about the Roma issue. The Roma population is growing, and it doesn't appear they are being incorporated in the mainstream as rapidly or effectively as need be," she says.
And then there is tourism, an area where much can still be done. "I take that as a work in progress. I look at this as a challenge that we can be part of as a foundation," Chris says.
The challenges notwithstanding, both Chris and Rebecca see considerable progress as well: in the tech sector, in agriculture, in volunteering, in the field of education. These advances and the people they have met through the JJPTP and other ABF programs are a constant source of inspiration and why they keep doing what they do.
"I met the young woman who started TimeHeroes [Bulgaria's largest volunteering platform, cofounded by Yana Buhrer Tavanier]. She started it over coffee with friends. And look at what that has become [51,000 registered volunteers supporting 1,700 causes around the country. Ed.]," Rebecca says. "After all these years, I can say unequivocally that I come home inspired."
Chris strikes a similar note: "There's desire on the part of the younger generation. Having met them, I am absolutely optimistic about the country's future. Bulgaria will see better times, and we intend to be part of that evolution."
Evolution? Will it take that long?
"I look at this as a long game. This is for the long term," Chris says.