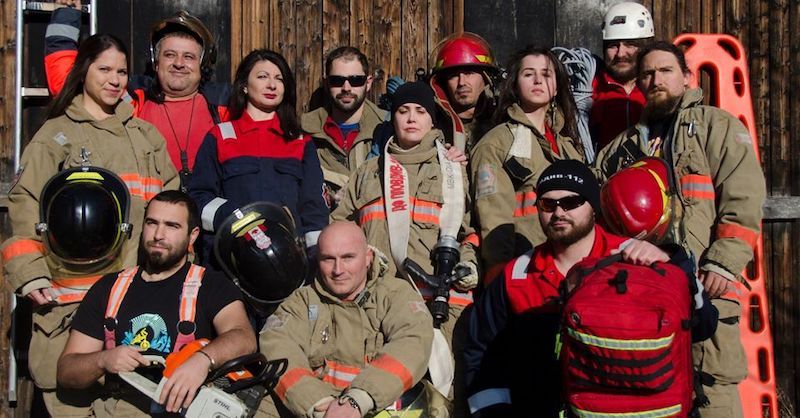 They are trained to fight raging fires for hours at a time, rescue flood victims, take people safely out of caved-in buildings and crashed vehicles, mount forest rescue missions, and secure emergency physicians' work.
They know how high the stakes are when disaster strikes. You simply can't make a wrong move, so taking precautions and following protocol are vital. They also have the right kind of motivation: they do it because they care. They are all volunteers.
This made Plovdiv 112 particularly well placed to fight the Covid-19 outbreak.
Plovdiv 112 is the largest and one of most active volunteer rescue squads in Bulgaria, working in close cooperation with and supporting emergency services in the City of Plovdiv, Bulgaria's second city. The organization helped coordinate and execute the city's response to the coronavirus outbreak during the two-month-long country-wide lockdown. They offered assistance disinfecting public spaces, coordinating and making food and medicine deliveries to quarantined households and elderly individuals, supporting emergency doctors and lab technicians around the clock, and conducting safety trainings for individuals and organizations.
Unlike the emergencies they usually respond to, Covid-19 is an invisible threat, which makes it far more dangerous, according to George Vlaykov, Plovdiv 112's director, a professional mountain guide and emergency management expert. "You are fighting something you can't see. This is why many people ignore it."
Plovdiv 112's team, on the other hand, takes the coronavirus threat very seriously. Over the past three months, they could be seen in full protective suits when out in public spaces or in proximity to vulnerable individuals. The suits made them look like they had just landed on the moon, but to questions about whether such measures were not over the top, they always responded the same way: "This is how you do it."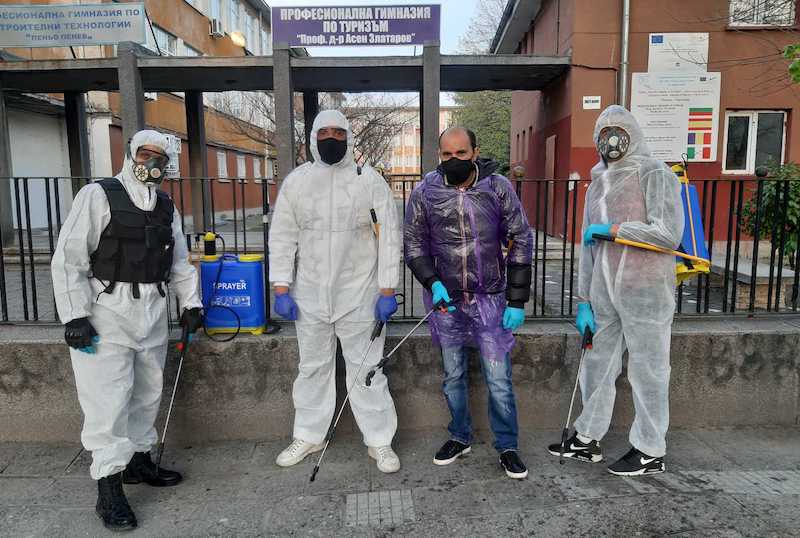 It is this mindset—knowing not to underestimate threats and that following protocol saves lives—that helped them stay in the fight for three months without a single volunteer falling ill. As a result of the coordinated response and strict measures instituted with their help, Plovdiv, with a population of 675,000 people in the greater metropolitan area, has had only 96 confirmed infections. Nearly everyone who fell ill has recovered.
To ensure maximum protection, Plovdiv 112 developed protocols for virtually every situation they encountered—from talking to distraught citizens, exchanging groceries for cash, and handing over medical supplies to hospital staff to decontaminating vehicles they used to transport medical workers. They also knew that the biggest part of providing lockdown support would be organizational, so they focused on putting the right team together to coordinate field workers' activities.
"Organizing everything is the most important thing. People doing fieldwork can't do a thing without people coordinating their response," Mr. Vlaykov says.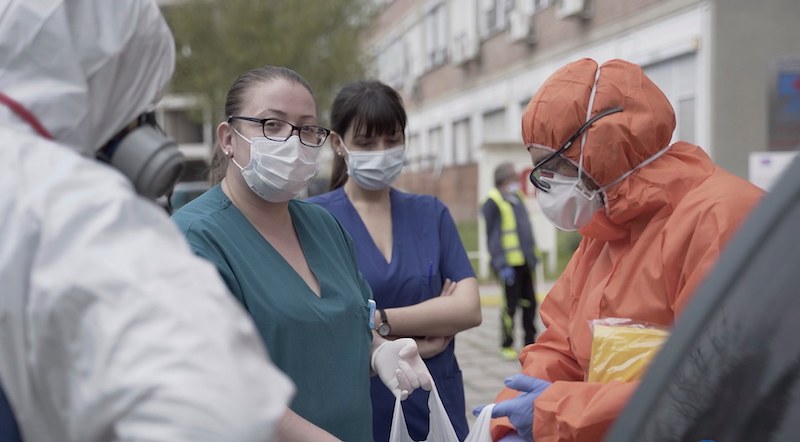 Thankfully, Plovdiv 112 volunteers come from a variety of fields. Those with the right communication and organization skills staffed the phones and handled the behind-the-scenes, logistical work. "There are no beautiful photos or videos from their work," says Mr. Vlaykov. "The work isn't interesting, it's often very stressful, it involves contacts with people who raise their voices or have unrealistic expectations and ideas about what volunteers do. But this work is extremely important and has to be done every day. Without a break."
A group of Plovdiv 112 volunteers who work in IT put their heads together in early March and after several sleepless nights developed an information system that helps the teams log all citizen calls and organize deliveries and volunteer shifts on the territory of Plovdiv Municipality. This enabled people on the ground to do their work with maximum efficiency and minimum contact with people.
During Plovdiv 112's longest emergency to date, between March 13 and May 13, volunteers put in more 4,000 hours of voluntary labor, including over 500 hours at emergency rooms. Nearly 45 members of the 76-member organization were actively involved in the coronavirus response. Plovdiv 112 teams disinfected hundreds of public buildings and outdoor areas and delivered medicine and food to more than 1,000 addresses in the region. They also ensured other volunteers and organizations such as the Bulgarian Red Cross could safely do their work assisting vulnerable populations. And to top it all, they managed to train more than 100 individuals who volunteered to help with coronavirus relief efforts in Plovdiv as well as 25 organizations that joined the Covid-19 fight nationwide.
Plovdiv 112's work during the pandemic has been commended repeatedly by local authorities as well as the National Crisis Task Force. Moreover, tens of people rallied to their support, joining their ranks as volunteers or providing funding. Several companies also backed their work with financial or in-kind donations, while a grant from the United against Covid-19 Fund allowed them to purchase and deliver PPE for medical staff at 16 healthcare facilities in nine Bulgarian cities as well as to Plovdiv's police and fire departments.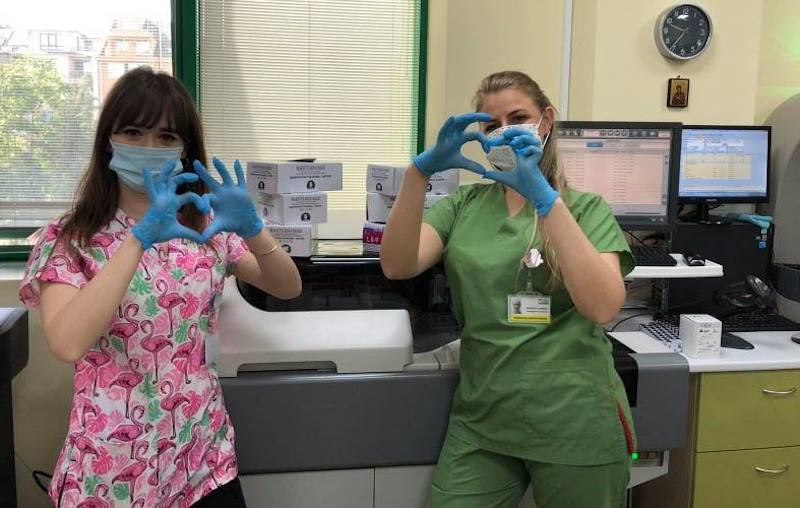 In the squad's seven-year existence, Plovdiv 112 volunteers have provided emergency services in some of the country's worst disasters such as the 2014 floods in Varna, which took the lives of 13 people; floods in the town of Saedinenie in 2014, which caused widespread property damage; and forest fires in the Rila Monastery Reserve in 2015. They help clear roads in the Rhodope Mountain area every winter, provide relief after springtime floods, and fight forest and farmland fires in the summer/fall. They also regularly join mountain rescue missions and support food and medicine deliveries to far-off mountain villages.
Plovdiv 112 volunteers are both men and women, aged 20–50, and come from all walks of life: there are teachers, programmers, a karate instructor, a lawyer, a mountain guide, an entrepreneur, a translator, a construction crane operator, a jeweler, HR specialists, and others. What unites this motley group is a higher tolerance for risk and a desire to help; they all undergo rigorous training. "Volunteering is a great passion of mine, and I got tired of listening to the same sad reports on the news every evening, so I decided to become a part of the solution," says one volunteer by way of explaining why she joined the volunteer squad.
The rescue squad's unwavering commitment and bravery in the face of danger over the years have earned them the local community's trust and respect. This spring, they were tasked with helping Plovdiv's most vulnerable populations such as retirees and people with disabilities, which often involved handling sensitive personal information. Mr. Vlaykov talks about the humbling effect of being trusted this way.
"Demonstrating this kind of trust, a person shows you what a huge responsibility you have toward society and the people you are helping," he says.
And just like in high-risk situations, when trust is involved, you cannot afford to make a wrong move.
Follow Plovdiv 112 on Facebook to learn more about the squad and support its work.
Watch this short video, developed by 4K Studio, honoring the volunteers' work.
На първа линия from 4K Studio on Vimeo.
Between March and May 2020, the United against Covid-19 Fund supported 112 local initiatives like Plovdiv 112's PPE donation campaign, benefiting nearly 700,000 individuals across Bulgaria. The fund was established by the Bulgarian Donors' Forum, America for Bulgaria Foundation, US Embassy in Bulgaria, and American Chamber of Commerce in Bulgaria in response to the COVID-19 outbreak in the country and worked with the financial support of Bulgarian, American, and international businesses and individuals.