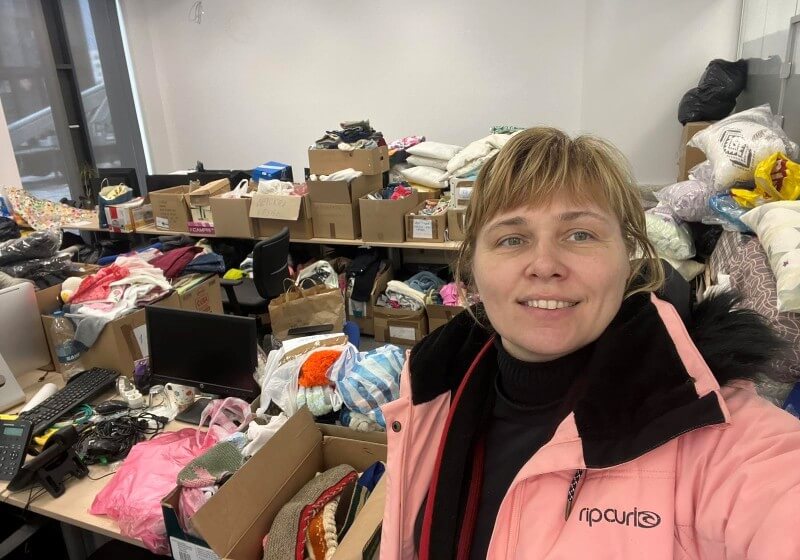 All Ukrainian Natalia Ellis has for dinner these days is sponge cake — that is, when she has dinner. She is so busy coordinating donations for her native Ukraine that she has no time to eat, let alone cook. The cake, her favorite, is made two or three times a week by an apartment-bound elderly neighbor wishing to be helpful not just to a friend but to someone who has become central to relief efforts for Ukraine coming out of Plovdiv, Bulgaria's second city.
Natalia, or Nata, as everyone calls her, is an Odessa-born, Plovdiv-based entrepreneur with an economics and engineering background and a welcoming smile who has assumed the role of "an unofficial consul of her country in Plovdiv," as renowned publisher and American University in Bulgaria graduate Manol Peykov called her. "Give my number to anyone coming to Plovdiv, they can contact me about anything, I will find a way to help them," she urges, in her passionate, rapid-fire Bulgarian, as a true public servant would.
Nata had no time to prepare for the role. On the morning of February 24, the day Russia invaded Ukraine, she was woken up by her mother in Odessa. "The war has started," the mother's trembling voice said over the phone.
From then on, it was clear what Nata had to do. A go-getter by nature, she started calling family, friends, and associates in Ukraine and Bulgaria to match need to helping hand. Working nearly around the clock, she has left no stone unturned to get assistance for people fleeing the bombs as well as for those who stayed behind either because they couldn't or wouldn't leave.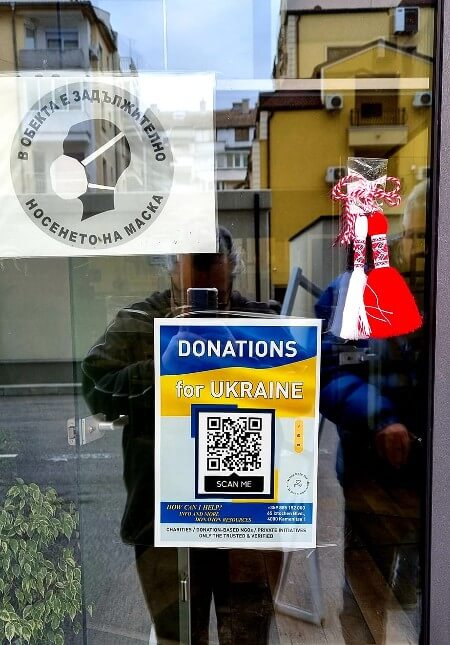 "I have turned my back on my business. I have employees doing wonderfully without me. My job at the moment is to help our girls here and our boys and mothers and fathers over there," she says.
During the war's first week, Nata slept only once, for a few hours. Worry about loved ones — initially her mother would not leave their hometown — adrenaline, and a sense of duty kept her up. "Who else [should be doing this] if not me? There is no one else," she asks, rhetorically, echoing the ultimate appeal to personal responsibility.
But she is far from alone. Her husband, Bulgarian-born entrepreneur Vlad Ellis, their two sons, and dozens of volunteers are firmly behind her. The office of the IT company Nata and Vlad co-own has become "a space for everything," including a playground. "In her office in central Plovdiv, which I visited today, there are people everywhere (many of them Ukrainian refugees) carrying boxes and bags of food, medicine, blankets, tea, bandages, and all kinds of necessities," Manol Peykov reported on his Facebook page after a visit on March 1. Nata credits him and his network of friends and associates with helping procure most of that aid.
The Ellis family has lived in Plovdiv for only six years, but they are already well established in the local community. Nata and Vlad run two successful businesses together, web solutions company Speedflow and a printing house, employing dozens of people. Moreover, a couple of years ago, Nata turned a longtime passion for growing succulents into a business and now sells cactuses all over the world. She is involved in several other business ventures as well. The couple would take occasional breaks from their many engagements in Bulgaria's beautiful mountains.
But that was in their old reality, before Russia's invasion of Ukraine on February 24 started sowing death and destruction in Nata's native land.
"Ten days ago, I was planning a trip to London, for work. Ten days ago, I was planting cactuses and waiting to see what will come out of it. Ten days ago, I did not know that there was a male and female catheter. I didn't know how much a box of macaroni weighs… My biggest problem was a weekend without snow because I love mountain skiing," she wrote on her Facebook wall on March 6.
Nata learned many things over the past three weeks. In addition to getting a refresher on baby food and diaper varieties (her own sons are in their 20s), she learned what medical supplies are necessary to stop bleeding and dress wounds, what painkillers don't cause drowsiness, and what foods provide the most energy without taking up a lot of storage space. She also learned how kind and generous Bulgarians are.
She received so many donations, both financial and in kind, in the first ten days of the war that she had to find a truck instead of the bus she had initially engaged to transport first aid provisions to Ukraine. "Bulgarians don't just have big hearts — they have enormous hearts!" Nata says.
She is astounded by the outpouring of support. "There aren't Bulgarians who aren't helping out. We have young people coming, women with children, women with kids in strollers, elderly people, 30-40-year-olds… Rich people driving expensive cars come to us offering rides to refugees, without a second thought. There are so many people helping." Their landlord has been wonderfully supportive as well, she says, agreeing to repurpose the Speedflow offices straight away and also helping with whatever else he can.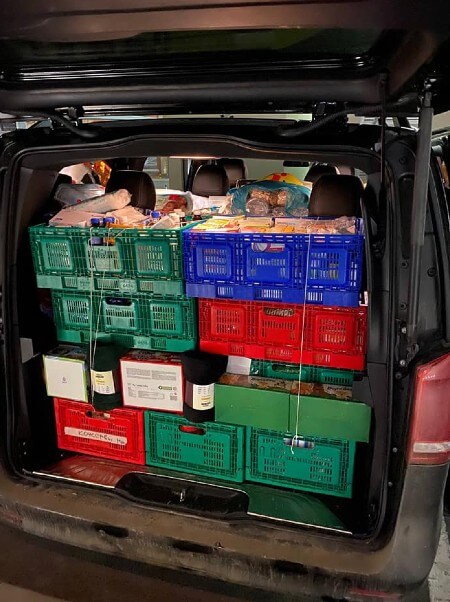 Most touching are the elderly people who show up with a few packs of rice or flour or a few levs, but who are determined to help. An elderly man from Mezdra, in Northwest Bulgaria, 200 km away from Plovdiv, called to offer accommodation to a Ukrainian family.
Nata's husband and sons are a huge part of this effort, too. When they aren't transporting women and children across borders, they are coordinating aid and helping set up a website for the newly founded Ukraine Support and Renovation, a foundation that will help fundraise for Ukraine relief efforts.
Nata is grateful for the Bulgarian government and Plovdiv Municipality's support, too. "They are assisting us a great deal!"
Thanks to the joint efforts of the tireless Nata, her family, and the hundreds of contributors and volunteers, more than one hundred women and children have been accommodated in Plovdiv so far. One trailer truck full of food and first aid supplies departed for Odessa in the first week of March with another one on the way as well. The next challenge for Nata and her helpers is connecting the new arrivals with jobs and starting a daycare center for the kids.
Helping others isn't new to Nata. She has always shared the fruits of her success with others. For years, she and Vlad have supported local causes in Plovdiv and were one of the first contributors to the Bishop's Basilica of Philippopolis, an important cultural heritage site in Bulgaria.
"My grandmother and grandfather, who fought in the Second World War, always told me, 'Nata, help everyone around you.' My parents did the same thing as well – they gave support, without a second thought. This is my motto as well, and that's what my children do, too — helping everyone, in any way they can. This is the only way to change the world."

Food, clothes, medicine, and first-aid supplies can be donated to:
Natalia Ellis
59 Iztochen Blvd., near Kamenitza brewery
Plovdiv 4000
You can also donate to the Ukraine Support and Renovation Foundation at:
For donations in levs: BG49IABG70951001063401
For donations in euro: BG31IABG70951401063401
For donations in US dollars: BG93IABG70951101063401
Nata can be reached at 0885152000.