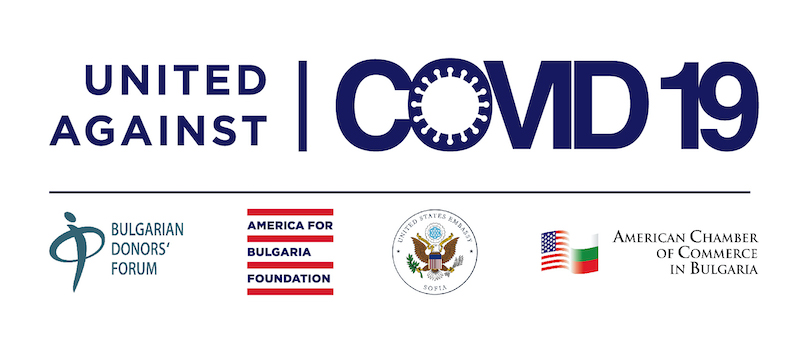 The Bulgarian Donors Forum, America for Bulgaria Foundation, US Embassy in Bulgaria, and American Chamber of Commerce in Bulgaria have united efforts to establish the United against COVID-19 Response Fund to support local communities across Bulgaria. 
Twenty-one companies, foundations, and individuals have contributed to the Fund so far, which will support community projects that address health and social needs during the COVID-19 crisis.
Bulgarian hospitals, civic organizations, community centers, and social enterprises from all parts of the country can apply for funding at www.United4BG.org.
The application deadline for the first round of projects is April 16, 2020.
United against COVID-19 will support projects that assist vulnerable groups affected by the crisis, including medical staff, people with disabilities, the elderly, children, minorities, the homeless, the unemployed, single parents, and others.
The Fund has already collected BGN 815,000 from the following generous donors: the Coca-Cola Foundation, America for Bulgaria Foundation, ContourGlobal Maritsa East 3 TPP, NEPI Rockcastle, Lachezar Tsotsorkov Foundation, ING Bank, Citibank, UniCredit Bulbank, TELUS International Europe, Tsetska and Grozdan Karadjovi, Svetozar Georgiev, Trust For Social Achievement Foundation, AES Bulgaria, Paraflow Communications, Mylan, Blagotvoritel Foundation, AIG Europe S.A. (Bulgaria branch), Fadata, Rossen Ivanov, Krasimir Nenov, and Titan Machinery Bulgaria.
United against COVID-19 welcomes future unconditional donations to support efforts to fight the COVID-19 crisis in Bulgaria. One hundred percent of all contributions directly benefit communities in need in Bulgaria. Donations to the Fund may be made by bank transfer to the following account:
United Bulgarian Bank
IBAN BG06UBBS80021026072940
BIC UBBSBGSF
Bulgarian Donors Forum
Ambassador Herro Mustafa: "Bulgarian medical professionals and community volunteers have shown remarkable strength and resilience during this difficult period. The United against COVID-19 Fund aims to provide these heroes with the support they need. The US Embassy is proud to partner with the America for Bulgaria Foundation, the American Chamber of Commerce, and the Bulgarian Donors' Forum on this initiative."
Nancy Schiller, President and CEO, America for Bulgaria Foundation: "This crisis demonstrates the power of initiative, philanthropy and unity. Сговорна дружина планина повдига. The fund unites our efforts and helps to precisely target the immediate needs at hand."
Krasimira Velichkova, Director, Bulgarian Donors' Forum: "Bulgaria has shown many times that it can unite and do good. Our organizations structured the Fund in a way that allows us to respond quickly to the urgent needs of the hospitals and grassroots organizations in an effective and transparent manner in this time of emergency."
Petar T. Ivanov, CEO, AmCham Bulgaria: "This initiative is designed to inspire our AmCham members and other businesses to support a worthy cause. We are certain that only with coordinated efforts, timely measures, and positive communication will we overcome the crisis."
Обединени срещу COVID-19 | United Against COVID-19 Fund from America for Bulgaria Foundation on Vimeo.