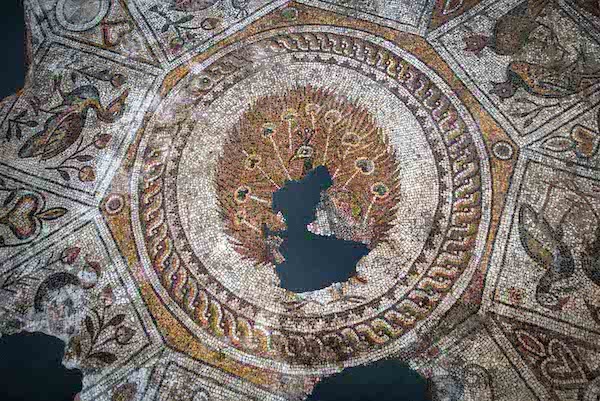 In just a few months, and 17 centuries after it first opened doors, we will cut the ribbon on the restored Bishop's Basilica of Philippopolis. The building's main structure is now ready, and in Bulgaria, when a construction reaches the roof, we have a custom to shout out of the roof ridge to say thanks and wish for good luck. There is a similar rite in many other countries: the one in the United States is known as "topping out."
The first good-luck messages were delivered on June 11 by 16 foreign ambassadors to Bulgaria, who called for unity, understanding, respect, and equality.
Nancy Schiller, president and CEO of the America for Bulgaria Foundation, delivered a message on behalf of ABF:  
"The beauty of Bulgaria's rich history will soon be revealed at the Bishop's Basilica of Philippopolis. Throughout the centuries, this site has welcomed worshippers from different faiths, different nations, and different ethnicities.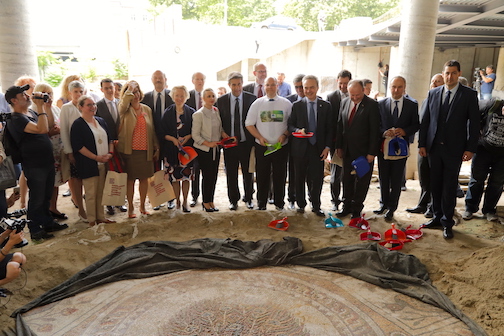 Bulgaria's history of tolerance is well known. It was codified in the Tarnovo Constitution of 1879. Article 61 made Bulgaria's position clear: 
'Every slave, regardless of sex, faith and ethnos becomes free as soon as he steps on Bulgarian territory.'
Saving the Bulgarian Jews from the Nazis revealed to the world the true character of the Bulgarian people. Bulgarians have never heeded to pressure about whom to hate. 
Today, we gather Ambassadors from countries who share Bulgaria's values of acceptance, respect, and tolerance. Each will deliver their message of brotherhood and equality. The quotes will be permanently displayed on the staircase wall as a testament to our shared values. 
I am honored and I am humbled to reveal the first quote. On July 25, 1872 Vasil Levski wrote to Lyuben Karavelov: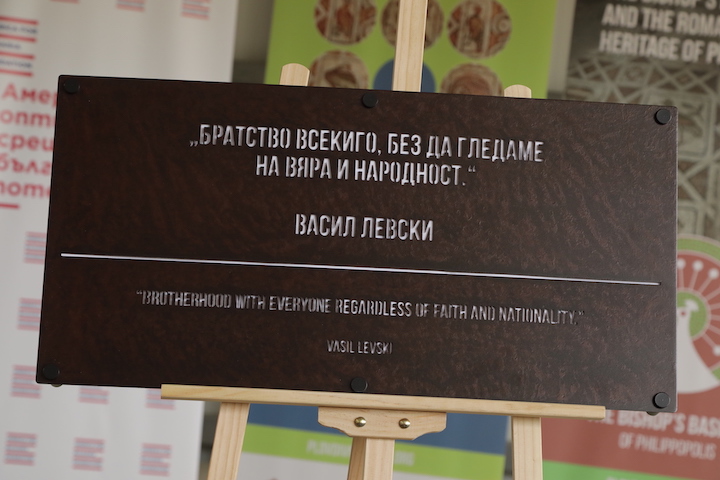 'Brotherhood with everyone regardless of faith and nationality'
Brotherhood is not a waiver of law or of one's national identity.
Tessera by Tessera.
Hand in Hand.
Brotherhood is an extended hand to all."
All messages, together with the timeless words of Levski Levski, Bulgaria's most important independence figure, will be engraved on a wall in the public space by the future entrance of the Bishop's Basilica.
Photo 1 by Anthony Georgieff, photos 2 & 3 by Yuliyan Hristov