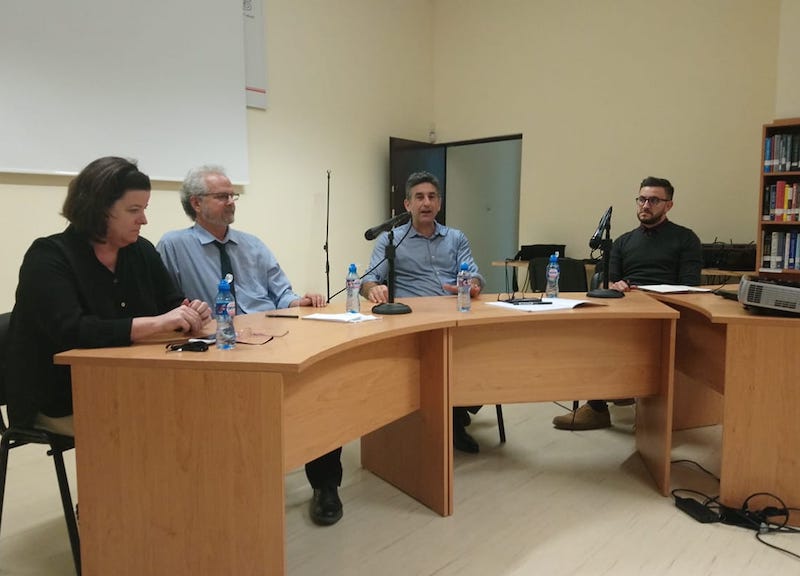 In the ancient world, many worked in now-defunct occupations such as wine-mixing, image-bearing, and dancing in armor. The disappearance of these jobs over time was quiet and made no ripples in the larger sweep of history.
The disappearance of journalism, on the other hand, would leave a democracy-shaped hole in our societies. That is, should journalism ever vanish as an occupation, the consequences for western societies would be more dire than the obsolescence of any other profession ever was.
The late media scholar James W. Carey suggested that democracy and journalism are two parts of a whole, one underpinning the other. And it isn't just that journalism and democratic government emerged at the same time, around 200 years ago. "The origins of journalism are the same as the origins of republican or democratic forms of governance—no journalism, no democracy," Carey wrote in an influential 2007 essay. "There are societies with newspapers and broadcasting stations that have no journalism… Without the institutions or spirit of democracy, journalists are reduced to propagandists or entertainers."
A timely discussion on the relationship between democracy and journalism was held on November 8 at Sofia City Library featuring US media experts and journalists Dean Starkman, Russell Frank, and Barbara McCormack and moderated by Radio Free Europe journalist Ivaylo Vezenkov. Echoing Carey's idea about journalists' central role in a democracy, the talk was titled "No Journalism, No Democracy: The Role of Journalists in the Post-Truth World." Although the tone of the discussion was mostly somber given journalism's ongoing troubles, the speakers also provided a glimmer of hope by discussing potential fixes.
Sensationalist reporting, advocacy, omissions and mistakes, and a focus on the negative have eroded trust in journalism, but the main disruptor in the news industry over the past two decades has been the advent of the digital era, the speakers agreed. The internet has taken away both advertising revenue from traditional news sources and their exclusive status as content publishers. This has resulted in considerable job cuts and "a brave new world of peer-produced journalism," according to Starkman.
Without a doubt, the internet has democratized publishing, giving a voice to many previously voiceless groups. Yet, as Starkman pointed out, it has also ushered in an environment in which anyone can publish any unsubstantiated fact, and any fabrication can become "truth" if circulated widely enough. "Before, publishing was a big deal. Getting something out there [was] a big deal. Now, with the rise of social media, everyone is a publisher. People don't know that publishing is important [and carries a responsibility]," Starkman said.
What is worse, the monopoly of internet giants such as Facebook on news distribution and consumer attention limits exposure only to the topics the Facebook algorithm serves and entrenches one-sided views of the world. The echo chambers thus created are easily exploited by autocrats and interest groups.
Now that people are equipped with the tools to tell their version of events, some analysts have argued that journalists are not necessary anymore. Russell Frank takes issue with this conclusion, saying that journalism is more crucial now than ever. Because Facebook's algorithms will tune out opposing views, and citizens don't tend to look at all aspects of a problem, the need for journalists to examine a story in a neutral, objective way is even more pressing.
The debate about whether journalists can, in fact, be objective and neutral has obscured journalism's more important task, according to Frank. "Journalism is designed to make the world better. Journalists cover problems they know need to be solved," he said. Journalists can be impartial neither about these problems nor about democracy.
McCormack believes that one way to strengthen journalism, as well as democracy, is to educate consumers about the value of facts. She also pointed out that the blame for journalism's troubles should not be laid solely at the door of internet companies; cable news networks, with all their advocacy for one political camp or interest group or another, are at least as responsible for the erosion of trust in news sources.
"Journalists can't fix this. The advocators are not going away. Tech companies need to be more transparent, but I don't know that they [will] fix this either. The burden is on the shoulders of the consumers. They are the ones who are flooded with this information," McCormack said. She said that "better journalism is happening now than ever, and [with the right education] consumers will come back to a trusting relationship with reliable news sources."
McCormack, who is vice president for education at the world's largest museum dedicated to journalism and journalism history, the Newseum, teaches tolerance as a way to combat disinformation. "If I am tolerant to other ideas, if [I] get out the emotional response and get back to the value of facts… I am not a target for propagandists," she said.
In the meantime, the search for alternative funding for newspapers continues. "Believe it or not, Hungary may have the solution," Starkman said. The solution comes in the form of a tax credit Hungary gives to taxpayers who donate a part of their income to nonprofit organizations, a category that includes news media. This will be a viable solution only if Hungary sticks to its democratic course, he said.
One thing is certain: delivery formats are changing, and newspapers must adapt. McCormack disagrees with the view that because youth don't use traditional media sources, they are not interested in what's going on. "The Zs [individuals from Generation Z, born between 1995 and 2015. Ed.] are not going to get news the way our generation wants to deliver it to them. They will have their own platforms… and that's fine."
The "No Journalism, No Democracy" talk was organized by Fulbright Bulgaria with support from the US State Department and was part of a four-day media literacy seminar that brought together 80 Fulbright English Teaching Assistants from Bulgaria, Romania, Greece, and the former Yugoslav countries. Training materials for the seminar were prepared by the Association of European Journalists – Bulgaria as part of its ABF-funded media literacy program.
Barbara McCormack is vice president of education at the Freedom Forum Institute, the creator of the Newseum. McCormack leads the team responsible for creating NewseumED: quality, educational resources and programs on First Amendment freedoms and media literacy. Through on-site and virtual classes and its website, NewseumED reaches 10 million students.
Russell Frank worked as a reporter and editor for newspapers in California and Pennsylvania for 13 years before joining the journalism faculty at Penn State. In recent years he has written and lectured extensively on the subject of fake news. His 2011 book, Newslore: Contemporary Folklore on the Internet, was an early exploration of the topic. He is spending the 2019-2020 academic year teaching at Aristotle University of Thessaloniki on a Fulbright fellowship.
Dean Starkman is a senior editor at the International Consortium of Investigative Journalists as well as a fellow-in-residence and a visiting lecturer at the Central European University, Budapest. He is the author of The Watchdog That Didn't Bark: The Financial Crisis and the Disappearance of Investigative Journalism, an acclaimed analysis of business-press failures prior to the 2008 financial crisis. Starkman was an investigative reporter for The Wall Street Journal and helped lead the Providence Journal's investigative team to a Pulitzer Prize in 1994.
Read our interview with Dean Starkman in our special issue on media literacy.