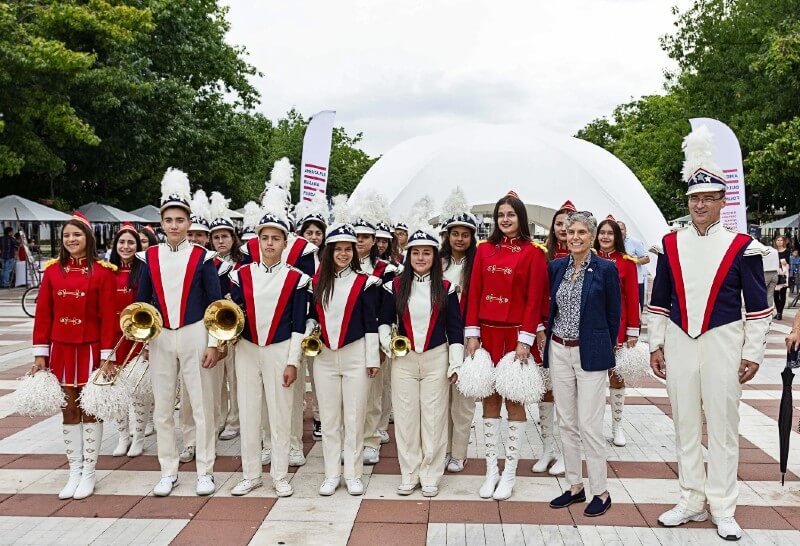 Joshua trees, Arizona sunsets, marching bands, spelling bees — some of the most emblematic sights, sounds, and customs from the United States were on display in Blagoevgrad on Saturday, September 17, during a day-long Bulgarian-American festival. A collaboration between Blagoevgrad Municipality and the America for Bulgaria Foundation, the America Meets Bulgaria festival also presented Bulgarian businesses and nonprofits making a difference in their communities nationwide.
The America Meets Bulgaria festival celebrated US-Bulgaria partnership in the areas of entrepreneurship, cultural heritage and nature tourism, civil society, and education. The most notable example of the latter is the Blagoevgrad-based American University in Bulgaria, a consistently top-rated institution in the country's university rankings.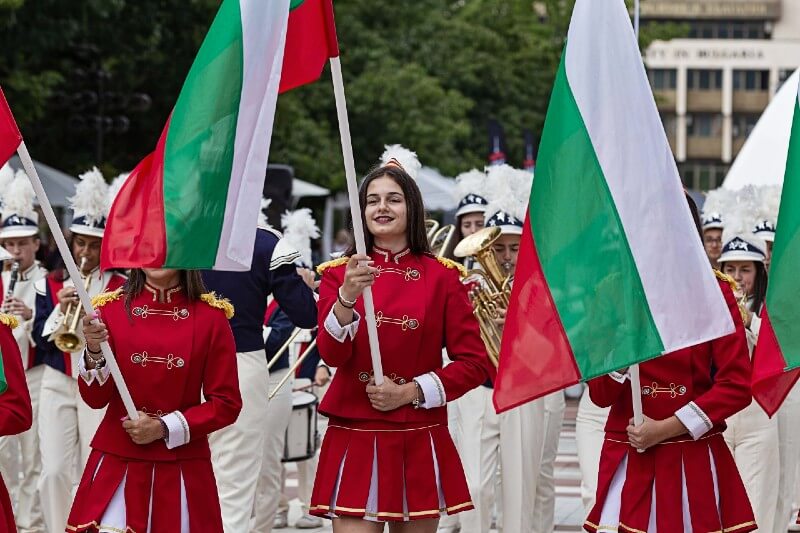 The festival kicked off in style — with a performance by Bulgaria's first US-style marching band, Zlatitsa's Marching Stars. Founded in 2011 by Todor Tsachev, with support from ABF, and inspired by marching bands in the United States, where Tsachev lived for a while, the Marching Stars have since performed on every major occasion in the Srednogorie region and beyond.
Blagoevgrad mayor Ilko Stoyanov said he was thrilled to launch what he called "a wonderful initiative, full of positive vibes… Blagoevgrad has its own pulse, and it is beautiful, upbeat, youthful. I am grateful to our friends from the America for Bulgaria Foundation for the opportunity to work together and to create this great atmosphere."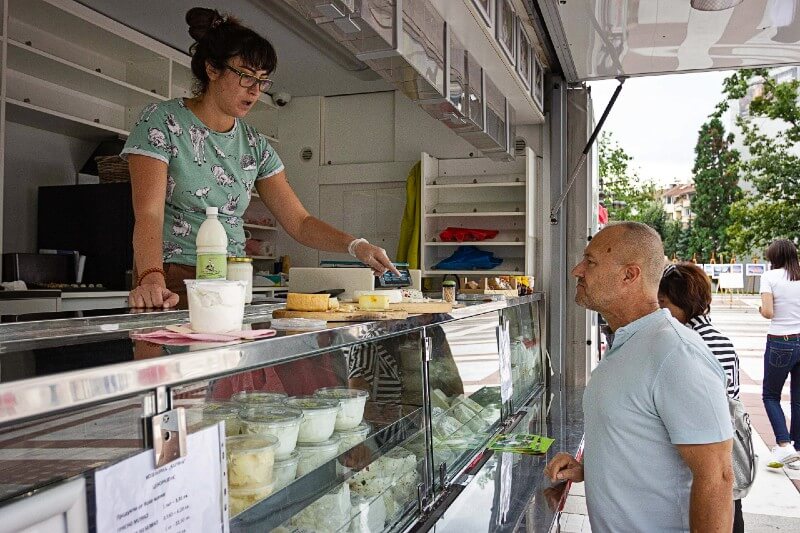 "Today's event highlights the partnership and terrific work of some of our partner organizations from all over Bulgaria, including Blagoevgrad. Together they make Bulgaria a better place to work, live, and raise a family. They will present attractive activities, workshops, and products from Bulgarian and American traditions," said ABF president Nancy Schiller.
Ms. Schiller presented the participating organizations and called on the audience to join her in sampling Karyana goat farm's delicious dairy products; beer from microbrewery Chiprovsko pivo; the Jolly Vintners' ecologically produced wines; salt and cosmetic products from the Atanasovsko Lake; tea from the Social Teahouse; as well as food and beverages from local vendors.
Karyana, Chiprovsko pivo, and the Jolly Vintners were among the approved projects in the Foundation's Agritourism Development in Northern Bulgarian program.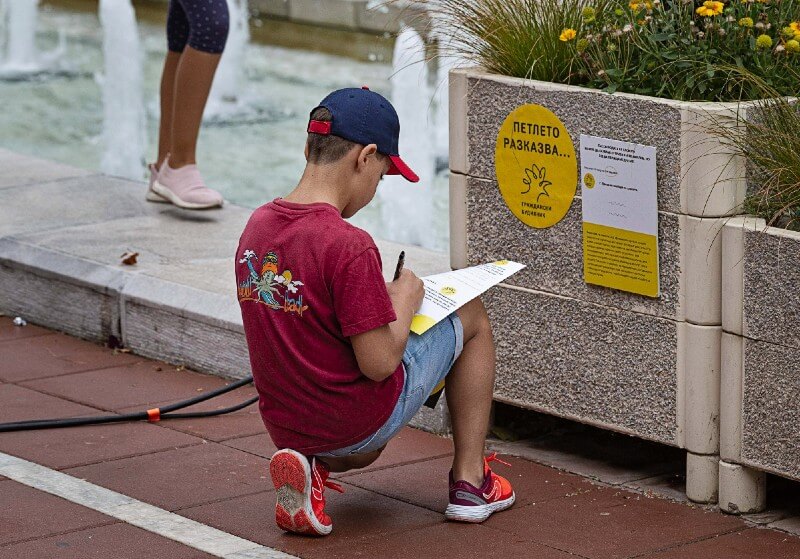 Passersby could also purchase products from DarPazar, the social enterprise store, and from small businesses launched by graduates of Business Academy for Starting Entrepreneurs, ABF's free entrepreneurship program. Among the wares on offer were beautifully crafted cutting boards from Arbaliev Woodworking, glass jewelry from Mariela's Glass in Panagyurishte, and T-shirts with traditional embroidery designs from Momichki s Shevichki.
At the cowboy-themed photo booth, festivalgoers transformed into cowboys, ranchers, and other characters of the American West.
Throughout the day, Blagoevgrad residents also learned about Vratsa's best bicycle riding paths, courtesy of Vratsa Velo Society; about Americans' great love for spelling contests, thanks to the education-focused CORPluS Foundation; about volunteering opportunities, thanks to Bulgaria's largest volunteering platform, TimeHeroes; about the value of social satire, from the editors of Starshel, Bulgaria's longest-running newspaper; and about how civil society organizations improve our lives, thanks to the Bulgarian Center for Not-for-Profit Law, Bulgaria's leading expert organization supporting nonprofits in the country.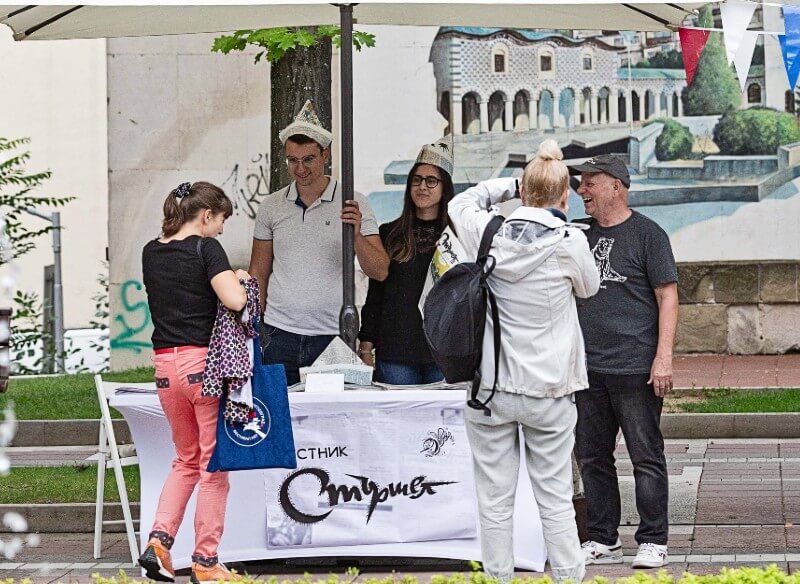 A socially engaged performance by Nox Theater emphasized the importance of fighting prejudice and of banding together to effect change. Their message was simple: united, people can accomplish far more than they would on their own.
Through journalist and photographer Anthony Georgieff's evocative photography in the exhibit "Frontiers: The American Southwest," locals and guests were treated to a visual feast depicting iconic places in the southwestern United States: Monument Valley, the Grand Canyon, Arches National Park, Route 66.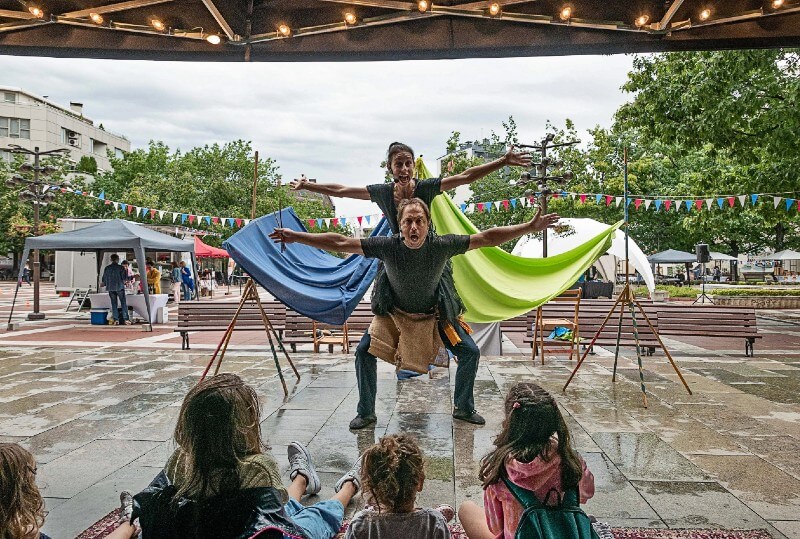 The youngest festivalgoers enjoyed performances by the riveting Small Theater Company from Gabrovo, made jewelry and pins with CaritArt, learned about their rights as citizens as they hunted for treasure with the Civic Alarm Clock game, and explored Blagoevgrad's history in the children's history corner set up by the Regional Historical Museum in Blagoevgrad.
Renowned radio and TV journalist Iva Doychinova emceed the festival, ensuring the occasional rainy spells did not dampen the spirits.