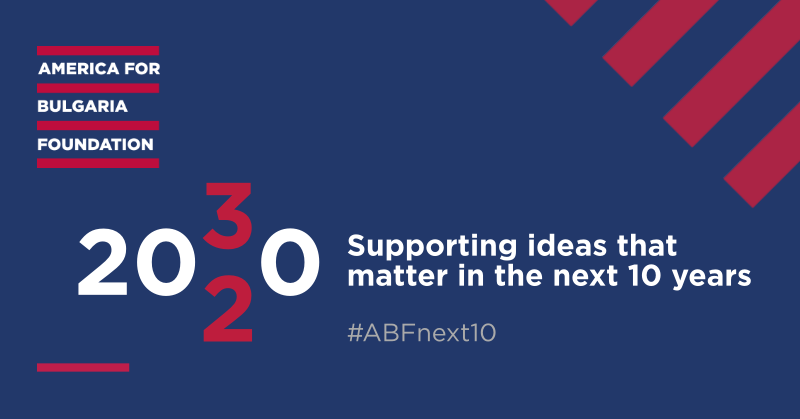 The funding is twice as much as planned due to the large number of excellent projects submitted in response to the four RFPs under the Next 10 program.
On December 7, the America for Bulgaria Foundation (ABF) announced the approval of 62 projects under its Next 10 Program in support of ideas that matter in the next ten years in Bulgaria. The Foundation doubled the initially announced budget for the RFPs, from one to nearly two million levs, due to the large number of meaningful and high-quality applications. RFPs on the topics of Good Governance at the Local Level, Science with a Future, Online Learning, and Tourism on the Danube were announced at the end of September and received 310 applications from nonprofit organizations, business associations and companies, media outlets, and schools from all over Bulgaria.
"For ABF the year ends with support for 62 new projects worth a total of 1,968,175 levs. This is in addition to 11 million levs for projects approved in 2020, whose applications we accept year-round and over 700,000 levs in support of the fight against COVID-19 in Bulgaria. 2020 highlighted the role of philanthropy and the need for professionalism, transparency, and, above all, integrity in all spheres of public life. Next year we plan to announce more RFPs on new topics that our partners in the country consider important for the development of the private sector and related democratic institutions in the country," said Desislava Taliokova, executive director of the America for Bulgaria Foundation when the approved projects under the four RFPs of the Foundation were announced.
The approved projects are:
Good Governance at the Local Level
Center for Creative Justice Association | Civil observer in Razgrad | BGN 74,510
Civic Participation Forum Association | Civic monitoring for transparent governance | BGN 69,120
Tender BG Ltd. | Encouraging small local businesses to actively participate in municipal procedures conducted with public funds in small settlements | BGN 74,090
Modern Pleven Media Foundation | Citizens for transparent local government in Pleven district | BGN 74,270
Chamber of Builders in Bulgaria | Together for more transparent public procurement in the construction sector | BGN 69,700
Blulink Foundation | For transparent management of public funds in Blagoevgrad district | BGN 74,670
Institute for Law and Justice Foundation | Institute of Law and Justice Foundation—an effective partner of local government for good governance | BGN 75,000
Knowledge Lovech Association | Civic participation for transparent local government | BGN 69,182
Maritsa Regional Association of Municipalities | e-METER for good governance in Haskovo district | BGN 74,500
Institute for Economic Policy Foundation | Transparency and efficiency in the work of water supply operators in Bulgaria | BGN 28,500
Bulgarians – Memory and Future Association | Citizens as a corrective in the management of the Kaspichan municipality | BGN 68,800
Zop Pro Ltd. | Sustainable improvement in the area of public procurement | BGN 64,048
Pro News Dobrich Ltd. | Citizens and businesses—a guarantor of a more effective local government | BGN 75,000
Association of Municipal Mayors in Cherven Bryag | Mobile legal clinic | BGN 30,000
Science with a Future 
Ivelina Todorova Ivanova-Koycheva, Velin Venkov Koychev | New orthodontic treatments and technologies (Direct Stabilization Arches / Distaligner / Realign) | BGN 15,000
Zero Wave Ltd. | Technology for 100% biodegradable single-use tableware | BGN 15,000
Boris Boyanov Kirov, Slavil Zvezdelinov Peykov | Developing а method and devices for express determination of antibiotic resistance in urinary tract infections | BGN 15,000
Varban Aleksandrov Metodiev | AgriSens – Developing a sensor for entomology control | BGN 5,810
Tanya Pavlova Titova-Kosturkova | Developing a lower-cost prototype of electronic "nose" for real-time quality control of meat and food | BGN 14,970
Yoana Ushakova, Mikaela Krasimirova Stancheva, Petar Tsvetanov Neftelimov | Flower in a tube | BGN 14,908
Bela Yonkova Vassileva, Bonka Bogomilova Lozanska, Mariya Metodieva Dafeva | Graphene oxide—development of modern anticancer therapies | BGN 15,000
Experimental Design Bureau Photonics Ltd. | Planetarium Andromeda—further developing the prototype of a compact planetarium | BGN 15,000
OS Implants Ltd. | Development of 3D parts of the human body, enhanced with VR for training of medical students | BGN 15,000
Tsvetelina Iliyanova Ilieva, Velmira Lyudmilova Dimitrova, Yana Ivanova Nikolova, Slaveya Koseva Kostadinova | In-vitro propagation of nettles with increased amount of biologically active compounds | BGN 14,760
Stanimir Penchev Penchev | Development of a complex X-ray system for veterinary purposes with low X-ray emittance | BGN 15,000
Stefan Iliev Karatodorov | Development of a device enhancing the accuracy and usage of laser-induced plasma spectrometers | BGN 15,000
Artesis Ltd. | Development of a wearable device for detecting the load and wear of prosthetics and refining Artesis's prototypes for aesthetic covers for prosthetics | BGN 15,000
Harilaos Anastasios Xenodohidis, Bogomil Ognyanov Andonov, Bela Yonkova Vasileva | Photodynamic therapy for neurodegenerative diseases | BGN 15,000
Emilia Krasimirova Nikolova | Development, validation, and implementation of molecular point-of-care tests for pathogens | BGN 15,000
Tzvetomir Dimitrov Nenov | Science in favor of efficiency—developing a heating pump with increased capacity | 14 500 лв.
Milko Assenov Penev, Martina Nikolaeva Lazarova | Development of human collagen implants | BGN 15,000
Online Learning 
Center for Creative Training | Guidelines for introduction of distant and blended learning with a device for each student | BGN 39,000
Institute for Research in Education Foundation | Creating and validating a system of tools for diagnosis and research of motivation, commitment, and skills for self-regulated learning of students | BGN 39,860
Yane Sandanski Primary School – Plovdiv | Co-learning in an online environment | BGN 33,190
Vedamo EAD | Methodological guidelines and best practices in online and blended learning from 1st to 12th grade | BGN 37,190
Animus Association Foundation | PASSPORT for social skills and emotional intelligence | BGN 39,952
Union of Mathematicians in Bulgaria – Varna Chapter | Mathematics in the electronic environment Geogebra Activity | BGN 39,950
Future Program Ltd. | Model of e-learning in 5th grade | BGN 39,960
Coalition for Media Literacy Association | Media literacy through distance learning | BGN 35,320
Tempo Foundation | The questions are the new answers | BGN 39,100
Saint Kliment Ohridski High School – Dobrich | Together in the e-future | BGN 32,509
Anton Strashimirov Primary School – Bohot village | Read and succeed! | BGN 39,760
119th School Acad. Mihail Arnaudov – Sofia | Online / offline efficiency | BGN 40,000
Technocrati Ltd. | Hybrid model for online learning | BGN 40,000
Institute Science for People with Hearing Impairment Foundation | Online learning for students with hearing impairments: Assessment of language competency and strategies for overcoming communicative difficulties | BGN 39,650
Emilian Stanev High School – Veliko Tarnovo | Pedagogical aspects of studying cultural heritage in a digital environment | BGN 28,950
Tourism Along the Danube
Byala Zvezda Tours Ltd. | Establishment of a kayak center in the village of Belyanovo | BGN 13,884
Holborn Ltd. | Discovering and exploring the Danube River around Svishtov by kayak | BGN 15,000
Balkan Pro Travel Ltd. | Journey on the Danube—authentic experiences in the course of time | BGN 15, 000
Excedo Travel Ltd. | Development and commercialization of two bicycle tours along the Danube | BGN 15,000
Aspro MG Ltd. | Danube Bird Adventures | BGN 15,000
Association for Tourism Development in Tutrakan region | The Danube—history, nature, and adventure | BGN 14,860
Bulgarian Association for Village and Eco Tourism | Development of tourist trail Kranovska Suha Reka | BGN 14,700
Digital Sova Ltd. | Mobile application Dunav Ultra—a network of information boards and directional marking | BGN 15,000
Tourist Society Prista Association | A day in the life of prehistoric man on the banks of the Danube | BGN 14,884
Oryahovo History Museum | Echo of the centuries | BGN 14,996
Napredak 1871 Community Center – Nikopol | The Danube—people, nature, and traditions | BGN 14,965
Association of Danube Municipalities – Dunav | Danube Experience—thematic tours and festival of the senses | BGN 15,000
Kolektivat Foundation | Creating a tourist attraction by engaging the local community | BGN 15,000
Plato Ltd. | Bicycle weekend DANUBE | BGN 14,995
Directorate of Nature Park Persina | Dalmatian Pelican Festival | BGN 14,980
K.P. Safety Ltd. | June fiesta on the Danube by boat | BGN 14,182
More information about the RFPs can be found on the individual pages of each of the competitions within the Next 10 Program:
Good Governance at the Local Level: https://us4bg.org/bg/rfp-bee/
Science with a Future: https://us4bg.org/bg/rfp-bet/
Online Learning: https://us4bg.org/bg/rfp-hum/
Tourism on the Danube: https://us4bg.org/bg/rfp-tur/